Very few people would believe that the third biggest mosque in the world in cradled in the lap of Bengal. The Adina mosque in Pandua of Malda district is about 600 years old.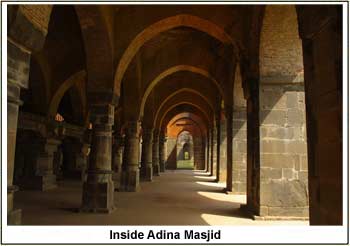 The history of the shrine goes like this. It was built by Sultan Sikandar Shah after destroying a massive shiva temple called Adinath temple built by A Hindu king Raja Ganesh in 1347.
Adina means the day of offering Namaz. Some historians feel that the name was given to strike a similarity with Madina, the sacred place of muslims worldwide. Many scholars, however, feel that the name is a distortion of the temple's name on the ruins of which it was built.
The magic of Madina lies in its fantastic architecture. Signs of hindu motifs still rest on its walls. Adina is the only mosque in the world which still has an image of Saraswati on its wall and a shiva linga and gouripith on its arena.
Even the throne made of black stone named Badshah ki taq is deeply influenced by signs of hindu architecture. With these motifs are also found signs of Islamic architecture.
However, years of negligence have wreaked havoc with the mosque. Out of 306 domes on the original structure, only 18 remain. Arcaheological Survey of India finally came to the rescue of the mosque but its efforts have to be supplemented by that of the state government so that this landmark of history can withstand the ravages of time.