Those with the knowledge of history will be astonished after learning of the rich legacy of Agartala, writes SOMEN SENGUPTA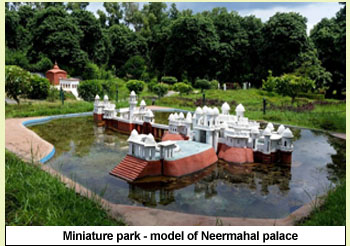 It is tough to find Tripura on the map of India. The small State, which is landlocked from three sides by Bangladesh, is mostly in the news for political reasons. Its Capital, Agartala, which is hardly 2 km from the Indo-Bangladesh border, has a fairly small population. Those with the knowledge of history will be astonished with its legacy — its modern parks and century-old palaces.

The land of Tripura was ruled by one of the oldest princely bloodlines, starting from Maharaja Maha Manikya in 1400 AD. It merged with India in 1949 as the last princely State. However, legend is that Tripura existed even at the time of Mahabharata.

The epic states that King Yayati's son Dhrahu, after being expelled by Kirats, camped here and founded his own kingdom. Legend has it that his 40th generation was known as Tripur and thus the land got its name. However, the Indo-Mongolian royal family ruled the State for more than 1,300 years and their kings got the title 'Manikya' from the rulers of Gour in Bengal.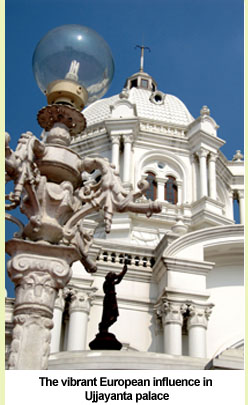 The old Capital of the kingdom was in Rangamati, but in 1760, it was shifted to a place which was shadowed by deep forests of Agar trees. Thus, the new Capital was named Agartala or 'underneath Agar'. In 1808, Tripura came under the British rule but managed to keep its princely status intact like many others. The modern Tripura started forming from the last phase of the 19th century under Radha Kishore Manikya, who decorated the town with mind-blowing palaces and academic institutions.

It was the time when Tripura's royal family became one of biggest patrons of Rabindranath Tagore's literary works, and with their financial support, legendary Indian scientist Sir Jagdish Chandra Bose was sent to Europe to showcase his revolutionary work in physics.

In a nutshell, when most of the royalty in the princely States of India was busy buying more Rolls Royce cars, playing polo in Calcutta and Bombay, and killing tigers in the nearest forests, this small, unknown State of the East was silently contributing to nation-building. This is a fact unknown to many.

The jewel of Agartala is a European-styled palace where the royal family once resided. Ujjayanta Palace is a marvelous piece of architecture and stands like a burning torch at the centre of the city. Originally, the palace was built by Ishan Chandra Manikya between 1849 and 1862, but it was reduced to rubble in the Assam earthquake of June 1897. Maharaja Radha Kishore Manikya rebuilt it on a much bigger scale from 1899 to 1901 at the cost of Rs 10 lakh, and Tagore named this palace Ujjayanta.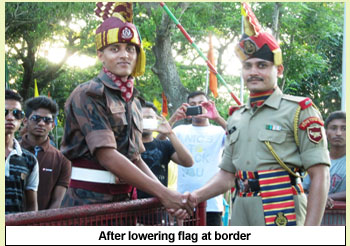 A perfect blend of Mughal, Roman and Anglo style, the neo-classical palace was designed by Sir Alexander Martin of Martin Barn & Company. The 800-acre palace includes a huge garden, several Hindu temples, and fountains. It also houses a durbar hall, private chambers, library, and reception area apart from a courtyard. The main attraction of the palace is its huge central dome, which is 86 ft from ground level. The dome is decorated with various floral designs similar to the ones found in Austria and Italy. A flight of stairs built in strong European influence goes from the ground to the central entrance where flooring of Chinese tiles is seen.

From 1972 to 2011, this palace served as the assembly house of the Tripura Government, and is now a museum with a rich collection of the State's history and culture. The garden has several monolithic stone pillars carved with various inscriptions and designs. In a nutshell, a visit to Ujjayanta Palace makes one wonder whether it is in India or in a European country!

In this royal city, a college also looks like a palace. The construction of Maharaja Bir Bikram College, the first modern college of Tripura, started in 1937, and during the Second World War, this building was used as a military hospital for British soldiers who were fighting in Burma front. The college was inaugurated by Queen Kanchan Prabha Devi in 1947. The building has a grand portico with royal pillars and a huge arena for recreation purposes.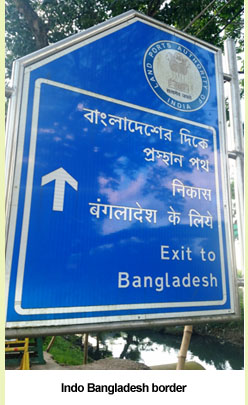 If this college is named after a king to carry on the legacy of the royal family, Agartala has a grand testimony that shows how a servant of the royal family was also immortalised. In 1890, a school was founded by King Bir Chandra Manikya. When it was developed by his son Radha Kishore Manikya, it was named after the Prime Minister of the State in 1904 as a token of respect. Umakanta Academy is an iconic school building, thanks to its grand structure.

However, the hidden surprise of Agartala is not in its palaces and temples, but in a place called Akhaura, just 2 km from the city. Here is the border check post with Bangladesh, a country with which Tripura shares 856 km of border. Thanks to Sir Cyrill Radcliffe — the man who drew the boundary of India and Pakistan in 1947 without even knowing the country well — Tripura and East Pakistan (Bangladesh since 1971) were separated by barbed wires, even though the language and culture of both sides were almost the same.

Today, through Akhaura border post, India and Bangladesh allow people to move and business to happen. The Army allows common people to visit the border and conduct regular Beating Retreat ceremonies, akin to what happens at Wagah border in Punjab. The ceremony is conducted here every day before sundown with equal enthusiasm from visitors from India and Bangladesh, who watch from respective sides. The military routine like flag lowering, saluting, march past and aggressive gestures with verbal instructions, and the sound of bugle create a thrilling atmosphere. The same gesture is also executed by personnel of Bangladesh Rifle. Spectators are allowed to take pictures and shake hands with Armymen on the other side without crossing the border line. The entire ceremony is well-organised and there is no entry fee.

It is not only a gigantic palace that gives a touch of Europe to the city of Agartala. There is a heritage park that houses a miniature form of the entire State, covering all major monuments and landmarks. The heritage park landscape is spectacular, with almost perfect miniature models of Neermahal Palace, the lake palace of Tripura; Ujjayanta Palace, Unnokoti, the rock cut sculpture; Kaluk, the Buddhist archaeological site; Agartala railway station; India-Bangladesh border; Buddhist pagoda and many more. The concept of the park is unique and it could be the only miniature model park of a State in India.

Agartala only falls short on one account — there is almost no promotion of tourism to attract people from far-off destinations. The city is neat and clean with little population. Roads are safe and there are plenty of options to buy cane and bamboo handicrafts. Agartala bears the legacy of a musical legend called Sachin Dev Burman, and it is also the city that inspired Tagore to write one of his best plays, Visarjan, based on the royal family of the State. Such a culturally rich city with beautiful palaces and temples, an excellent miniature heritage park, and an international border that regularly displays military ceremony is not frequented by many tourists, and this is a real tragedy.
his article was published in The Pioneer on 30th October 2016.

Click here to view the original article