| | |
| --- | --- |
| IN THE SHADOW OF A MODERN MONK | |
Almora was Swami Vivekananda's favourite abode in the hills, writes Somen Sengupta.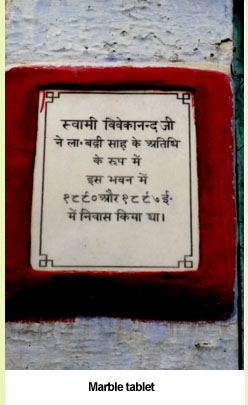 In mid-19th century, India was at the cusp of a new awakening that took it on the path of modernisation. It was a new dawn for millions of Indians who had been deprived under the Mughal rule for almost 1,000 years. This was the time of many social and cultural revolutions, and our country along with the entire world witnessed a spark of light in a modern monk, who not only redefined India's spiritual heritage to the West but also converted religious spirit into an inspiration of nation-building. This light — Swami Vivekananda — was soon drawn to the backbone of India's cultural and spiritual heritage, and the Himalayas turned into his abode many times, giving his life a new meaning.

I felt blessed while walking under the cool shadow of pine tress on the Mall Road of Almora in Uttarakhand, the same path walked by Vivekananda many years ago. As I arrived at the crowded street of Khazanchi Bazar, a bygone era flashed before my eyes.

At an altitude of 1,646 m from sea level, Almora has many glories to its credit. India's first Nobel laureate, Sir Ronald Ross, was born here on May 13, 1857, to British parents. It is here that Rabindranath Tagore spent many months with his daughter Renuka, and many of his best poems of Shishu were written here. It is said that the first few pages of The Discovery of India were written by Jawaharlal Nehru in the Almora jail.

Khagmara was renamed as Almora by King Kumar Bal Kalyan, who conquered it in 16th century after defeating the local king. However, the British grabbed it from the Gorkhas in 1814, and ever since, the place bloomed as one of the best hill stations in North India, what with panoramic views of the Himalayas.

The touch of colonial era is still palpable in its various heritage houses and well-planned roads. Almora takes pride in its profound association with Vivekananda, the man who was the first lighthouse of mankind this country produced.

I enjoyed this legend but took it The young monk from Bengal first came here in early 1890s with his friends when not many knew him, and again in 1897 and 1898 as a national hero. The deep forests of Almora beckoned Vivekananda and he kept coming back till he was physically fit.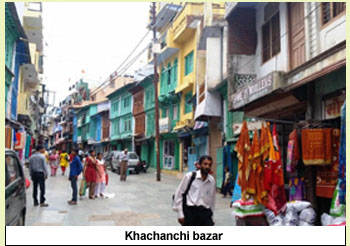 The stone slab road, on which Vivekananda and his followers walked several years ago, has now been replaced by concrete slabs. This is perhaps the only major change this part of Almora has witnessed in the past 120 years. Apart from that, the shops and buildings with timber crafted windows and door panels give a magical vintage look to the area, perfectly recreating the time in 1897-98 when Vivekananda addressed a crowd of 4,000 people at the Raghunath Temple courtyard.

At that time, no movie star, cricketer or even a political leader enjoyed such fame, popularity, and acceptance. As a religious leader, Vivekananda's towering achievements in America and Europe between 1893 and 1896 led to his crowning as India's first national hero, not only among Indians but also foreigners. Hence, Vivekananda's 1897 visit to Almora was a big event.

He delivered several speeches in English in the presence of Indians and Europeans in Almora. One speech delivered at the European Club was on Vedas teaching in theory and practice. He delivered another inspirational speech in Hindi at Raghunath Temple to his countrymen. The entire native population of Almora gathered to hear the outstanding orator that day. He wrote a letter to his friend on July 30, 1897, which read: "Here, this was my maiden speech in Hindi but everyone liked it."

A unique incident happened at the time at the temple. While delivering his speech, Vivekananda noticed a Muslim fakir in the crowd and reached out to embrace him. He recalled that during his maiden visit to Almora, seven years prior to that day, he fell down on the road when this very fakir came forward and offered him a few pieces of cucumber. The fakir was also reminded of the incident and embraced Vivekananda.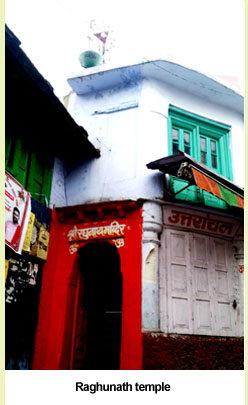 It's sad, however, that today Raghunath Temple has lost its touch. After so many mindless renovations, it resembles any other cement temple with an ugly coat of paint. Still the residents reminisce that it was here that Vivekananda delivered his iconic speech.

Not far from the temple is a 200-year-old copper utensils shop. The owner, Girija Shankar, was an old man with flailing memory, but offered to help me find places related to Vivekananda. "If you are searching for Swamiji's footsteps, then walk a few steps more and turn left," he said to me.

I was wondering what he wanted to show me. "Go and see the abode of Vivekananda in Almora," he added. As I moved forward, I came across an old building with typical Kumaoni timber-crafted front, and a marble plaque revealed that this was the house of Badri Shah, who hosted Vivekananda in 1897 and 1898. What it did not mention was that Vivekananda resided here even in 1890 when he first came to Almora.

As I was admiring the huge building owned by Shah, a Gujarati moneylender and a great admirer of Vivekananda, a man came out of a book store. "Are you keen on knowing about Vivekananda's connection with Almora? Do you know that the first time he came here, he had walked all the way from Nainital, and also visited the Kasar Devi temple?" he asked.

Although I knew Swamiji had visited the temple in 1890 and meditated in a cave nearby, I was surprised to learn that he had walked all the way from Nainital. That was the time he had fallen in love with Almora, and this place was his refuge when he heard of his younger sister Jogendrabala's suicide in Shimla.

His second visit in 1897 had a mission: His organisation was working with the famine-affected people here. When he arrived, famine was almost over but plague had spread. Vivekananda had planned to go to Tibet from here but considering his poor health, he dropped the idea. "My time is short," he wrote to his foreign disciple Mary Hale from Almora on July 9, 1897.

The divine beauty of the Himalayas had all but consumed his spiritual mind. He said: "As peak after peak of this father of mountains began to appear before my sight, all the propensities to work, that ferment that had been going on in my brain for years, seemed to quiet down, and instead of talking about what had been done and what was going to be done, the mind reverted to that one theme the Himalayas always teach us, that one theme which reverberates in the very atmosphere of the place — renunciation! The Himalayas stand for that — renunciation."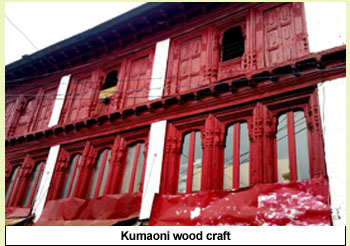 Daily rides on a horse seemed to have a positive impact on his failing health. During this visit, he also met Annie Besant and they had a long debate on her religious philosophy, which Vivekananda didn't agree with. He also met Ashwini Kumar Dutta, the Congress leader of Bengal, and clearly expressed his apathy towards the party's working style.

His last visit to Almora was in 1898, and this time he was accompanied by Sister Nivedita. "If you want to see the house where Margaret Elizabeth Noble became Sister Nivedita, go up the road to Hotel Deodar Holiday Inn," the man at the bookstore had told me. Soon I was standing outside Nivedita Cottage, where in 1898, after many debates and arguments, Vivekananda finally allowed his most famous foreigner devotee to work for India. This house, which is covered by pine and deodar trees, was owned by Lala Hari Shah. Earlier known as Oakley House, it is now partly used as a hotel but still keeps Vivekananda's memories intact.

I entered the house to find a group of people gathered there for evening prayers. A monk from Ramakrishna Mission was about to come to deliver a lecture.

The house enshrines a small yet beautiful museum showcasing original letters written by Vivekananda and his memorabilia, such as his reclining chair, an ashtray used by him, a book shelf, and gifts brought by Nivedita for him from London. The most pensive piece of article here is perhaps a telegram message from Calcutta sent on July 5, 1902, announcing Vivekananda's demise.

He had expressed a desire to spend his last few days in Almora. In 1897, he had said: "It is the hope of my life to end my days somewhere in this father of mountains where rishis lived, where philosophy was born."



This article was published in The Pioneer on 14th August 2016

Click here to view the original article