Baijnath Temple holds significance because, according to Hindu mythology, it stands near the confluence of River Gomati and Garur Ganga, where Lord Shiva and Parvati got married, writes Somen Sengupta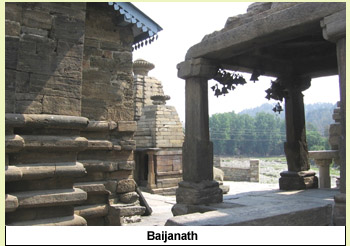 With a breathtaking 300-km-wide angle view of splendid Kumaon Himalaya in the background, a small village on the bank of River Gomati stands like a silent soldier. In this tiny village, amazing stone temples with their exceptional archaeology and centuries-old legend attract people from places near and far.

For those faithful to God, this is perhaps the most sacred place on earth, and for the non-believers, who like to explore the rich heritage of India, it is a treasure hunt. Baijnath, the 1,000-year-old ancient stone temple complex in Uttarakhand, is indeed a spot to stop at for many reasons.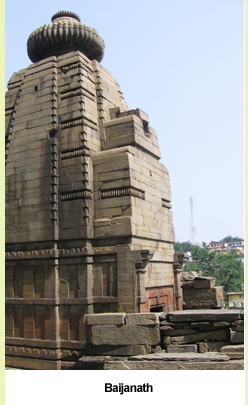 History, mythology, and legend all have touched the saga of Baijnath. From time immemorial, local people have believed that while in exile, the Pandavas of Mahabharata came here to worship Goddess Parvati. Today, the temple of Parvati — the main one among 18 similar temples — is one of a kind in the Kumaon region. Promising serenity, the temple complex imparts the landscape a regal appeal.

According to mythology, Shiva and Parvati got married on the banks of Gomati and Garur Ganga. The place was later ruled by their son Kartikeya, hence it was named Kartikeyapura. This has attracted many God-fearing people to this place for many centuries, and even now, all festivals related to Lord Shiva are celebrated here with fanfare.

However, according to a few authentic history sources, this place was the capital of Katyuri kings, who ruled from the 7th to 12th century, and as worshippers of Shiva, they built these temples between the 9th and 11th centuries. Local legend has it that these temples were built overnight to please the God, as workers were allowed only at night.

Baijnath is another form of Baidyanath, and here, Lord Shiva is known as Shiva Baidyanath, the Lord of physicians.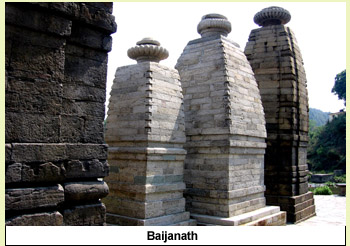 The complex houses 18 temples, where the Parvati temple is the central point of attraction. The door of the temple is well-crafted and the six-ft-high four-handed Parvati statue, made of black chiseled stone, is a splendid piece of mountain sculpture. The idol is enshrined inside the main temple along with 26 small statues.

Other temples are smaller in size, but still stand tall in all their glory. Near the Parvati temple is the Brahmani or Bamani temple. Legend has it that this temple was built by a Brahmin woman after she was abducted by a Kshatriya.

The complex is full of temples dedicated to other Hindu Gods and Goddesses, such as Shiva Kedareshwar, Laxmi Narayan, Ganesha, Chandika, Kuber, Surya, Brahma, and Kali. Due to frequent theft of artifacts, most temple doors are locked, but that does not deprive visitors of the beauty of the stone architecture in the form of small statues all across the complex.

If seen with attention, one can spot the statutes having a plethora of distinctive postures and expressions. The outer walls of the temples are not embellished with many floral designs or human figures, which is common in this school of architecture. Instead, a simple yet attractive design is followed here in most of the temples. Gray and blue stones are placed on the steps and every temple is crowned with an Amalaka, a lotus structure made of the same stone. The crown is shaped in the form of a blooming lotus and it encircles the top of each temple. The stone placement here follows a special engineering. The stone slabs are held together by a binder of urad dal, and now after many years of air erosion and weathering, a few shrines are leaning towards each other.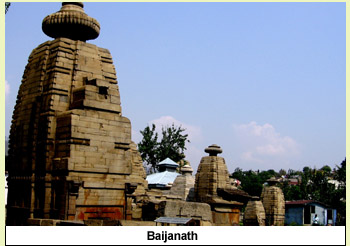 A few temples have a portico kind of extension decorated with bells and their sound often creates a divine atmosphere in this near-silent temple complex.

Here in Baijnath, many statues are either defaced or broken; some are under the open sky, clearly indicating towards the destruction of temples which don't exist anymore. This temple complex was also vandalised by invaders several times. Whether it was the rapacity for wealth or the blind leaning to fundamental politics, the temples of Baijnath have faced many storms in the past. From 1398 to 1939, it was plundered by Timur Lang. After a long gap, Mughal emperor Aurangzeb almost destroyed it, and then came Nader Shah of Iran in 1739, who also attacked the temple complex and looted it.

Then the Rohilla Afgans attacked and defaced many statues of Baijnath temple between 1743 and 1744. Needless to say, after so many abuses, the antiquity of this place was damaged and many of the original wonders are tough to re-create. One such example is the Kali temple, which doesn't exist anymore and the deity stands under the open sky.

Near the Baijnath temple complex, considered one of the finest archaeological exhibitions of that era, is a holy water body from where a flight of stairs takes one to the temples. This was built by the queen of the kingdom many years ago. The water body is full of Rohu fish and it is believed that feeding these fish is sacred.

A nearby museum has on display many broken and semi-broken artifacts that bear testimony to the area's past grandeur. It is, without a doubt, a treasure trove of archaeological wonders.


This article was published in The Pioneer on 8th January 2017

Click here to view the original article