Pandal-hoppers during last year's Durga puja were amazed at the reconstruction of an excavation site of the Archaeological Survey of India (ASI) at Kumartuli Park. The site, called Ballal Dhipi, is relatively unknown, but if you want to explore Bengal's past just a few hours away from home, plan your next weekend there.
Ballal Dhipi is the ruin of a huge palace that was underground for centuries at Bamanpukur in Nadia. Renupada Das, then a member of Parliament, first raised the possibility of exploring a heritage site at Bamanpukur in the late 1970s. The ASI finally started excavating the bushy highland on the banks of the Hooghly in 1981.
The excavation was a gargantuan task. It continued till 1988. The entire surface was cut in blocks. Eventually, the remains of a massive brick palace, covering an area of 13,000 sq ft with a 9 m wall all around, were dug out. Historians differ on the origin of the structure. Some believe it is the ruin of a Buddhist stupa or vihar, possibly built between the 11th and 13th centuries.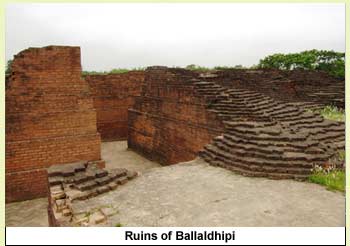 Others say it is part of a lost city called Vijaypur, capital of the Sena dynasty that ruled Bengal in the 11th century. A plaque by Vijay Sena, found in Debpara and text from Pavandoot written by Dhori, the royal poet in Laxman Sena's court bolster this claim. Since locals call the site Ballal Dhipi, many historians believe that the ruined palace belonged to Ballal Sena. The Centre, however, recorded the discovery as a Shiva temple. Miniature shrines around the main structure were dated between the 10th and 11th centuries.
The ASI was thrilled with the excellent construction of the structure, built with solid terracotta bricks. The floor is made of lime and sand. The tiles and bricks used are similar to those found in Vikramshila in Bihar and Shompur Vihar in Rajshahi, Bangladesh. The cause of the destruction is attributed to a combination of natural calamity and human hands. Most of the statues and images found were broken.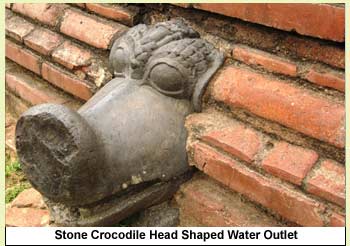 On the southern side of the ruins is, what archaeologists believe, a homkunda where the fire is lit during worship. Ashes were found inside the homkunda. Another discovery was a well, on top of which is a stone crocodile head that provided the water outlay passage to the well.
Nearby, a series of stone Shiva statues were found, as well as other limestone statues similar to those found in Karnasubarna, Murshidabad. Antique items like statues of demons, broken earthen pots, ornaments, copper objects and metal utensils were also found. These artefacts are kept in the Ashutosh Museum of Calcutta University. Human skeletons were also excavated from the site.
Today, Ballal Dhipi stands mute, but majestic. Rediscover your roots there.
Getting there:
Ballal Dhipi, in Bamanpukur, is 13 km from Krishnagar, 100 km by train from Sealdah station. It takes two-and-a-half hours on a local train. By road, the distance is 125 km along National Highway 34. Take a bus or hire a car. There are decent eateries around. Nearby places like Shantipur and Diknagar can also be visited. Try to return from Shantipur by evening

This article was published on 10th April, 2005 in The Telegraph

Click here to view the original article