It is common notion that the modern era in Bengal started with the landing of Job Charnock at Gobindopur in 1690. A visit to Bandel can change this view.
Since early 16th century, the Hooghly riverbank was the happy hunting ground for many European traders-turned-rulers. The Portuguese liked Bandel where they lived and ruled, and the marvelous 400-year old church there still stands as a mute testimony.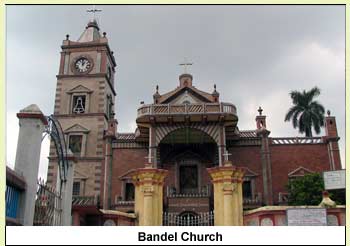 In early 1518, the first Portuguese sailor called Silvera came to Bengal and by 1537 he had set up their first factory and port at Saptagram on the river Saraswati. But the vagaries of the river made them shift their business.
In 1580, Mughal emperor Akbar allowed them to set up a new port in Bengal, which they named Bandel (Portuguese for 'port') of Ugolim. While it was a porto pequeno (small port), the bigger port (porto grande) then was Chittagong. Soon the port turned into a mini Portugal with spice, textile and silk traders making their fortune through European exports. In 1599, the Bandel basilica came up.
In 1623, Mughal crown prince Khuram planned a rebellion against father Jehangir with Portuguese support. But his request for support was refused, leading Khuram (who after assuming power took the name, Shahjahan) to send a consignment of 500 ships to conquer Bandel. On June 23, 1632, Bandel. On june 23, 1632, Bandel was attacked and the fort was smashed, the church destroyed and over 60,000 Portuguese killed. Later, the church priest was freed and he rebuilt the church and the lost Virgin Mary statue was retrieved. Legend has it that the Virgin had saved a capsized ship in 1655 and the captain gifted the ship's most, which is still there.
In 1756, the church faced a second attack from nawab Siraj-ud-daula and was destroyed completely. However, it was again rebuilt and dedicated to Nossa Sanhora di Razario. The front was made in Doric style Greek architecture, the shothwest bell room was constructed and subsequently the main stage got a priceless Italian marble cover. The statue of Christ was brought from Portugal in 1922. Pope John Paul II declared the church a minor basilica in May 7, 1989.
Travel Information
Bandel is 40 km from Kolkata, abut the hour's journey by local train from Howrah. From the station, take a cycle-rickshow to visit the church, which is also close to the river. To know more, contact the Father, Bandel Church, post office: Hooghly, PIN code: 712103, West Bengal.

This article was published on 1st October, 2002 in The Hindustan Times

Click here to view the original article