Less than 400 years ago, the river port of Saptagram was the commercial hub of Bengal and the entire eastern region. Situated on the bank of River Saraswati, Saptagram basked in wealth and grandeur. One of its villages, Bangshobati especially increased in religious and political significance.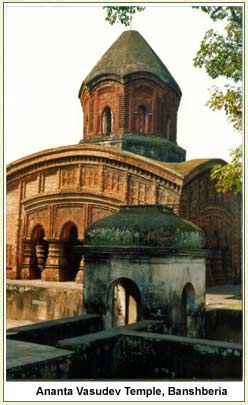 Bangshobati, now known as Banshberia is a small town of Hooghly hardly 50 km from Kolkata which still preserves many glorious vestiges of the past. It was here in 1673 that Raja Rameswar Roy, took refuge when he lost his zamindari of Patuli. Roy soon got the title of Raja from Mughal emperor Aurangazeb along with river side property measuring 401 acre.
Swept by the wave of Vaishnava Bhakti movement Raja Rameswar Roy built a Vishnu temple here in 1679. The temple known as Ananta Basudev Temple is a masterpiece of Bengal temple art. Built in typical char chala ek ratna style of Bengal school, this temple is embellished with the finest terracotta wall decorations. It is said that Sir John Woodburn, then deputy governor of Bengal was rendered speechless at its beauty when he visited the area in 1902.
The terracotta wall motifs mainly illustrate tales from the Mahabharata, Krishnaleela and the Ramayana. The Dakshayogya, Dashamavidya and Dashavatar tales also find representation. Among the other figures of court dancers and mustcians, the image of a ship with armed soldiers satand out. Representative perhaps of the glorious Bengal navy of the time.
The artists of this temple came from a place called Kotalpour village near Arambagh. Past master of the Bengal School, Nandalal Bose is known to have copied each and every panel of this temple in his sketch book.
With time Saptagram lost its glory. River Saraswati petered out, losing navigability and Kolkata became the new commercial centre.
The Banshberia royal family also changed its religious perspective. The great grand son of Raja Rameswar Roy, Raja Nrisingha Dev was a follower of the Tantric cult.
In 1799 he started constructing a massive temple just next a Ananta Basudev temple, known as Hangseshwari temple of Banshberia. This also turned out to be an architectural gem of Bengal. The temple was a favourite of Sri Ramakrishna who was a frequent visitor.
The history of Hangseshwari temple is interesting to say the least. Raja Nrisinghadev was born in 1790, three months after his father died, but by then Maharaja Manick Chandra of Burdwan had already informed Nawab Aliwardhi Khan, then ruler of Bengal that there was no living heir to the thrown and grabbed most of the property.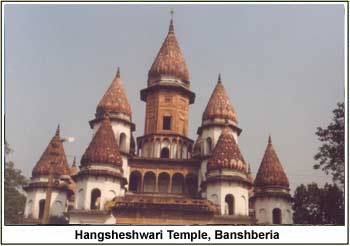 After the battle of Plassey, Nrishingha Dev appealed to Warren Hastings to managed to salvage nine locations of his rightful kingdom. He again appealed to Lord Cornwallis in 1785 who suggested that he approach the court of directors in London. Soon afterwards Nrisingha Dev left for Varanasi, instructing his manager to collect funds for an appeal.
In Varanasi however Nrisingha Dev was profoundly moved by tantric cult and culture. He even got involved in the translation of ''Kashi Khanda'' with Maharaja Jainarayan Goshal of Bhu Kailash. In 1799 Nrisingha Dev's manager informed him that Rs 7,00,000 had been collected for the London appeal. But by then Nrisingha Dev was a changed man.
Instead of spending the money on salvaging property he ordered the construction of a temple. To this end he began sending sandstone from Varanasi by boat to Banshsabati.Construction of the temple started in December 1799. But only three years later Nrisingha Dev died leaving the temple half finished. Nrisingha Dev's principal wife became a Sati but his younger queen Shankari instructed the immediate completion of the temple.But since Maharani Shankari herself was locked in a legal battle with a foster son, construction work resumed only when the queen won the property rights.
The 70 ft high Hangsehswari temple was completed in 1814 at the cost of Rs 5,00,000. Pink stones had been brought from Chunar, Rajasthan and the craftsmen were from Varanasi. The image of Hangseshwari was established in 1814. Sanskrit scholars & many Hindu holymen assembled here on the occasion.

Mention of this unique temple exists in Religious Lyrics of Bengal authored by one Alexander Chapman, then librarian of the Imperial Library. Chapman was enchanted by the architectural marvel. He was not allowed inside, being a foreigner but that didn't stop him from penning a poem on the temples' exsternal beauty.The Hangseshwari temple in unique in many ways, unlike any other temple it has 13 towards which look like budding lotuses. As per the tantra cult the temples has six floors. A white Shiva linga was placed on the topmost floor. Other floors also have one black Shiva linga each. Once all walls were covered with terracotta.
The image of Hangseshwari is also unusual. Neither Krishna nor Kali, this four armed blue deity stands with one feet on the chest of a slppeing Mahadev, while the other is folded.The Archeological Survey of India has undertaken both these temples but the Ananta Basudev temple still stands in a sorry state. Many panels having been stolen or destroyed.
Access: Only 50 km from Kolkata. A one and half hour by local train from Howrah and 2 hours by the Kalyani Express highway and the newly constructed Iswar Gupta Bridge. There are trains from Bandel too.Take cycle rickshows to visit temple as well as the Basudev temple and the ancient Roy palace. Temple is closed from 11 am to 3 pm. Be sure to visit Jafar Khan Mosque nearby
Accomodation :
No good restaurants or hotels at Banshberia but snacks, mineral water etc. are available at stalls.