The 300th anniversary of Murshidabad is being celebrated this year, but not too many people are aware of a small village, rich in artefacts and history, a few kilometres from the town. It can be an unforgettable weekend destination, especially for those with a love for exploring relatively unknown landmarks.In the mid-17th century, a small trading centre called Azimganj came up on the banks of the Ganga in Murshidabad. The royal family of Natore,now in Bangladesh, built a riverside palace in a village near Azimganj, and called it Baronagar, meaning 'a big town'.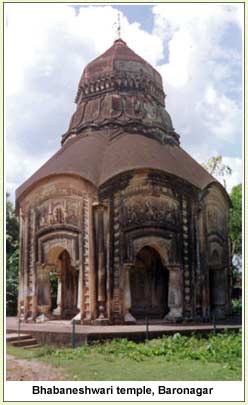 Rani Bhabani, born in 1716 and widowed at 32, became a legend for her administrative ability. Driven by religion, she planned to build a Varanasi in Bengal. From 1755, a huge complex with over a dozen temples was built in Baronagar. Many have since been reduced to dust, but a few still stand strong, a testament to the past glory of Bengal.
One of the magnificent structures is the Panchanan Shiva temple on the Ganga embankment. Small and red, it has a unique Shivalingam - five heads of Shiva carved on black stone. The temple houses a beautiful garden with a breathtaking riverside view
The main attraction of Baronagar is the Charbangla mandir complex. Built in 1760 by Rani Bhabani, this is a small square arena fenced by four massive temples. Each one is built on a 1.5-ft high foundation and is dochala hut-shaped, a fine example of Bengal architecture. Each temple has three doors with three Shivalingams inside.The magic of these temples is on their walls, embellished with beautiful terracotta work. The Ramayana is wonderfully sculpted. This is unique among terracotta temples in Bengal. Hindu motifs are also visible.
The temples had a narrow escape in December 1992, when a mob stormed the complex after the Babri Masjid demolition. Another temple with a unique shape is in the north-west part of the Charbangla complex. The Bhabaneshwari temple of Baronagar is a masterpiece in distinctive Murshidabadi style. Built in 1755, it is 18-m high with a massive dome on top and decorated with fresco works, both inside and outside.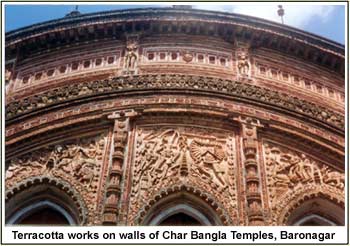 Nearby, another temple, built by Tarasundari, daughter of Rani Bhabani, is in a sorry state. Legend has it that Siraj-ud-Daullah tried to abduct Tarasundari. She was suffering from chicken pox at that time and Siraj got scared and fled. Tarasundari was cured overnight. Considering this to be divine intervention, she built the Gopal temple. Perhaps the finest temple of them all is Ghaneshwar, also known as Jorbangla temple. Small but marvellous, it is in terracotta. Dragons, dancing girls, fighting elephants and floral designs don the walls. A Shivalingam, known as Kasturishwar Shiva, is inside, established by Kasturi Devi, mother of Rani Bhabani.
Visit the Nageshwar temple, too. It houses Baronagar's presiding deity Ganesh. The palace of the royal family should not be missed out. Rani Bhabani died here in 1795, at 79. The family history is displayed through oil paintings. Special permission is needed to get inside.Debris of temples, damaged due to natural calamities and by human hands, is scattered around Baronagar. Images of these temples are placed in a dilapidated room near the palace.
Azimganj is also known for its Jain temples. Many Jain families trace their roots to the town. The brass and bronze handicrafts of Murshidabad are well known. Mouth-watering barfi sandesh is another local wonder. A panorama of the river and the sky are a bonus.
Getting there:
Behrampore, 197 km from Calcutta and well-connected by rail and road, is nearby. Passenger train available to Azimganj. The alternatives are Bhagirathi Express (AC chair-car available) and Lalgola passenger (first-class non-AC cabin available) from Sealdah station. Bhagirathi reaches Behrampore at 10 pm. Stay overnight and take a hired car to Jiyaganj. Lalgola reaches Jiyaganj early in the morning. Hire a country boat to reach Baronagar across the Ganga. Several express buses leave for Behrampore from Esplanade. The journey takes about five hours
Staying:
There are several mid-level hotels. Accommodation available at Jain dharmashalas