If you think Hazarduari and Katra mosque are all that Murshidabad has to offer, you?re mistaken. Just 197 km from Calcutta is the historic town of Behrampore, which has witnessed many tides of history that have changed the destiny of the country from the mid-17th century.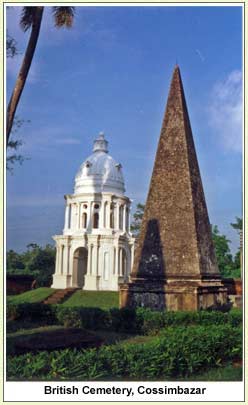 Behrampore, along with the Cossimbazar area, was the first capital of the British in Bengal. History literally oozes from every corner of this town.Once, a small river-port named Masumabazar stood at the confluence of the Padma, Bhagirathi and Jalangi. The entire area used to be abuzz with traders from all parts of the globe.
Start your sightseeing from Saidabad, a colony of the French till 1829. Even Dupleix stayed here for some time. The local name, Farashdanga, originated from this background. The Armenians also lived here. The dilapidated Armenian Church in Saidabad, built between 1665 and 1758, stands as a silent testimony to past glory.Then came the British. Job Charnock started his career here as a clerk with the East India Company for a monthly salary of Rs 300.In 1756, Siraj-ud-Daulah attacked and destroyed almost all old British establishments here. But they were soon rebuilt.
The barrack square is surrounded by colonial buildings. One of them is the circuit house where Robert Clive and Warren Hastings had once lived.

One of the most awe-inspiring structures is Krishnanath College, built in 1853, even before Calcutta University. A perfect replica of the Oxford University main building, this college stands tall. Several luminaries graduated from the institution, including freedom fighter Surya Sen. The majestic college building has a clock tower and classical arches.
Another major draw for tourists is the British cemetery in Cossimbazar. Mary, first wife of Warren Hastings, and her daughter Elizabeth lie buried here. Cossimbazar also has a Dutch cemetery full of pyramid-shaped graveyards, motifs of a bygone era.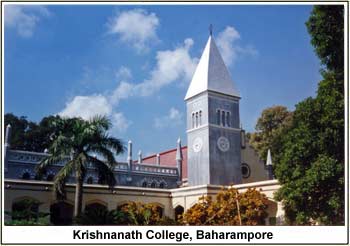 Cossimbazar royal palace is another attraction. Built in classic Indo-European style, this 300-year-old building has a Lakshminarayan temple, unique with 100 pillars and 50 arches. Terracotta and fresco works are on the walls.
Another royal place, known as Chhoto Rajbari, is also a good place to visit. One part of this well-maintained palace is used as a confectionery factory.
Ruins of the palace of Nandakumar Dewan of Bengal, who was hanged by Warren Hastings on charges of corruption in 1775, is worth a look. A small exhibition displays old letters, a sword and other curios of that age.The biggest charchala temple of this district is nearby. Established by Sri Krishna Hota in April 1766, the temple is a good example of the Bengal school of architecture. The Mahajantuli area is full of Jain temples. Statues of 24 Tirthankars are the main attraction.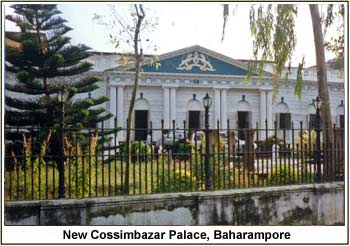 The more intrepid explorer can also visit the 10 Shiva temples established by the royal family, the cemetery of the Burmese king Thibo, the Chhota Katra mosque, the Zilla Parishad Bhavan and the textile college. If that's not enough, then drop by Jiyaganj and Baronagar after Behrampore.

How to get there
Behrampore is well-connected by rail and road. Take the Bhagirathi Express (AC chair car available) or Lalgola passenger (first class non-AC cabin available) from Sealdah station. Bhagirathi reaches Behrampore at 10 pm, while Lalgola reaches early morning. Many express buses go to Behrampore from Esplanade. The journey takes about five hours. You can hire a car in Behrampore for sightseeing
Where to stay
There are lots of good hotels. Two of the best are White House and Behrampore Lodge. Both have good restaurants. The rate varies between Rs 350 and Rs 600 (for AC and non-AC rooms). There are budget hotels, too.