| | |
| --- | --- |
| NEXT WEEKEND YOU CAN BE AT .....BETHUADAHARI | |
There's no way Bethuadahari Wildlife Sanctuary in Nadia can be counted as a major forest of West Bengal. This name comes as a small footnote in the long list of forests that are often visited by tourists to enjoy wildlife and nature. But a trip to this small forest can be one of your most memorable weekends.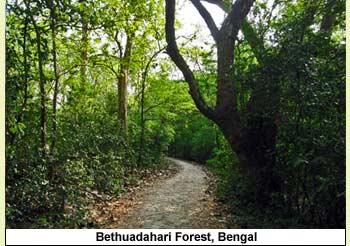 Situated beside National Highway 34, Bethuadahari is an astonishing exception. It is hard to believe that a green jungle like this can exist just 28km from an overcrowded place like Krishnagar.
Bethuadahari is a man-made forest covering nearly 167 acres, with two big water bodies. Very densely covered with trees like teak, segun, babla, shishu, arjun and bamboo, the area is fenced and clearly separated from human settlement.
Bethuadahari or Bethua is often referred to as a deer park as it houses nearly 550 deer, who are visible almost at every corner of the jungle. But calling it a mere deer park would be an understatement because this wildlife sanctuary, established on October 29, 1980, is a safe home for many other wild animals and birds. Apart from deer, there are wild cats, rabbits, mongoose, jackals, porcupines, monitor lizards, snakes and langurs. Those who love birds will be delighted to know that there is a path inside the forest that is named after the legendary ornithologist, Salim Ali.
Named the Salim Ali Trail, this path takes you to a turtle pond where rare turtles are preserved. The same pond houses saltwater alligators known as ghariyal. In the morning they come out of the pond as they are fed by forest guards. Needless to say, the sight of these wild creatures eating fish from the hands of humans is a thrilling experience!
Next to Salim Ali Trail is Barringtonia Trail. Barringtonia is a genus of flowering plant, often referred as hijalna. The path offers a plethora of this flower in various shapes and colours.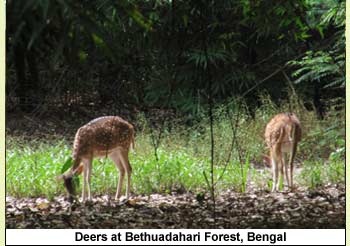 Stay overnight for an unforgettable sunrise and an even more unforgettable full-moon night. Among the two government rest houses here, one is inside the forest and the other near the entrance. The experience of spending a moonlit night surrounded by the dark forest with the sound of crickets and deer roaming around you will surely be something to cherish forever.
You can also visit nearby places like Krishnagar, Diknagar, Ballal Dhipi and Shibniwas.
Going
Bethuadahari sits beside NH 34, located 28km from Krishnagar and 148km from Calcutta. Drive down or take Lalgola-Sealdah Passenger or the Bhagirathi Express from Sealdah and get off at Bethuadahari station. Cars can also be hired from Krishnagar station.
Staying
The West Bengal Forest Development Corporation (WBFDC) runs two rest houses. Rooms can be booked from the Calcutta office of WBFDC.
This article was published on 7th July 2013 in The Telegraph

Click here to view the original article