The garden city of the east, Bhubaneswar, presents a fantastic fusion of the past and the present. The old part of the city is steeped in history while the new is a commercial and political hub.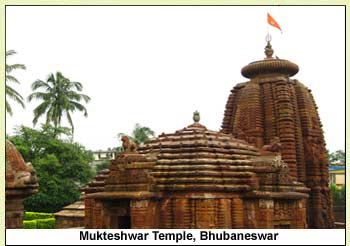 The history of Bhubaneswar is interesting. According to the Puranas, the king of all 14 worlds used to stay here, then known as Ekambrakanan.
When Raja Lalatendu Kesri constructed the Lingaraja temple the city was renamed Bhubaneswar. This temple, 165 ft high and situated on an area of 520 sq ft, is one of the landmarks of the city. The Singha Toran on the eastern side is the biggest gate of the temple.
With Narayan, a massive Shivalinga is simultaneously worshipped and you can see images of Ganesha, Kartikeya and Brishava. Do not forget to visit Bindu Sarovar, a sacred lake where Chaitannya Mahaprabhu once took a holy dip.
If you are the religious kind there's Mukteshwar temple, Anantobasudev temple and Parashurama temple for you to visit.
Apart from temples Bhubaneswar is quite an attractive place what with well maintained roads, green avenues, parks, decorative islands and a competent traffic system.
If you are keen on shopping then Nehru Square is where you should be. There are various shops selling authentic gift items and the vast range of Oriya sarees like Bomkai, Sambalpuri, Bichitrapuri and Katki. Make Bhubaneswar your base and go to visit Konark, Nandan Kanan, Chilika etc on conducted tours.
And there is no dearth of good hotels and restaurants for you to stay and eat.