| | |
| --- | --- |
| BIKANER : GLOWING OASIS IN A DEADLY DESERT | |
In the first look, Bikaner seems to be a dusty desert town but as one explores its bylanes, a glorious saga of history begins to unfold, writes Somen Sengupta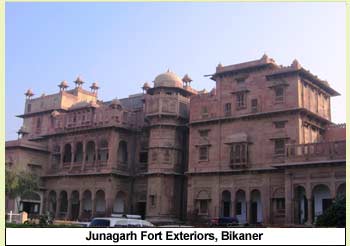 Bikaner teaches us a very important lesson — you can be easily mislead if you don't study history carefully. Most people think Rajasthan derives its name from its royal families, which took up arms against the Mughals for the sake of their dignity and independence, but that is only the partial truth.
There were many royal families in Rajasthan that instead of going to war with Mughals preferred to enter a diplomatic treaty for the sake of protecting their land and religion. Call it a political gamble or helpless submission, this made a huge impact on the land, especially in those parts where water and vegetation were scarce and life was not easy.
Marwar means the land of death. The vast and deadly desert of Thar, that makes survival almost impossible for humans and animals, justifies its name. Still for many centuries, several kingdoms mushroomed all over Marwar to rule the land and helped shape the rich culture and heritage. It groomed towns with elegant forts and amazing temples. One such city is Bikaner that glows like a gem in the hot desert bed of Thar. The royal family of Bikaner cooperated with the Mughals and then with the British for peaceful survival and that ensured a colossal expansion of its wealth. In the first look, Bikaner seems a dusty desert town but as one explores its bylanes, a glorious saga of history begins to unfold. The unimaginable victory of a warrior race against all political and natural odds comes alive.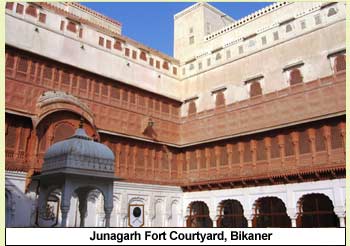 Legend has it that the mystical river Saraswati once flowed through the region. In Ramayana, this place was referred as Karu jungle. Earliest references of history establish the fact that in 1488, Bika Rao — the 14th son of Rao Jodha of Rathore clan of Jodhpur — founded the city. He got this land from Nehara Jat ruler, who agreed to part with this land on the condition that their name will be added to the name of the city. Thus, with Bika another word Nehera or Nera was added to make it Bikaner. That is how a great city was named and a new kingdom under a new dynasty emerged in the middle of an oasis.
The first fort of Bika built in 1478 is in ruins, while the new fort known as Kendramani or Junagarh Fort built by the sixth Bika ruler, Rai Singh, is now the biggest archaeological attraction here. Built with red and pink sandstone between 1587 and 1593, Junagarh Fort kept adding new structures — as many as 37 in the next 300 years — shaping itself as one of the best military garrison and a depot of artistic excellence of medieval Indian history. The square-shaped walled fort is encircled with a 40-ft-high boundary wall and it once had a 30-ft-deep moat around it for protection.
There are several gates to enter Junagarh Fort. The main gate built in 1593 is known as Surajpole, which is made of yellow sandstone. Other gates, which are equally massive and richly decorated, are Karan, Daulat, Chad and Fateh. At the Daulat gate, 41 hand prints of different women are carved onto the wall. The wives of various Bikaner kings committed sati after their husbands died.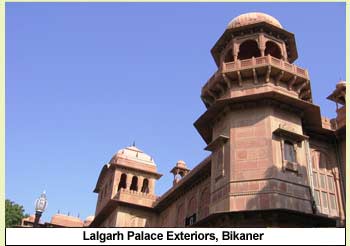 Every pavilion inside the fort contains splendid stone carving and architecture influenced by the Indo-Islamic. Almost every ruler who lived in this fort added a new structure with unique architecture. The finest among them is Chandra Mahal, which has gold plated walls and tiled floor. Anup Mahal, perhaps the grandest of all, has gold plated wall paintings in the audience hall and excellent Italian marble floor. The latest palace is Ganga Mahal built between 1873 and 1943; it houses a museum exhibiting a plethora of royal artifacts along with a bomber aircraft used in the First World War.
Lalgarh Palace, the most modern construction by the Bikaner royal family, is a mindblowing experience. Considered as one of the last iconic palaces in Asia after the first great war, it was designed by British architect Sir Samuel Swinton Jacob and built during 1902 and 1926. Initiated by Maharaja Ganga Singh, the palace is a fine blend of Mughal Rajput and European architecture. Bikaner's royal family was so close to the British rulers that the king of Bikaner, Sir Ganga Singh, was given the honour to sign the treaty of Versailles in 1919 on behalf of India. Many British royals enjoyed the hospitality of this palace, including Lord Curzon, King George V, Queen Mary, Lord Harding and Lord Irwin.
Though standing in a desert, this palace was equipped with all luxuries for its guests. A lot of money was spent to build and maintain the five wings, which were decorated with artifacts collected from all over the world. The palace houses innumerable royal bedrooms, drawing rooms, smoking room, post-dinner playroom, games room, indoor swimming pool, lounges, pavilions, gardens and a grand dining hall. Now partly converted into a hotel, the palace houses a museum named Shardul, which exhibits rare photographs and royal articles.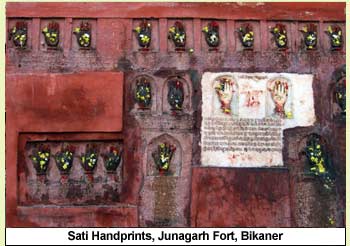 The magic of the desert city does not end here. One must visit the unique temple popularly known as Ghee Temple. Formally known as Bhandreshwar Jain Temple, it was built by a wealthy businessman named Bhandasa Oswal from 1468 to 1514. Legend has it that while building this temple, 40,000 kg ghee was used instead of mortar! Till now one can smell ghee, and see it seeping out of the walls on a hot day. Dedicated to the fifth Jain Tirthankar Sumatinath, the temple is built in North Indian Naggar style, and the porcelain tiles were imported from England. The three-storied temple offers a breathtaking view of the desert city.
Apart from these, the royal graveyard named Devikund Sagar is a must see in Bikaner. More than 100 members of the royal families have been cremated here. Among them Rao Kalyam Mai tomb is the oldest, but the finest belongs to Raja Surath Singh. Ganga Golden Museum, which is close to the fort, houses a rich collection from the times of the Guptas and Mughals. The iconic Saraswati statue made of white stone is a must see. Around 10 km from the city is the National Research Centre on Camel, a camel breeding farm-cum-amusement centre.

A visit to Bikaner will not be complete if the famous bhujia is not relished. All over the city, snack shops sell various kinds of mouthwatering bhujias and each one of them has a distinctive taste.

This article was published on 1st November 2015 in The Pioneer

Click here to view the original article