Birnagar in Bengali means abode of the hero. It is curious that a small village in Bengal should be thus named by the British. Situated near Ranaghat in Nadia district, Birnagar was earlier known as Ula, famous for its Sanskrit scholars. The word 'ula' is derived from the Parsee word 'owl', which means prudent. The first reference to this village was found in Abul Fazal's Ain-I-Akbari.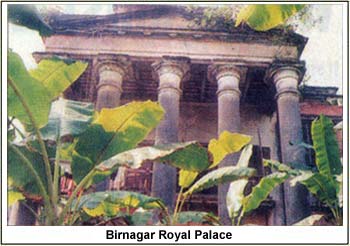 Here goes of brief history of the place: in mid-18th century, two notorious bandits, Baidyanath and Bishwanath, attacked the house of a rich man, Mahadev Mukherjee, who put up a brave resistance. As a result, the gang of bandits was vanquished, two of them died and 18 were arrested. In the court of circuit, the 3rd Judge sentenced them all to life imprisonment. This incident caused such a sensation that the British rulers in Bengal changed the name of the village from Ula to Birnagar, in recognition of Mahadev Mukherjee's heroism.
The royal family of Ula was closely associated with Nawab Murshid Kuli Khan. One Remeshwar Mishra of this family acquired the title of Mustafi and set up a majestic Radhakrishna temple in 1694. The temple is built in dochala style of Bengal school of architecture, a speciality of the district.
Popularly known as Mustafi Bari temple of Birnagar, it is embellished with peerless terrocotta motifs telling the tales of Krishnaleela and Ramayana. Statues of Ganesh, Kartik, Durga and the vastra haran episode from Mahabharat are also carved on its walls. Though an architectural masterpiece, negligence is the only treatment the temple is getting at present. The only recognition that came its way was when a British television company featured it in a documentary.
Near the temple is a Chandimandap, built in 1684. A savage storm destroyed the old structure in 1864 and the present one was built by Girijabhushan Mustafi the following year. Another attraction of this village is a set of 12 shiva temples known as Dwadash Shiva Mandir. Ten of the temples were constructed by one Shibaram Mustafi in 1744 to please each of his 10 wives, so the story goes.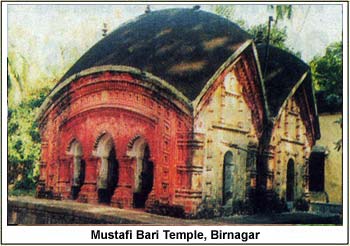 These temples are simple architectural structures with barely any art work adorning them. Now only one temple has a Shivalinga known as Gopeshwar, a regular object of worship. One temple is dedicated to Durga while another is Mustafi's Samadhi (tomb).
While in Ula, one must not miss the royal palace. A peerless speclimen of European architecture, this building, though in a state of disrepair, still evokes nostalgia with its majestic pillars and giant portico. Near the palace stands a large brass chariot and a few more temples built in the aatchala style.
Tourist Info
Birnagar is a small station that comes after Ranaghat, about two-and-a-half hours' from Kolkata by local train. One can also a take a bus to Ranaghat from Barasat. To drive down, one would have to take Jessore Road and journey for three hours. From the railway station, cycle rickshaws are available for going around all the places in the village. There is no restriction on photography. However, visitors cannot enter the palace. The village has no good restaurant. Snacks and bottled water are available at roadside shops.