Bonokathi, a small village in Burdwan, has everything to captivate a traveller's mind — a dense jungle with a temple, a thousand-year-old brick tower with an interesting history and a river with an excellent view. Some books say this place was known as Gopbhumi and was an independent state before it merged with the Pala empire.
During the reign of Naya Pala, son of Mahipala, in c. 1038 AD, the dynastic rule started to crumble. Many local rulers announced their independence from the Pala king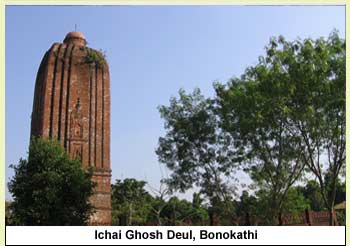 .
Mahamandalik Echhai Ghosh announced himself a sovereign king and refused to pay tax to the ruler of Gour, the then capital of Bengal. Echhai Ghosh defeated Karna Sen, a local king, and captured several parts of Burdwan, proclaiming himself the ruler of independent Gopbhumi.
Years later, Lau Sen, son of Karna Sen, avenged his father's defeat by killing Echhai Ghosh on the banks of river Ajay. The place where he was killed is called Kadunedanga. It was believed that after his death Goddess Durga, whom he worshiped, wept for many days.History is surprisingly silent after this. There is no record of who constructed the brick tower — also called a deul. Some think it was built by the next generation of Gop kings as a memorial to their forefathers. The common version is that it was constructed by Rani Bishnukumari, a queen of the Burdwan royal family.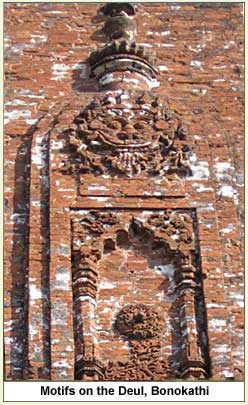 Others think it was constructed by Raja Chitra Sen while some say it was constructed by Echhai Ghosh. But according to archaeologists, the bricks of the tower belong to the 11th century, long after Echhai Ghosh's time .The 50ft high structure, more than 900 years old, which may have been a watch-tower, now houses a shivalinga. The slim and solid building reveals the influence of the Orissa temple style.
The tower has five steps and the upper part is decorated with floral designs and human figures. Each wall is embellished with bricks made of terracotta. The temple-like design on the tower has a kalash and a face — probably of the Sun God or Yaksha — along with floral designs and a woman playing the dholak. All sides of the building have the same design except the human figure, which keeps changing. On the right corner is a defaced figure in the Nataraja style. The tower is now maintained by the Archeological Survey of India and is fenced but signs of inadequate care is apparent. One can find plants growing out of the wall and cattle roaming around.
In 1990, the structure was vandalised by treasure-seekers but they found nothing.
The dense forest of Kaksa is also an attraction. The oldest Durga puja of Bengal is still held in a temple inside the jungle called Shyamarupa of Gar jungle. The original temple was constructed more than 1,000 years ago and was destroyed. The present one is simple and was built by the royal family of Burdwan. The Durga deity is old and made of black stone.
It is said that Lakshman Sen took refuge in this temple, built by Echhai Ghosh, while escaping from his capital Gour in 1205 after he was vanquished. According to legend, Jayadev, the author of Gita Govinda, had also visited this temple, though he was a Vaishnav and the temple belonged to the Shakta tradition.
The responsibility of the present temple was handed over to the royal family of Hetampur. Later it was given to a priest's family in Bishnupur village. It is at present owned by the government.
Going
Bonokathi is 19 km from Durgapur town. Take your own car, or hire one from Panagarh or Darjeeling More. Or take a bus from Esplanade to Panagarh or Darjeeling More. It takes about two hours. Bonokathi is around 35 minutes from Darjeeling More and Panagarh by road.
Staying
Private resorts are available.
Deulpark is an option. Ph: 9831113200/ 24298592/ 25338959. Rooms can be booked at 55A Shyambazar Street. Website: www.perfectparibar.com.
Cottages are available. Cars can be hired from the resort

This article was published on 7th June, 2009 in The Telegraph

Click here to view the original article