It is not easy to find a place in Bengal where 38 different temples, all aged more than 150 years, are co-existing in a small comples. Bouwali, a place hardly two hours from Kolkata, is where this amazing treasure exists – though in a sorry state.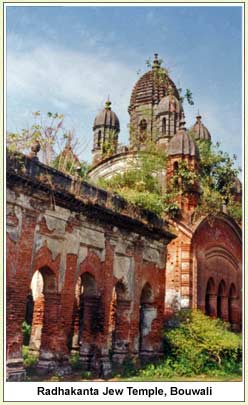 The Mondal family, who got this place as a gift from Man Singh, ruled Bouwali, a hamlet, in the 15th century. The Mondals were originally from a place called Shyamganj. Later, they acquired a huge property in Tollygunge.
The name Bouwali was derived from an old Bengali word, mouli, which means collector of wood and honey. It is believed that this place was once a part of the Sunderbans and many made a living by collecting honey and wood from the forest.
History says that one Basudev Mondal was the founder of this royal family. The family was later connected to Rani Rashmoni's family by marriage.
Influenced by the Vaishnav cult, many members of the Mondal family started constructing temples. The best was the Radhakanta Jew temple, built in 1693. An architect called Bulchandra Mistri designed this temple with nine towers. The temple's navaratna style is common in the Bengal school of architecture. Of these nine towers, one was destroyed last summer.
Another temple, built in 1794 by Manik Mondal, is situated nearby. This 70 feet high structure is called Gopinath Jew temple. This temple is annexed with a Naat Mandir, a common meeting place.
The Radhanath temple at Kach Bagan is an excellent piece of terrocotta architecture. Built in 1809, this is the biggest terrocotta temple in South 24-Parganas.
No one should miss the Shyamchand Temple, built in 1843. The beauty of this temple was mentioned in Cotton's famous book, Calcatta – Old and New.
Jaltungi is a place that also draws visitors. A small palace, open on four sides, in the middle of a lake was once a regular hangout for the male members of the royal family. It was the place for evening entertainments.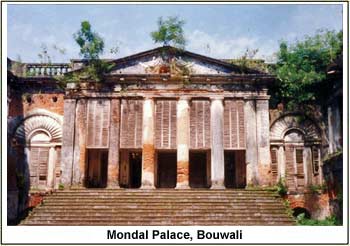 The Mondal Palace is another point of attraction in Bouwali. Once glorious, this century old palace is now in a dilapidated state. Still majestic in its appeal, this massive structure was once a shooting spot for many Hindi and Bengali films. Mrinal Sen's Khandakhar was filmed here. The palace is a mixture of Greek and Indian architecture.
Unfortunately, the days of this temple complex seem to be numbered. All the temples and dilapidated and full of wild bush. Some are in such a state that people have stopped entering them Since all these are under private ownership, the government has also not shown much interest in protecting these monuments.
Bouwali may not have the atmosphere of Vishnupur or Kalna, but its dying yet peerless temples can help you spend a weekend with a difference.
Travel Information
Take any Bakhrahat-bound bus from Esplanade East Reach in about 90 minutes. Shared jeep also available from Ajanta cinema, Behala and Thakurpukur-Diamond Harbour Road crossing. From Bakhrahat bazaar take a cyclerickshow or auto and go to Bouwali.