| | |
| --- | --- |
| KOLKATA'S GREEK HERITAGE : ALEXANDER'S FADING FOOTPRINT | |
India needs to learn how to take care of it's heritage sites.They can derive direct commercial benefits and help us connect with our country's past writes SOMEN SENGUPTA .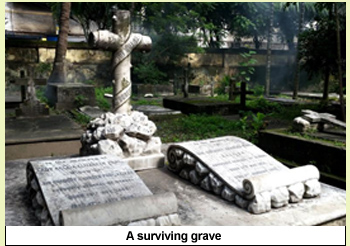 Once the seat of Royals of the East India Company and then the capital of British India, Kolkata is mingled with glory of Britainthis is what generally comes to mind when we think about Kolkata's colonial past. A lot of people connect it with other invading Europeans like the Dutch, the Danish, the Portuguese, the Armenian and the French as all of them touched this city. We can even find the rich history of migrant Chinese who came here and formed India's oldest and biggest China Town in its eastern part. This former capital of India under the British has had a connection with another European country — Greece, from where a huge number of uprooted refugees dashed to this city and they finally made it their home.

A lot of time has flown by since the Greeks said their farewell to Kolkata. Now even though not a single Greek family lives permanently here, somehow the footprints of their past are still burning bright in at least two places- a deserted cemetery which has been vandalised and a church almost non-functional stand at heart of Kolkata — drawing almost zero attention except from a few heritage saving organisations who are crying in vain to save these. The tourists who visit this city are completely unaware of these two spots and till now no funds have been issued by the Government to protect and promote them.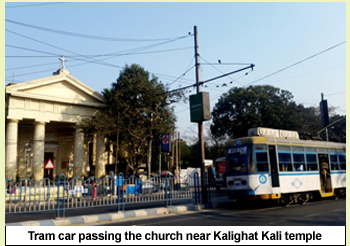 From the beginning of the 18th century to the end of the Second World War (1945) Kolkata was indeed an international city. Like the other European nations, the Greeks too chose Kolkata the minute it became the power centre of the world's first true MNC ie The East India Company. The strong connection of the Greeks with Kolkata is highlighted by the existence of two old Greek grave stones still visible at the Portuguese Church on Canning Street. These belong to the year 1713 and 1728. This makes it very clear that along with England, Holland, France, Portugal, Scotland, Denmark and Ireland traders from Greece also rushed to the new city of The East India Company. The Greeks were world famous for their efficiency in ship building. Thus when the history of India was changing forever, these ship traders from Greece would have travelled to Kolkata in the first half of the 18th century for more business opportunities.

They came to Kolkata mainly from two cities — one is Philippoupolis, which is now known as Plavdiv and other one is Adrinopolis. In the modern map of Europe both these cities now come under Bulgaria. From 1768 to 1778, Russia and the Ottoman empire were at war with each other.


Victory of Russia in that war forced to migrate large number of Turks and Greeks who mainly shifted to Kolkata. So the train of refugees for which Kolkata is historically famous and largely photographed is not only for what happened in 1947 during the partition of India but it all started when the Greeks were uprooted. Like any new community the Greeks also started their settlement by setting up a church.It was in 1752 when a modest church was set up by them and then another in 1781 in a place named Amratala in North Kolkata.It opened its door on August 6th, 1781. Warren Hastings was then the Governor General of India. Almost at the same time a cemetery for the Greeks was also opened in North Kolkata. These two incidents make it pretty evident that a sizeable number of Greeks were residing in the city back then.

Gradually the Greek community involved themselves in various businesses- from trading of textile, salt, jute etc. and their population also increased rapidly. This resulted in shortage of space in the cemetery and soon on the eastern part of the city a large plot of two acres was taken to set up the new Greek cemetery. It was around 1777.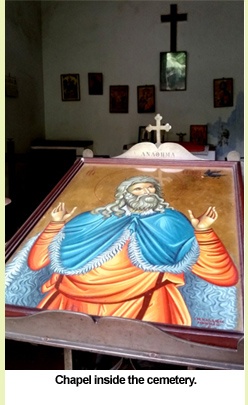 That new cemetery started functioning in 1777 and still somehow makes its presence felt in Kolkata. At the crossing of Moulana Azad Sarani and C.I.T road of Phoolbagan of east Kolkata the historic graves lies in utter negligence. This devastated cemetery is the only Greek cemetery of Asia. When one goes inside this cemetery and carefully looks at the grave stones what's fascinating is that the oldest grave here is of a man named Alexander Argeery "a noble & official merchant". This Alexander of Kolkata was a rich businessman of that era. He died in Dhaka on August 5, 1777, and later on his body was buried here on August 7, 1777. At the same time few old tomb stones were transported from old cemetery of Amratala to this place. Today, over there 120 graves can be found. Out of which 108 are inscribed with details in English and Greek while rest are either nameless or illegible. Most of the tomb stones are written in Greek. Use of English is significantly less. Almost none of the tomb stones here clearly mention the cause of death of the person. Rather death is described in a very Homeric ornamental language. The grave of a person named Davidis is found. He died on June 12, 1808. As per the inscription on the stone he was a priest and his death is described as "Safe Hands of Jesus". Another grave of Eliza Georgiana tells that she died on May 7, 1842, at the age of 27 and she was wife of Charles Brownfield. The tomb stone reads that she was also "blessed by God". There is still a small chapel inside the cemetery. The chapel wall is covered with stone tablets inscribed in Greek. It mentions a priest named Mavroudis Kyriakou who died on December 10, 1973. His grave is also here.

This dilapidated and vandalised cemetery still contains things that really grip your attention; the grave stones are made in black stone and even after so much of negligence the word curved on that are still highly legible. Few sculptures in the cemetery still survive and few of the tombstones still have a marble cross over them. On one grave the sculpture of a young girl looks up with pensive eyes holding a cross. Till the end of 1980s, this cemetery was surrounded with a century old iron railing, now it's all gone. From 1777 to 1973 this cemetery was functional and in 2003 a lady was buried here. However,whether she had any relations with the Greeks who had come and settled in Kolkata in the first half of the 18th century is unknown.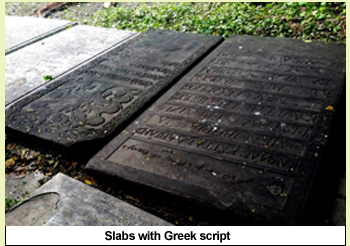 In comparison to this graveyard in the eastern part of Kolkata, the Orthodox Greek church near Kalighat Kali temple in South Kolkata is very well maintained. The bright yellow paint and brown railing shows unlike the cemetery it is not a discarded place. Built in 1925 this was not the first church of the Greeks. Oldest available archive shows that in the year 1752 a church for Greeks was opened in North Kolkata. After it was banished another church was built with the permission of Warren Hastings. It came up in Amratala area and its door was opened to the common people on August 6, 1781. One Haji Alexios Argyree a rich business man funded huge sums for its construction. The present existing Greek church also known as Transfiguration of the Saviour Church or Greek Orthodox Church was constructed in 1924.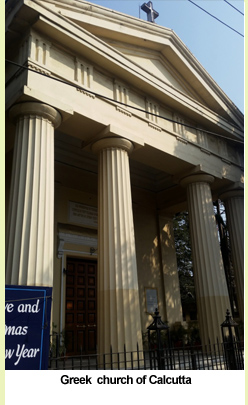 Built in typical ancient Greek temple style this church was opened on November 19, 1925. An army of well-built Doric Greek pillars in front holds the triangular pediment which is representative of Greek architecture. There are three big doors in front to enter the main prayer hall of the church. The prayer hall of the church is very well maintained. All the furniture's are well polished and walls are decently painted. Plethora of marble plaques mostly written in Greek dominate walls along with a rich collection of oil paintings based on religious stories from the 19th century. Some of the paintings feature Mary and Jesus's life after crucifixion.

An elegant colonial era chandelier hangs from the top. On the exterior wall of the church few more marble tablets both written in English and Greek are installed. Due to the massive decline of Greek population in Kolkata this church became nonfunctional from late 1960s and finally it was locked. However, in 1991 it was reopened after a lot of renovations and repairs. By that time Kolkata was no more an abode for any of the pure Greek people. Today this church is mainly used by local members of the Christian community.

The Sunday morning service is delivered in Bengali. The fortune of the Greeks did not last long in city of Kolkata. Unlike other Europeans they did not bloom much in commerce here. Moreover, inter marriage with the British people and mainly with Armenian's gradually shadowed their exclusive culture and cult in this cosmopolitan. The Greeks slowly disappeared in the crowd at a time when the other European communities were virtually ruling Kolkata. As most of the archives about Greeks are lost in Kolkata and after independence, the Bengal Government has shown tremendous apathy to preserve this part of the city's heritage thus today the Greek past of Kolkata is largely an unknown and a distorted subject.

The pavement in front of this Greek church is full of hawkers selling street foods. An unauthorised temple on the pavement is now badly blocking its view from the opposite side. The Greek cemetery is under the grip of encroachment and the boundary wall is crumbling and may collapse at any moment. During rainy season, rain water blocks a large part and many marble slabs submerge under water for weeks. The garden looks more like a jungle. There is an ugly room built next to the main gate. A well is dug inside the cemetery where the caretaker and his family bathe and washes utensils. Every evening the caretaker himself opens a snack shop at the main gate of this heritage site. Except for a few blogs and write-ups in magazines by heritage enthusiasts there is almost no initiative to protect and preserve this Greek cemetery which is one of its kind in Asia.

It is sad that significant restoration works were done to preserve the Dutch, Scottish, French and Danish heritage of Bengal but nothing was done for the Greek ones. In the West Bengal Tourism office at Dalhousie square not a single person is aware of anything about Greek cemetery. However, in 1998 when the Greek President visited India he took his time to visit Kolkata's Greek cemetery and Greek church. This shows that Greece has not forgotten a rich part of their history while we here in India a country which can derive a direct commercial benefit of this unique heritage site are aloof, ignorant and careless. We don't consider heritage to be a goldmine, for us it is only a lump of debris which is required to be removed to give way for another ugly looking shopping mall or luxury residential complex.


This article was published in The Pioneer on 9th April 2017

Click here to view the original article