Hardly 35 kilometre from Kolkata, the earth at Berachapa in North 24 Parganas hides within itself remains of ancient kingdoms dating back to around 2,500 years. In 1906, Long Hurt, an Englishman who was the then superintendent of Archaeological survey of India (east visited the place and was the first to notice clay dolls and statues peeping from the earth when rain washed the top layer of the soil.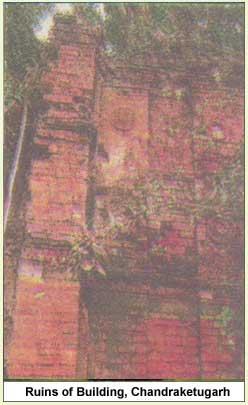 The ancient history of Bengal was revised and re-written in 1956 when the archaeology department of Calcutta University came across a whole new inhabitation- Chandraketugarh – around 25 centuries old, after excavating a large area in Berachapa. Famous historian Rakhan Das Banerjee had in 1907 visited the place and found the same historical site.
Meanwhile, local people started collecting articles which used to crop up from the ground. Clay dolls, coins, and pottery coming out the soil were lapped up when the soil was dug up for construction.During the Indian History Congress at Calcutta in 1955, a Surya statue found at Chandraketugarh was shown in an exhibition. The body unanimously agreed that there was need to dip up Chandraketugarh. Finally, University of Calcutta started excavating in 1956 and a whole new mystery beneath the earth unfolded.
Idols of gods and goddesses, lamps, drinking pots, silver coins, statues of men and women were retrieved from an entire town with well-built houses, roads and public places.
This discovery of the prosperous town Chandraketugarh revealed that this kingdom was ruled by Hindu kings Tajta and Laarpo and covered villages Debaloya, Hajipur, Shanpukur and Jhikra.At Haroa, near Chandraketugarh, a massive temple-like structure was excavated in 1957 by Calcutta University. Called "Khana Barahar Dhibi," it was probably an astrological centre as old as Chandraketugarh.
This age-old historical site in the same district was found here and came to be called Balanda. The capital of Rajballvi kingdom ruled by Hariverma Dev-II, the town had a port called Gangarijiya on the river Vidhyadhari. Later, the second largest port of Bengal after Tamralipta became defunct due to the reduction in navigability of the river.This river port was also described in Ptolemy's 2500-year olf description where it was referred to as Ganagaridi. Like Chandraketugarh, a large number of articles were excavated from here.
The storage facility for the articles has not been taken care of as no government museum has been set up here. Two individuals, driven by their interest in history beneath the soil, have set up personal museums near the sites. Dilip Kumar Mohite's collection at Berachapa bus stand has withstood the test of time for the last 45 years and inspired him to write a book on the subject.
Abdul Jabbar, who is no more, also did a great job by collecting archaeological samples from the site at Balanda which now lie in the sorry state.