For most of us, Holland is a distant reality with little or no relevance to our daily lives. Not so for the residents of Chinsurah, a small town on the banks of the Hooghly.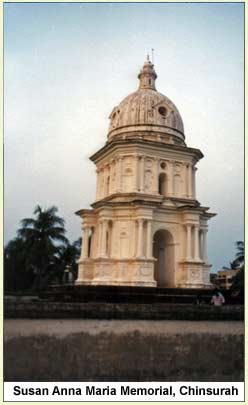 Dutch treaders came to Chinsurah in 1628, lured by the prospects of business and went on to rule and live there for the next 150 years. Not surprisingly, Chinsurah, which is just about an hour's drive from Collate, is littered with Dutch monuments. The most imposing of these is the Chinsurah Court, originally built as Fort Gustavus. The only other piece of Dutch architecture that is as visible is the Clock Tower, set up in 1911 in honour of King Edward Vii, it stand on an island in the town centre, called Ghari More.
A small Dutch church near the tower is a popular tourist haunt, through the larger St. Joun's Armenian Chruch at Mugaltuli is a bigger draw. Built in 1695 by an Armenian, the church is a marvelous piece of architecture and is said to be the second oldest church inWest Bengal. The Armenians came even before the Dutch in 1625. The church is still considered sacred by the few remaining members of the Armenian community in India and many of them come together to celebrate Chirstmas on January 6, not December 25 like everybody else.
The contribution of the Dutch is not limited to churches. A Shandeshwari temple on the banks of the river also has strong connections with the traders. Legend has it that a pair of brass drums and silver statue of Shiva were presented to the Hindustan by the Dutch and these have been preserved at the temple. There's also a Dutch Mandir in Chindurah, although it's actually the grave in unique in terms of structure because it has a large dome and open gates on all four sides.
Chinsurah's Mohsin College sould also be visited for its history. The institution is housed in a mansion, which was once the palace of a French solider called Perron who participated in the Maratha war.

Travel Information
Take a local train from Howrah to Chinsurah, about 50 munites' journey. From the station. Take a cycle rickshaw to go around.

This article was published on 17th November, 2002 in The Hindustan Times

Click here to view the original article