A slender river, a green border of trees, a small solitary island and a delicate atmosphere – and these are at your doorstep at Dabu, a place yet unexposed to the touristy cacophony of popular destinations.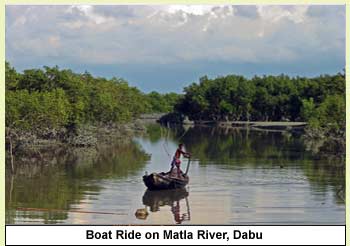 Situated on the bank of the Matla river, Dabu is a nice spot to spend a Sunday afternoon with friends and family. The clear sky and fantastic greenery are balm for tired eyes and mind.
A boat ride in the river is an additional attraction of the place. A small island in the river is safe enough to land in and have a picnic.
A formhouse owned by Port Canning Company once stood here. Today, there is a bungalow owned by the irrigation department of the state government. The garden surrounding the bungalow is the best spot to enjoy the riverside. Rare birds and small country boats lend a picturesque touch to the landscape. However, one has to obtain permission to get in here.
To reach Debu, catch a train from Sealdah to Canning, a journey of 45 minutes. From Canning, it's another 10 minutes in auto or cycle-rickshow. One can also go via Baruipur, two hours from Esplanade by bus. From there, Dabu is another one-hour drive. Overnight stay is possible if the irrigation bungalow is booked in advance from the Sech Bhavan in Kolkata.

This article was published in 13th August 2002 in The Hindustan Times

Click here to view the original article