A village with many temples is common in any part of the country, but a village with many palaces is not.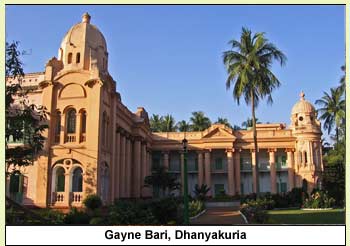 Such an unusual village is not far from home. Dhanyakuria is about 30km from Dum Dum. It takes two hours to reach Basirhat from Dum Dum and another 30 minutes to reach the village which is a little-known treasure house of the Bengal brand of hybrid architecture. Eight families of zamindars belonging to different castes once held sway over the village of Dhanyakuria. It may not be their fiefdom any longer but the palaces they constructed, which were showpieces of fusion architecture, have survived and are still well looked after.
The Sens, Lahas, Roys, Bhattacharyas and Gayens, to mention a few of the families that ruled Dhanyakuria, in an attempt to show off their wealth and as a mark of their power, constructed buildings each more showy and ostentatious than the other. Not much is known about the history of the village except that the first palace was built by the Dutta family nearly 180 years ago.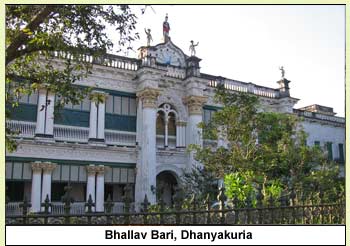 The first structure that attracts a visitor is a massive rashmancha which looks like a typical navaratna temple so common in Bengal. Except that the nine-tower structure supported on Corinthian pillars bunched together is perhaps the only one of its kind. Corinthian pillars are a rarity in navaratna temples. The structure has five arches on each side of the ground floor supported by pillars. The first floor has three arches. Each floor has four towers and one on the top. It has cast iron railings on top with floral designs.
The Singha Darja or the lion gate is a landmark palace of the village. The gate with two towers and a Greek god fighting a lion is a remarkable structure. This palace now houses a state-run orphanage. Another attraction of the village is Gayen Bari, a majestic structure built in a style that is a fine blend of neo-classical and Indian forms. Gayen Bari has a tower called nazar minar that is built on Corinthian pillars with Islamic arches on the top floor. The dome on top is clearly influenced by prevailing 19th century Western styles.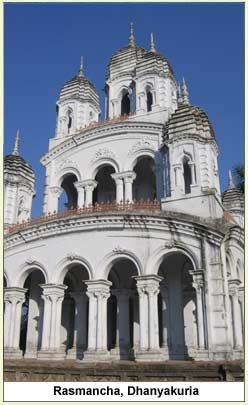 The palace is L-shaped. Twenty-one Ionic columns adorn the front. The house is crowned by two massive domes emblazoned with coats of arms. The palace gates resemble the portals of a Roman temple. The temple of the presiding deity of the family at the end of the palace can be seen from any room within it. The temple houses a Radha-Krishna idol. The building is painted pink and is well maintained. An overhanging balcony connects all the rooms from one corner to the other.
Ballav Bari in Dhanyakuria was built nearly 200 years ago by Shyam Ballav. Another palace with dolls on the main tower should not be missed. It is adorned with railings in western designs. Although Dhanyakuria has not yet made it to the tourist map, film-makers like Mrinal Sen, Aparna Sen and Tarun Majumdar have done location shooting here.
Once Dhanyakuria was famous for the Durga pujas organised by the eight royal families at their homes. Now only three families can afford to celebrate it.
Trip tips
Dhanyakuria is a two-hour drive from Calcutta airport and 20km from Basirhat. Local trains from Sealdah can take you to Basirhat station. Hire a cyclerickshaw for sightseeing. Bus and hired autorickshaws are also available from Barasat to Basirhat bus stop. Night stay is not required. Entry into the palaces and temples and photography are subject to the permission of owners. You can carry water and food from home but Barasat has good restaurants.



This article was published on 6th Decmber, 2009 in The Telegraph

Click here to view the original article