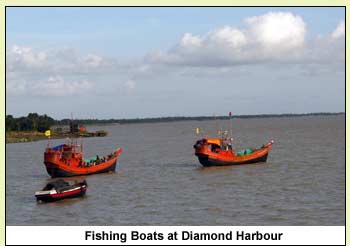 If you want to put yourself in a self imposed isolation for few hours then no other place is better than Diamond Harbour hardly 48 km away from Calcutta.
Here the Hoogly river just a kissing distance away from the Bay of Bengalis as good as the sea.When the sun travels towards the west a riot of colors occurs in the sky.The blue river & golden sky together make a magical fusion that you are bound to remember for ever.Going to Diamond Harbour is easy.Various local trains from Sealdah & public buses from Esplanades will take you there with in two & half hours.
Take a cycle rikshaw from station or bus terminus to reach Sagarika the best located hotel owned by WBTDC.This river facing well equipped hotel is furnished with all modern amenities, delicious foods & well stocked bar.Whether you can spend night or not you can enter Sagarika by paying Rs 2 & use the massive balcony restroom & dining room.Foods & drinks from outside however are not allowed.
If you decide to come by car then spen one night at Diamond Harbour & then continue towards Kakdwip,Fraserganj & Bakhkhali or you can always take a steamer to Haldia just across the river.


Though notorious for being the favourite haunt for lovers it is equally attractive to families wishing to spend some ideal days by the river.One can spend the whole day sitting by the river side & watching big cargo ships & country boats pass by. The sunset is the main attraction of Diamond Harbour.So do not forget to bring your camera.
Are we seeing you at Diamond Harbour on one of these days ?