| | |
| --- | --- |
| THE DIAMOND TRAINGLE OF ORISSA | |
Since 1850, the Archaeological Survey of India has been rediscovering our lost heritage sites which had vanished into oblivion for centuries. SOMEN SENGUPTA visits Udayagiri, Lalitagiri and Ratnagiri to showcase Orissa's Buddhist past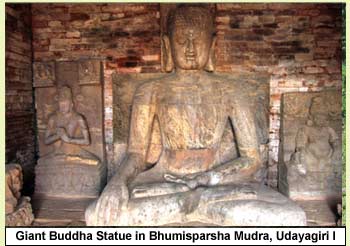 Most of the recent rediscoveries of lost heritage sites by the Archaeological Survey of India (ASI) have emerged from the descriptions found in the travelogues of Chinese travellers Xuanzang and Fa-xien. Archaeologists found many ruins and relics from the travelogues of Xuanzang but they were still unable to trace a place described as "Pusi-po-kili", situated somewhere in Wu-cha (that is how Xuanzang described Orissa, a place he visited in 639 AD) which the Chinese traveller referred to as a Buddhist centre of learning. Xuanzang described its position over a hill with a "super natural light". Along with this ancient Buddhist text written by Taranath of Tibet, also mentioned is a place called Ratnagiri in the same area with a huge setup of a monastery.
In 1869, a man named CS Banerjee, a sub-divisional officer in Orissa, visited two mounds covered with deep jungle and frequented by wild animals. To his extreme joy he found a huge number of relics, artifacts and other antiques scattered all over the place. He immediately sent a report to the Journal of the Asiatic Society of Bengal in Calcutta which generated such an interest that archaeologist John Beames visited the place to start his work to un-explore these places.
In 1890, another Government official called MM Chakravarty visited another mound in a hill-jungle and found a huge mound full of antiquities. What he found is known as Ratnagiri today. The same man also found a similar mound enriched with a brick structure and artifacts in 1905 nearby. Based on his report in 1927, the Indian Museum, Calcutta, under the supervision of RP Chandra, studied the place and Lalitagiri came to light. The entire area was declared a protected monument. These three newly found archaeological sites were known as Udayagiri — the hill of rising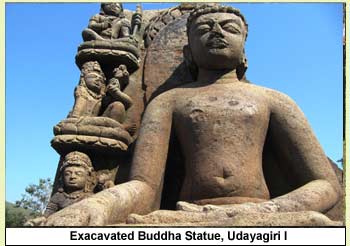 sun, Lalitagiri — the red hill, and Ratnagiri — the hill of gems. An excavation was ordered in 1896 but it actually started in 1958. In 1984, when it was completed, it uncovered an amazing treasure of our pristine past and unearthed another ancient centre of learning. The discovery of a huge number of sculptures, images, antiquity, fragments, stone tablets, potteries, coins, stone and terracotta tablets, and many huge stupas cemented the fact that these three places described by Xuanzang are the ruins of a university complex called Pushpagiri university which shared an equal status with Nalanda and Vikramshila universities.
Buddhism blossomed in Orissa in the sixth century when King Harsha sent Jayasena, a scholar from Nalanda, to Orissa. In the eighth century, through its numerous sea ports, Orissa kings bridged political and religious relations with China.
However, its fall came in the eighth century when new rulers started backing Hinduism and at this crossroads of history, Mahayana Buddhism lost its appeal to common people. For the sake of rejuvenating Buddhism, the Vajrayana school came from Tibet. As this was deeply influenced by Hinduism, a wave of image-worshipping and legends entered Buddhism which allowed sculptors an avenue to express their creative freedom. It flourished in full bloom in the Greco-Roman style of the Gandhara school and in Pushpagiri it perhaps took its finest form.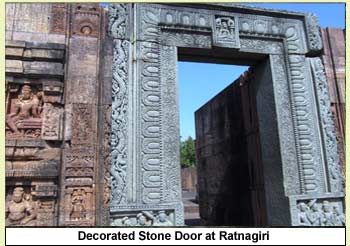 The site should be explored from the Udayagiri ruins which contain a small brick stupa that houses a colossal Buddha in the celestial bhumisparsha position. The stupa has three outer windows where small yet magnificent Buddha statues are found. One of these is in the royal crown known as Bodhisatta Amitabha while the other two are common Shakyamuni Buddha. A flight of stairs takes you to an excellent stone-carved gate that has superb depictions of human figures detailing Buddha's life.
Udayagiri's best treasure rests on the opposite hilltop where another colossal Buddha in the same celestial position is found under a roofless chamber. The chamber is adjacent to a huge Chaittya Griha which is decorated with many small stupas. The stone floor leads you to many other images nearby. In front of this, there is an excavated stone pathway running towards some more votive stupas.
The most outstanding feature of Udayagiri is its extraordinary stone gate found next to a stone well. Although the well still exists, the gate was shifted to the Patna museum long ago. The name Madhavapura Mahavihara was found on various seals unearthed here. The last phase of excavation took place between 1997 and 2000. Another part of Pushpagiri lies in the site of Ratnagiri which was excavated between 1958 and 1961. Here the archaeological boom came in the ninth century. The discovery of many terracotta seals with the words "ratnagiri mahavihara arya vikshu sangha" helped ascertain the original name of the place.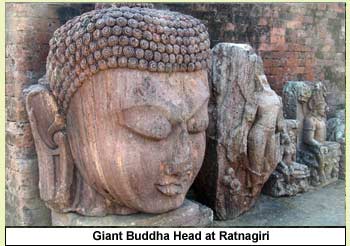 Enriched with two monasteries and one grand stupa, Ratnagiri is a treasure trove. This site is full of votive stupas, a big stupa, a courtyard with several images, various images of humans and gods, a colossal Buddha and the most amazing of all are various giant Buddha heads, unique artifacts hardly found anywhere else in India. More than two dozen such giant Buddha heads are found here which resemble the Buddha heads found in Barbadur in Indonesia and Anuradhapur in Sri Lanka. Most of them are displayed at the courtyard that houses decorated cells on the left and a sanctum sanctorum where a huge Buddha statue in the bhumisparsha posture is placed. The 12 ft high statue is built in sections and its nose is damaged. It is teamed with two smaller statues of Padmapani and Vajrapani. The sanctum is decorated with two stone guards at its entrance.
This stone-paved monastery built in the ninth century with a huge central courtyard containing 24 cells was excavated from a mound known as Ranipokhari. At first what draws one's attention here is the stone gate of the site. An excellent artistic exuberance, this gate is carved on green granite with extraordinary craftsmanship. The door is decorated with human figures in royal clothing. The figures are exceptionally distinctive. A smaller monastery stands next to this which is not as grandly decorated as the first one. A standing Buddha in varada mudra is the main attraction of this monastery.
The brick-made mahastupa is surrounded with various votive stupas which are exceptionally big in size and very different in shape. From a distance they look very similar to the votive stupas of Indonesia and this clearly proves the fact that the Rantagiri school of architecture made an impression in Java, Sumatra and Bali. Colonisation of these places by the Oriya king Sailendra made such an impact that the Buddha statues found in Barbadur are stylistically the prototypes of the statues found in Ratnagiri.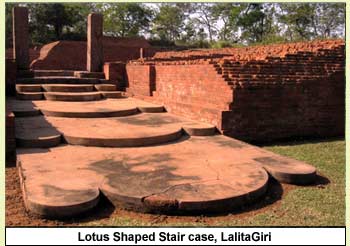 The latest site discovered at the Pushpagiri complex was Lalitagiri. Being a centrally protected monument from 1937, it was first excavated in 1977 by Utkal university and then by the ASI in 1985-1991.It uncovered a massive stupa inside which lay the biggest discovery — two stone caskets in which Buddha's teeth in the form of a bone were found. This is the only Buddha relic stupa in the east after Vaishali in Bihar.
The huge chaitagriha unearthed here is one of the prime attractions. The stone paved chaitagriha is encircled by many votive stupas and they are very different in shape and size. Various stones and terracotta slabs found here are inscribed in the Kushana-Bramhi language.
Apart from four more monasteries, all built between the sixth and eleventh centuries, a plethora of votive stupas were found. The stairs of those are designed of lotus petals while each and every votive stupa is different. The surprising discovery is a huge chaitagriha surrounded with many votive stupas. Monastery number four houses a huge colossal Buddha broken from the middle. From this it is clear that this place was influenced by both Mahayana and Hinayana schools of Buddhism and later, from the ninth century onwards, it was flooded by Vajrayana thinking. So in that way this site is the only site where the cultural chronology of Buddhism is found. A plaque found there reads "Sri Chandraditya Vihara Samagha Arya Vishnu Sangha", a testimony that this was also a residential learning centre.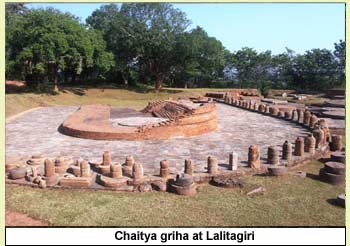 Lalitagiri has a spot museum that displays most of the treasures found from the site which include a rich collection of Buddha statues in various postures along with many Buddhist deities. A visit to Lalitagiri is incomplete without a tour of the museum. It is also evident how Hinduism made an entry into Buddhism through Vajrayana. Here all Buddhist gods and goddesses are replicas of various Hindu gods. Some of them like Aparajita Tara, Padmapani, Hariti, Vajrapani, Manjusri are close to common Hindu gods.
Both Udayagiri and Lalitagiri were built in several phases between the fifth and eleventh century. From the tenth century onwards, however, owing to the relocation of the sealine from this place and the gradual decline of Buddhism as a religion, Pushpagiri's fall from glory began and it was slowly lost in the darkness of time. Further, centuries of utter neglect, the debilitating dust of time and random vandalism of the carved stones for the sake of decorating palaces and local temples. Over time all three sites were deserted and vanished under deep vegetation and mud. It is our good fortune that by accident all three places were rediscovered and India got back a lost chapter of its glorious past.
Today these three sites are known as the diamond triangle of Orissa representing a rich heritage, a point in history when architecture and sculpture of the post Gupta era Indian art touched a new zenith of excellence.
.This article was published on 23rd March 2014 in The Pioneer

Click here to view the original article