| | |
| --- | --- |
| NEXT WEEKEND YOU CAN BE AT ... DIHAR | |
Two 14th century stone temples that stand like sentinels on the bank of the Darakeswar river are the main attraction of Dihar in Bankura. Both structures are dilapidated but their presence is still majestic.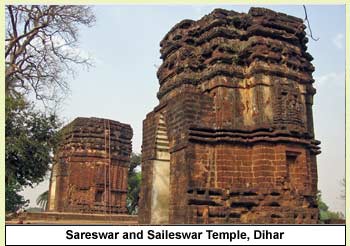 The temples are dedicated to Sareswar and Saileswar, both names of Lord Shiva. Built in the rekh deul style of Orissa, the structures do not have towers. It is not clear whether the temples were left incomplete or their towers were broken. There is no stone script inside stating when the temples were built and by whom.
The temples were neglected for a long time till in the early part of the last century, a Briton named DB Sooner, the superintendent of archaeology in the eastern region, took an interest in them. Some Neolithic tools were found after excavating the area. Through radio carbon dating, it was established that people had started settling in the village around 1000 BC. The Dihar settlers were adept in using copper tools and also learnt to make alloys.
Sooner also went through documents of the Bishnupur royal family. He concluded in his report that the temples were built by King Prithvimalla of Mall dynasty in 1346.
The laterite stone walls of the temple showcase decorations that astonish. Floral designs and miniature human figures are the most common. Defaced images of divinity can also be seen. A stone bull in front of Sareswar temple may have given its name. Both temples have been designated as protected monuments and are maintained by the Archaeological Survey of India. Pilgrims gather in the area during Shivratri.
Trip tips
Dihar is just 8 km from Bishnupur, which is easily accessible from Calcutta. Portions of the road are un-metalled. The tour can be clubbed with Bishnupur and Bahulara. Villages like Dharapat and Abantika are nearby. Carry food and water. There is no restriction on photography. Return before dusk.

This article was published in 17th August 2008 in The Telegraph

Click here to view the original article