Nadia is not known for terracotta temples but there are some excellent ones in villages near Shantipur and Krishnagar town. Diknagar, one of the villages, deserves special mention. It has two majestic terracotta temples.
During the heyday of the Shakta cult, the king of Nadia had constructed several temples in the district. The small village of Dirghikanagar along the road that was built between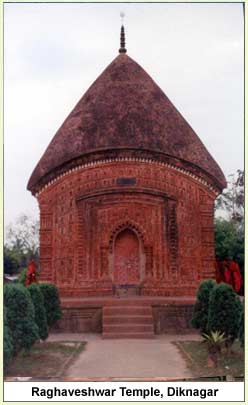 Krishnagar and Shantipur was the site of two of them. Dirghikanagar has become Diknagar and the temples have been virtually forgotten. One of them is still in reasonable shape, but the other has almost been reduced to rubble.During the reign of king Raghav, Dirghikanagar was a hub of activity. He dug a giant pond — 1,452 m long and 840 m wide — to solve the drinking water problem of the local residents. In 1669, Raghav constructed his palace and the two temples beside the pond. The palace has bitten the dust long back.
The Raghaveshwar temple, maintained by the Archaeological Survey of India, is situated in a small garden opposite the pond. Built in typical Charchala style of the Bengal school, it is the second biggest terracotta temple in Nadia.The well-crafted terracotta sculptures on the temple's sides tell many stories. The social changes are depicted along with stories from the religious texts. The temple was mentioned in Bharatchandra's Annadamangal.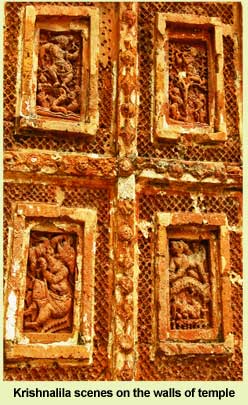 Erotica and Krishnalila have a peaceful co-existence on the walls. The sculptures also narrate stories from the Mahabharata. Lotus and other Hindu motifs like conch shells and bells are carved along with figures of Muslim fighters and nude girls with deer.The sculptures are very artistic. Unlike other terracotta temples of Bengal, there aren't miniature Shiva temples beside the main entrance. Instead, there are small human figures in festive mood.
An interesting feature of the temple is that all the terracotta figures are depicted from the side.
The Shiva inside is known as Raghaveshwar. A plaque on the top of the temple states that it was established in 1591 shakabda or 1669.
The eastern side of the temple is bare. All the art works have been either destroyed or distorted.
The other terracotta temple is in a sorry state. Vegetation covers the entire structure. But from whatever little art work is left, it is apparent that the temple was just as good as the other one at Diknagar.
Trip tips
Diknagar is a small village between Krishnagar and Shantipur. Try to visit the attractions in Krishnagar and Shantipur on the same day. Start your journey at Krishnagar. It is only 118 km from Calcutta and takes nearly two and a half hours to reach by local train. Buses are available to Diknagar from Krishnagar. Have your food there and carry drinking water. Photography is allowed. Catch the return train from Shantipur. You can make it back to the city by 8.30pm.


This article was published on 9th September 2007 in The Telegraph

Click here to view the original article