When you feel choked by the smoke and noise in overcrowded Kolkata, take a break and head off for Falta, the latest weekend destination of people in the city. A magical sunset, a peerless panorama and a 17th century fort make this humble place a magnet for those who need to relax in the lap of nature.
Falta is at a distance of about 55 km from the city centre and is accessible by bus or car. A dilapidated Dutch fort still stands here. This is the place where Governor Deck of the British East India Company took shelter after losing Fort William to Siraj, the last independent nawab of Bengal. The date was June 18, 1756. From here a messenger was set to Madras to inform Robert Clive about the "Calcutta catastrophe".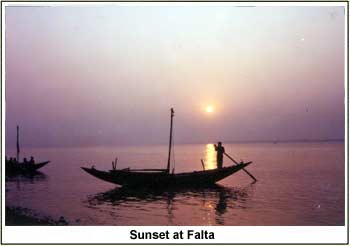 Through the fort is in bad shape, the ruins still have tunnels, stables, cannon points and waterhouses for storing gun-powder. One cannon from that era is still preserved at the Falta police station compound.
Near the fort, there is the house of the Parui family. The family possesses a rare Vishnu statue of the Pala-Sena era made of black stone. This statue was salvaged from the womb of Hooghly.
The real attraction of Falta lies in its solitude and marvelous riverside beauty. The sunset is pure magic, when the sky turns an unforgettable shade. A pensive mood descends on the water as darkness slowly engulfs the surrounding. To fully experience this magic, go to 'Falta point', the union of the Hooghly and Damodar rivers.
On the industrial map of West Bengal, too, Falta is becoming important. The proposed free trade zone has already attracted a bunch of big corporate houses to this small hamlet. Before industry overtakes serenity, enjoy the symphony of the rivers this weekend.
Travel Information
Take any bus from esplanade and reach there within two hours. Buses also ply from Babughat and Taratolla crossing. There are good hotels and seven restaurants at Falta. The best is Hotel Rajhans. This luxury hotel offers river-facing A/C rooms with excellent food and bar facilities. This hotel also offers bym and swimming pool. Hotels priced more moderately are also available. Room can be booked from Kolkata. However, spot booking is also possible.