This remote, romantic river resort can refresh your body and soul in this sultry summer heat. Just over two hours from Calcutta, Garchamuk is the perfect place to recharge your batteries. What's more, it is also a coveted spot for bird lovers.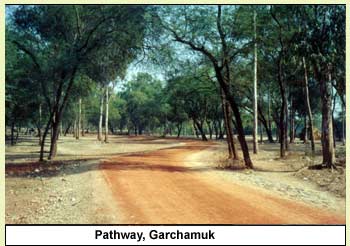 Situated at the confluence of the Damodar and the Bhagirathi rivers in Howrah, Garchamuk is far from the din and bustle of the city, set amidst the picture postcard panorama of rural Bengal where sky and river meet in the crystal clear horizon.
The original name of this place, Garchumbak, means "the magnet fort". It was later distorted to Garchamuk, also popularly known as Attanyo Gate (58 gates).
Here, on the river Damodar, the irrigation department of West Bengal has constructed 58 water lockgates to boost agriculture. The gates are under a bridge which offers an excellent vista of the river. A fantastic sequence is created when the gates are opened to release water. But the real magic is on the other side of the bridge. An earthen road marked with red soil takes you through a dense shadow of tall trees to the confluence of the two rivers.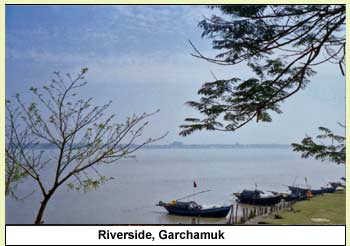 The most spectacular spot in all of Garchamuk is where the irrigation department has built its guest house. With a majestic river in the background, the guest house is higher than ground level. The view from this point includes innumerable country boats floating on the water. At night, the sky is covered in thousands of twinkling stars. Take a boat ride on the river in the afternoon for a memorable experience.
The guest house has a lawn, and offers air-conditioned and non-airconditioned rooms, named after rivers like the Ganga, Bhagirathi, Saraswati and the Rupnarayan. A cook is available in the guest house, but guests can cook for themselves, too. Room service and canteen facilities are also available.
Garchamuk offers ample scope for bird watchers and environmental enthusiasts. The nature park opened in 1990 on the bank of the river is an ideal viewing spot.According to officials, about 57 types of rare birds can be seen here. Rosering parakeet, house martin, papia, tailor bird, tree pipit, purple sunbird, grey shirk and smaller egrets are some of them.
If you?re lucky, the bluethroat barbet, popularly known as basanto bowri in Bengal, might be glimpsed. A large signboard in front of the nature park provides information about the feathered creatures.
Some cottages newly built by the Howrah zilla parishad opposite the park are also a nice place to rest. The ground in front of the park is meant for picnics. Some artificial huts offer cool comfort.
Going:
Take a bus from Esplanade. CSTC buses leave every hour. You can also take a train to Uluberia and an autorickshaw from there
Staying:
Book a room at the irrigation department guest house. Contact the Writers' Buildings office of the department

This article was published on 8th May, 2005 in The Telegraph

Click here to view the original article