Garpanchakot — about 250 km from Kolkata — is a testimony to Bengal's glorious past but also to equally indifferent present. Somen Sengupta, after visiting the place, tells us more about it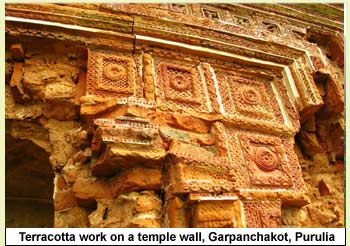 Not too far from Kolkata — 256 km to be precise — exists a solitude in the lap of nature where history whispers from every edifice. Situated near the Bengal-Jharkhand border, this place showcases a testimony of the pristine past. Inside the deep, dark forest of Garpanchakot, several dilapidated temples and ruins of a palace-cum-fort has been co-existing for centuries.

Garpanchakot — or Gar Panchet as locals love to call this place — is a testimony to Bengal's past glory. It, in fact, had walked into the pages of history long ago and then gradually banished into oblivion. Today what we find here is not even a shadow of its glorious past. All we get here are the relics of the past scattered across the 18 km deep forest — it's another matter that even this precious little makes it a mesmerising place for one to enjoy a weekend.

The place gets a mention in the Puranas as Panchakot Giri. Once known as Shkekharbhoom, it was part of the kingdom of Tilakampa dynasty with its capital at Telkupi. Unfortunately, many temples and archeological relics of Telkupi got submerged in the Damodar river when the Damodar Valley Corporation project was executed in the mid-1950s. JD Beglar, the legendary scholar who first explored many archeological relics of Manbhum, did an extensive research on Garpanchakot. In 1872, he collected two different folklores that talked about the origin of this place. Both are equally interesting.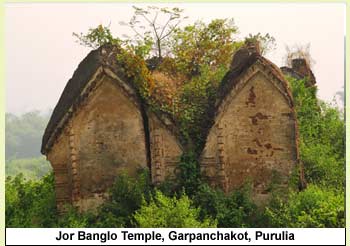 One story tells us about king Anothlal and his queen. On their way to Puri, they reached here and the queen gave birth to a son. However, due to certain reasons the baby was abandoned in the forest and a cow saved him with its milk. Later, the baby was raised by local tribals and became the leader of the community. He established a fort called Panchakot and took the name Jataraj. Meanwhile, two of his stepbrothers — Nayan and Asman — attacked this kingdom but eventually got killed. As for the cow, locals believe that it later turned into a stone and could still be found in Jhalda.

The other folklore goes like this: The dynasty that ruled Panchet was attacked by a Murshidabad nawab; only one member of the family could escape. He was saved by local tribals. Later, he regained his territory and established his kingdom. There are, however, some references that say that in 90 AD, one Damodar Shekhar founded a dynasty called Rajchakla Panchakot. Accordingly, the place Panchet got its name from this dynasty.

The fort and the palace are long gone. Today only some boundary walls and a few arches are there to welcome you. One such ruined house with arched wall is called Ranimahal. However, many temples — most of them in a pathetic condition — are still there to indicate the importance of the place. Among the dilapidated relics is a massive temple with five pinnacles built in the Pancharatna style of the Bengal school. The temple houses a central tower along with four smaller ones on its four corners. The architecture has similarities with temples found in Bishnupur.

Thanks to mother nature, this temple has had minimum erosion and still appears majestic. It contains terracotta both inside and outside the temple wall. Even on the external wall of the tower some panels — like dancing girls and boys playing musical instruments — are curved out perfectly. Krishnaleela, a common subject found in other terracotta temples, can also be seen here. Floral designs with decorated corners on the wall give the evidence of Mughal influence. If you are a little adventurous, then climb the stairs of the tower. It will give you a breathtaking panorama of the forest and the ruins around.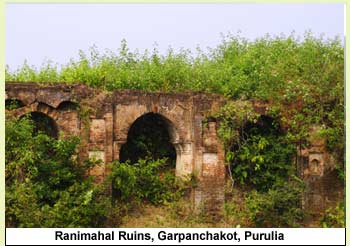 With no dedicatory plaque around, it is assumed that the temple was built in the 17th-18th century. David McCutchion was of the opinion that this "18th century temple" has no particular affinity with the Bishnupur temple except for its tower. Almost all temples inside the fort are reduced to rubble. Two of them have just got grounded. From the construction style, it is believed that these were not built in the same era. The oldest temple is built of sandstone, while others are made of laterite. In the same periphery one finds several ruined temples, along with a watch-tower. Outside the fort, a small temple is found where a few terracotta panels still exist. When Beglar explored this place, he found a series of temples made with huge domes and arches. It is believed that those temples were founded by Raja Raghunath, the son of Bishnupur king Veer Hambir. However, these no longer exist.

Today all temples are without any deity and look deserted. All deities have been moved to the royal palace of Kashipur located near Adra. The Archaeological Survey of India has not undertaken these temples; so, it is likely that their days are numbered. We have already lost more than half of them and the rest will soon follow the suit. Garpanchakot may not have the richness of other terracotta temples in Bengal, but they win a place in heart for their unique location and a mystique past.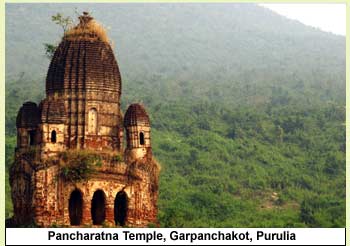 Travel Logistics

Garpanchakot is 256 km from Kolkata and about 55 km from Purulia. From Kolkata, it takes four hours by car to reach the place. The nearest railway station is Barakar in Burdwan, West Bengal. The place can also be accessed from the Adra railway station, which is one of the biggest in this zone. Both stations are well-connected from Kolkata. You can hire a car from the station

The West Bengal Forest Development Corporation has a beautiful resort; booking can be done from its Calcutta office. Credit card facility is not available here. For more details, please visit www.wbfdc.com

Photography is allowed. Most temples are inside the forest, so be careful. Do not venture out after sunset. Look for a guide, if you want to see flora and fauna of the forest.

Visit Panchet dam of the Damodar Valley Corporation near the place. Photography is not allowed here

This article was published on 26th January 2013 in The Pioneer

Click here to view the original article