It might seem a bit odd, but we choose to return back to Bengal once again. This time to a few places very near to Calcutta, along the banks of the Ganges. First, to Geokhali. The place stands at the juncture of the Damodar, the Roopnarayan and the Hooghly and is a treat for anybody, anyday. It's just an hour and a half's drive from Calcutta, towards South. You might choose to take the CTC buses also, from Esplanade. Reach Noorpur, the place upto which your bus will run. From there, you would have to take anyone of the numberous launches that ply along the Hooghly to reach Geokhali.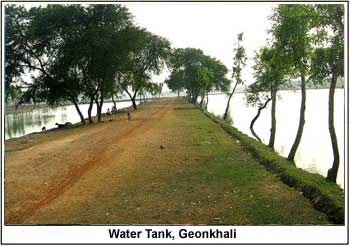 The magic of Geokhali lines in its setting. Imagine being witness to the union of three mighty rivers, flowing along three different regions. It's a …cluded place, yet one with the best of civic amenities. Take the complex of three lodges owned by the Haldia Development Authority, for instance. Named after the three rivers, the Ganga offers you AC rooms, while the Damodar and the Roopnarayan non-AC ones.


At the Ganga, you have a well-stocked bar, a conference foom, as well as a restaurant, all of which can be accessed by the residents of the other two lodges. And if you choose, they will serve your drinks and food under an open sky, on the banks of the river itself.


Geokhali is place; it is the sweet music of the lonely cricket; or the damp smell of the rivers as they go on to complete their last lap. There is something about the place that will soothe you nerves like some unearthly sedative. Escape the din of the city this puja. Find solitude here. And if you choose, go for a picnic from there to another place. We'll talk of that tomorrow.