Housing many peerless terracotta temples, Ghurisha in West Bengal has great potential of being a tourist destination for those who love to revisit history, writes Somen Sengupta
In the chronology of Bengal's terracotta temples, Birbhum scores almost equal to Bankura as far as the number of temples and the quality of artifacts are concerned. There is a zone in Birbhum where at least a few terracotta temples exist in every village. Some of them are simply extraordinary in size and shape. Although many of them are in dilapidation, they all are pregnant with many unknown pieces of history.
One such village is Ghurisha. Falling under the police station of Ilambazar, a small town which also houses several peerless terracotta temples, Ghurisha has enormous potential of being a tourist destination for those we love to revisit history. The village has a rich past. Once it was a centre of Sanskrit learning. However, one will be disappointed if he goes to find any such thing today. Instead he can take a terracotta tour.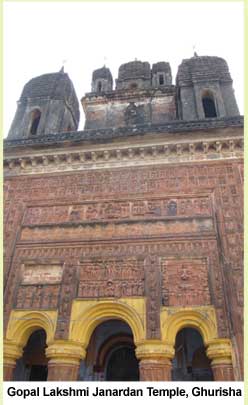 Start your journey with the bigger temple, locally known as the Gopal Lakshmi Janardhan temple. This is a massive navaratna temple of the Bengal school standing like a silent sentinel of a bygone era with its captivating artifacts embellished on its walls. Every ratna (tower) was once decorated with a metal chakra but now five of them have vanished.
Not much is known about its founder except that some Khetramohan Dutta, a trader who made money by doing trading with Europeans from Ilambazar, was its founder. The temple was founded in 1739 AD. The year sparks curiosity among historians because it was the time when this part of Bengal was ravaged by Maratha invaders from the west. In such a tumultuous period, a man showing off his wealth is little unusual.
The first thing that catches attention is the size and shape of its panels. Based on a plinth height of 3.6 ft, this 60-ft high temple has both covered and open verandah. Faced on the east like most of the Hindu temples, this piece of architecture invades your mind the moment you stand in front of it. There is a platform inside the garbhagriha. Here several icons are worshiped. These include an ashtadhatu-made Gopaljee, two female goddesses called Tripurasundari and Mangalchandi, and one image of Lord Ganesh. The large size terracotta panels that decorate the front side of the temple are all blending of Shakta and Vaishnava cult.
Panel-curved statues of Sri Chaitanya and Nityananda performing religious dance and song with their followers are seen in the front. Such a prominent statue of Sri Chaitanya on the front side of the temple is rare in Bengal. Even the Durga motif found on the right corner is exceptional. The panel is big and here we find her not with her children but with two female companions — one on each side. They are known as Jaya and Vijaya.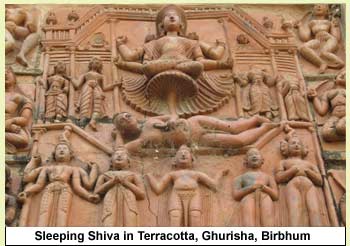 On the right there is a sleeping shiva and from his navel the booming lotus goes upwards. On the lotus a female god is placed and there are many subordinate statues around. Many of them have weapons in hand. We can figure out a Vishnu with four hands in that group.
Some of the most interesting panels are on the right side of the front wall. Although the upper rows have vanished long ago, the remaining rows show us the social side of that era. They capture a domestic scene where a male is found to abuse a female. Apart from that, Radha, Krishna and girls gossiping are curved in the section. No one can ignore a panel showcasing Rama and Sita in their royal chamber surrounded with subjects. This row is on the top of the front wall. The back side of the temple is bare and left with no terracotta panel.
In the same village there is another gem. It is small yet captivating temple of Lord Rama. The foundation stone tablet is still there. From this one can say that one Raghunath Bhattacharya built this Charchala temple in 1633 AD as a token of respect to Rama. Charchala is a typical Bengal school temple that capsulate hut-shaped mudhouse with slopped roof.
This temple is fascinating in its richness and detailing of terracotta figures. Embellished with terracotta panels covering loads of Hindu mythology and epics, it is surprising to find no European figure or scene from social lives. A legend that famously circulates among the locals says that there was a gold image of Lord Rama in the temple, but was robbed by Maratha invaders Bhaskar Pandit and Raghuji Roa Bhonsle in the mid-18th century. Although it is a historical fact that the Marathas caused an unprecedented rapacity and loot in this part of Bengal in that period, but no historical data is available to support the legend. Interestingly, the story charges the Marathas, who were ardent Hindus, of looting a Hindu temple!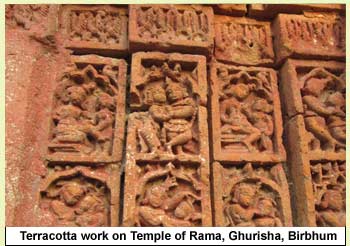 The 30-ft high temple is faced east-ward and there are stairs that go down from door to plinth. The verandah is not covered and it runs all four sides of the plinth which is nearly four-ft high from the ground level. Like many other temples of Bengal, this too dons war sequences from the Ramayana where we find Lord Rama pointing his arrow towards Ravana. The front wall on the east side contains a folded-hand Garuda. One can also see the three avatars of Vishnu — Narasimha, Rama and Vishnu himself. One can also find the astonishing details of Krishna's leela with gopis. Next to that are intimate physical postures of loving couples. These figures are mostly on the back side of the temple and are quite vivid in details.
If your eyes are meant for terracotta and you are aware of Hindu mythology, you can also find Mahishasurmardini, Lakshmi, Balarama, Anantashayane Vishni, Baraha, Kurmi, and many more.
This temple was first renovated in 1964 by Rammoy Panchatirtha. Today it is being looked after by a Chowdhury family and the locals call it Chowdhury's family temple. Till now neither the Archaeological Survey of India nor the State Archeology Department has shown any interest to protect this temple. Although the present condition is satisfactory, but mindless construction around the temple is a potential threat to it.
Spend few hours in this dusty village and go home enriched with something that you can cherish forever.
This article was published on 2nd September, 2012 in The Pioneer

Click here to view the original article