Natue's Gift : A visit to the Gorumara National Park in North Bengal leaves tourists craving for more of the wild


Even in the after noon, sunlight finds it difficult to penetrate the thick canopy and reach the ground here. The silence inside the forest is eerie throughout the day. And it is only the footprints of a wild bison, a leopard or an elephant that reminds this is the world of the wildest in this part of world. The forest is spread over 79 sq km and has a variety of flora and fauna.

Welcome to Gorumara National Park. The Dooars in North Bengal acts like a buffer zone between the Himalayan foothills and the vast Gangetic plains. In the middle, lie dense forests. Still undisturbed by human inhabitance and concrete jungle, the forests of Dooars remain an ideal place for solitude.

Dooars in Jalpaiguri district has maximum forest coverage in Bengal. Jaldapara Wildlife Sanctuary, Chapramari Wildlife Sanctuary, Buxa Tiger Reserve and Gorumara National Park all fall in the Dooars region. Gorumara National Park is spread over 79 sq km with a variety of flora and fauna. In fact, nowhere in India such a vast dense forest co-exists with so many tea gardens.

Enter Gorumara through Lataguri, a small hamlet about 24 km from Chalsa town. The drive to Lataguri on NH 31 is a sight to behold. A plethora of tea gardens and the deep jungle on both sides of the NH31 has turned the area a picturesque green.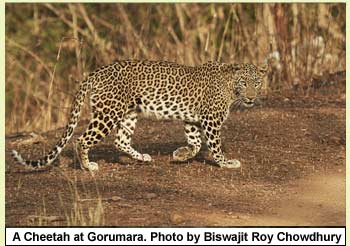 "With sun setting and the greenery taking new shades every moment, the journey towards Gorumara is a delight for nature lovers and shutterbugs," said a tourist. "Gorumara forest is very well organised and tourists enjoy the accommodation offered in this wilderness."

At Lataguri Nature Interpretation Centre counter, tourists can get a safari jeep and a nature guide to travel with them inside the forest. As the open jeep crawls inside Gorumara, the guide explains to the tourists what to expect and how to be in the wild. The bumpy, muddy road and the jerks that follow do not rob the tourists of the excitement awaiting inside the national park. Alertness is the key to spotting the wild. For, in the shadow of the towering sal and bamboo trees and the bushes of silk and cotton lurk most dangerous animals.
Gorumara became a reserve forest in 1895.

It got the status of a wildlife sanctuary. Then, it graduated to become a national park in 1994. Now positioned between two rivers – Murti and Raidak – Goumara (inside which also flows Jaldhaka and Neora rivers) is one of the most beautiful forests of India.

West Bengal Forest Development Corporation (WBFDC) has set up several watchtowers at strategically located places inside the jungle to help tourists see the movement of animals. The most frequented tower is called Jatra Prasad Watchtower (Rhino Observation Point).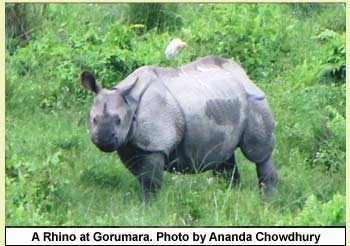 Overlooking vast grasslands and the bank of river Murti, standing on this tower, one often spots rhinos, deer and elephants. According to the last count done inside the forest in 2009, Gorumara has 150 rhinos. The majestic 3,000 kg Indian one-horned rhino is very famous in Gorumara. Once poaching was common here, but now it is a well-protected forest.

Another famous watchtower is called Chandrachur. Also called Medhla, it is situated beside a salt pit and offers a good sight of bison and rhinos when they come to eat salt.
Chukchuki is a bird watching tower. Alert ears and binoculars help tourists to see black stork, brahminy duck, scarlet minivet, Indian hornbill, woodpeckers, spangled drongo and other variety of birds.
Gorumara National Park has a wide array of wild animals. "It is very common to spot elephants, one-horned rhino, bison, deer, wild cat, wild boar, cheetal, wolf and leopards here," said another tourist. Leopards are so many in numbers that very often they either stray or invade the adjacent tea gardens.

According to ecologists, Gorumara has 50 species of mammals, 22 species of reptiles and seven types of turtles. For the tourists, WBFDC has built quaint comfortable guesthouses inside the jungle. During the stay, guests often experience a group of deer or elephants passing by their cottages at night. "Guests can avail an elephant ride from here to go inside the jungle. Tribal dance in evenings is another attraction," said a tourist.

Given its rich flora and fauna and the enchanting experience of living with the wild, Gorumara is a favourite destination in eastern India.

This article was published on 23rd February 2014 in The Hindustan Times

Click here to view the original article