Imprinted on the terracotta walls of Guptipara temples are images of a bygone era of Bengal. The temple here is the most stunning example of the art wave that followed in the wake of Krittibash Ojha translating the Ramayana from Sanskrit into Bengali in the 13th century. Since stones were unavailable in Bengal, the locals told the story of Ramayana in the terracotta walls of their temples and huts. Ramayana temples came up in Malancha in Midnapore, Baronagar in Murshidabad, Bansberia in Hooghly and Palpara in Nadia. Guptipara, however, remains the best example of the style.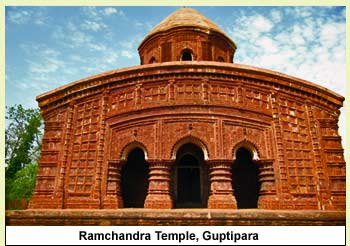 It was also in this hamlet that in the mid-17th century, 12 friends came together to organize the first community (baroari) puja, a story that is now a legend.
But back to the Ramayana temple. This follows a complex architectural pattern with three other temples. The Guptipara Math comprises the Ramchandra temple, Brindavanchandra temple, Chaitanya temple and Krishnachandra temple. The Chaitanya temple is the smallest and is built with a double arch roof, typical of the Bengal school of architecture. The beautiful temple was constructed by Bishwambar Roy in 1650. Inside is a huge image of Gouranga and Nityananda.
The main Ramchandra temple, popularly known as the Rathtala temple, is situated in a fenced compound with three other temples. It is built in the Ekratna Charchala style. A plethora of tiny terracotta artworks depict the entire story of Ramayana on the panels surrounding its main body. In aesthetic quality, these temples equal those of Bishnupur. The Brindavanchandra and the Krishnachandra temples are massive examples of Aatchala.
A good time to visit Guptipara is during Rath Yatra, the biggest after the famous Mahesh Tatra of Vrindavan. The Bhandar Loot is an interesting event when the priest opens the temple doors, allowing devotees to consume as much Prasad as they can. Dol Jatra celebrated here is also 300 years old.
How To Go
Get off at Behula, a station on the Burdwan line. From the station, one can take a cycle-rickshow to the temple complex. It takes under two hours by train from Howrah. One can also catch a train from Bandel. It is best to carry your own food and water.