| | |
| --- | --- |
| THE UNEXPLORED TERRACOTTA GEM OF BENGAL | |
For those who love to explore unknown terracotta temples, a simple drive of 38 km from Bishnupur town to Hadal-Narayanpur may become an experience of a lifetime, writes Somen Sengupta.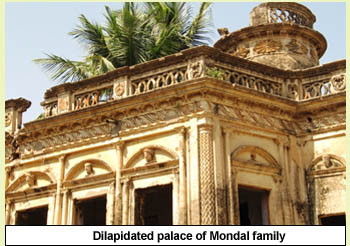 From the mid-15th Century, the art of baked soil took its finest shape on the walls of West Bengal temples. Although terracotta temples are often found in Jharkhand, Bihar and Madhya Pradesh, most of them are no match for what is found in Bengal, especially in the districts of Bankura, Birbhum, Burdwan and Hooghly.

Bishnupur, a small town in Bankura, is the most famous among them and is often frequented by tourists, thanks to its matchless terracotta temples built during the kingdom of Malla. While temples of Bishnupur receive regular footfalls and the internet is full of its photographs and write-ups, some equally outstanding terracotta temples in a small village named Hadal-Narayanpur, quite close to Bishnupur, stand in oblivion with no focus and almost zero curiosity from common people.

For those who love to explore unknown terracotta temples, a simple drive of 38 km from Bishnupur town to this nondescript village of Bengal may become an experience of a lifetime.

This is a twin village named Hadal and Narayanpur, but is often referred to as Hadal-Narayanpur for their physical proximity. Local folklore says Narayanpur was named after Narayaneshwar Shiva. Like many other places in Bengal, no historical record is available to trace the origins of this place. Legend has it that one Muchiram Ghosh came from Neelpur village to the royal court of Malla king Gopal Singh between 1720 and 1752, and soon with his ability became the owner of huge land and later made his family's fortune in the business of indigo. The family name was soon changed to Mondal from Ghosh and the family started funding construction of temples, rasmancha and palaces in this village.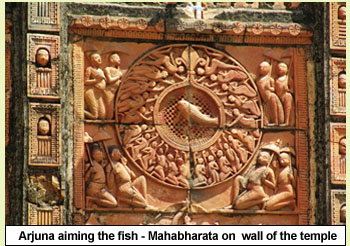 Till 1850, Mondal family members richly contributed in erecting temples with amazing craftsmanship of terracotta panel, and today after so many years, many of those are still burning bright after overcoming gargantuan negligence caused by man and nature.

At the fag-end of prosperity, the zamindari of Mondals was divided among three brothers, and each of them on the virtue of inheritance today has his own treasure to display. Each of them owns at least some extraordinary temples with amazing terracotta craftsmanship.

The first temple that comes in sight belongs to 'choto taraf' meaning the youngest branch. Inside their residential apartment, a small temple stands like a real testimony of time when the artistic excellence of baked soil was at its pinnacle. The 35-ft majestic temple dedicated to Lord Shiva is perhaps the only terracotta temple of Bengal built in the shape of a church. Unfortunately, no dedicatory slab is found on the temple, thus the actual year of construction is not known. But family sources claim it was built nearly 170 years ago by one Baburam Mondal in the name of his son Ganga Govinda.

Built in the navratna style of typical Bengal school of architecture, the temple holds nine pinnacles and has three gates in the front. The central arch panel that prevails just above the three gates is richly decorated with terracotta tiles describing events from Hindu epics and mythology. One such mind-blowing example is the one that shows Arjun aiming at a fish above his head by following its reflection in a water pot at the royal court of Drupadh. This huge terracotta tablet contains a big fish encircled by members of the royal court while below it Arjun is seen aiming his arrow, concentrating on his aim. Armed men in royal clothes surround him. No other terracotta temple has such detailing of this episode of Mahabharata. No doubt this is an exceptional expression of one of the most important events of the epic.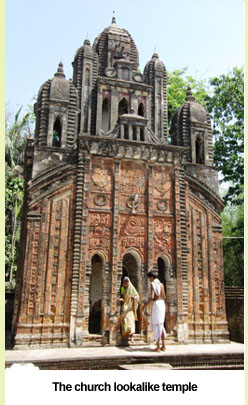 Just on its right is another huge tablet that depicts the rescue of Ram and Laxman by Hanuman from the death chamber of Mahiravan, the little known son of Ravana. This is a clear influence of Krittibashi Ramayan, a Bengali translation of Sanskrit Ramayana where this episode is written in vivid details.

Here, a huge Hanuman is seen carrying a throne on which Durga in Mahishashurmardini posture stands while Ram and Laxman rest on Hanuman's shoulders. A dejected Mahiravan stands at a corner with a deadly weapon in his hand. The epic says Mahiravan captured Ram and Laxman with a wish to sacrifice them to please Durga, no doubt in a single tablet such a huge story was covered in the signature style.

The third panel of central arch is the most interesting as it is a fusion of mythology and an epic. Divided in three parts, the upper most one is carved to show the royal chamber of Ram, who is seated with his queen and is accepting services of his consorts and servants. The middle part is a reflection of a happy house where affectionate parents Shiva and Parvati are seen hugging their son Ganesh, who is also in a playful mood. The bottom panel depicts Krishnaleela in detail.

Coming out of the royal palace, on the other side of the boundary, a 25-ft tall ruined temple is seen. This is a gem in dust. This badly damaged temple houses peerless terracotta panels on its front describing Vishnu in his anantasayan. Here he is served by his wife Laxmi, while the Lord himself relaxes on the snake bed. Also found is Bhishma on a bed of arrows. Then we see Ram standing on a chariot and next to him is Jammuban. Both are aiming at 10-headed Ravan, while their soldiers are wrestling in between.

A completely dilapidated temple known as Chowvis Kothri stands next to these two temples. Legend has it that when Maratha Bargee invaded Bengal, a huge amount of treasure was kept hidden in this temple. However, it seems more a myth than fact.

The brightest gem of Hadal-Narayanpur village is the temple of Radhadamodar, now owned by the middle branch of the family. If quality of perfection, sharpness and its density in placement in case of terracotta art is concerned, this 35-ft-tall navratna temple comes on top by any standard. It can challenge any world-famous terracotta temple found in Bishnupur or Ambika Kalna. This also has three central arch panels in front and its walls are embellished with supreme quality terracotta artifacts.

At the time of translating Ramayana from Sanskrit to Bengali, Krittibus Ojha inserted the creative story of Ram's worshipping of Durga at the eve of the great battle, which later transformed into a common theme in most of the terracotta temples built in Bengal. No wonder that here in the middle of the central arch panel, we find the divine presence of Mahishashurmardini.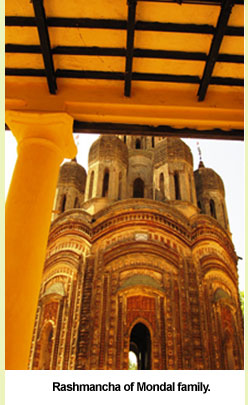 Here Durga appears as a warrior armed with deadly weapons. She is flanked by Ram and Ravana, who wage a war against each other. Over her head, numerous soldiers are fighting against each other, while on her left, Ram comes down from his chariot and stands with folded hands in front of her. Ravana in his majestic mood is posing as a perfect royal king. The details are so vivid that one can see a monkey audaciously trying to snatch Ravana's bow. The best part is that the unknown craftmen who built these panels more than 150 years ago gave equal respect to Ram and Ravana in their execution. Here Ravana is not a demon but an equal power to Ram.

If your captivated eyes move to the left, there is a huge panel showing Vishnu resting on the bed of snakes, while his wife Laxmi is at his service. In the corner of that panel, we find Krishna being dressed by a women and a man.

The greatest artifact of this temple is on left where Ram and Krishna are seen merging in one body. With an arrow and bow in two hands and holding a flute in other, this figure is a rare terracotta composition. On the same tile, a dancing Lord Chaitanya justifies the impact of his Vaishnava cult movement among the Hindu community of Bengal.

You need to walk a little to reach rasmancha, a stage of playing Holi with God. This belongs to the eldest branch of the family. Standing next to the dilapidated royal palace, this 17-tower, 40-ft massive temple-like structure is one of the exceptional structures found in this part of Bengal. The plinth is nearly 5 ft and the structure has eight central arches over every gate. The central arches hold plethora of terracotta describing Mahishashurmardini Durga with her family, Vishnu in anantasayan, gaja laxmi, rasa leela, Krishna, wedding of Lord Shiva and many more. The figures are significantly large and carved very casually. During rasa utsav, a big festival is celebrated around this rasmancha.

If photography and archeology are your passion, you can in no way ignore the royal palace of Mondals, which is now in dilapidation. The majestic building has a clear influence of European architecture, which softly blends with traditional Indian style.

Inside the palace complex, the eldest branch of the family owns a few temples, which are also decorated with terracotta panels. A 30-ft-high five pinnacle Radhadamoder temple built in 1806 is the most prominent here. Now painted in cheap pink colour, this temple has lost its vintage touch.

Terracotta temples are not the only attraction of Hadal-Narayanpur. In this village, Bramhani temple has a unique deity. This 1.8-m-high Parvati image, also known as Agnibhayaharini, made in the era of Pala has no similarity with any of its contemporary sculptures.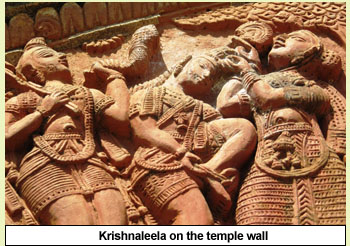 None of the temples of Hadal-Narayanpur have yet been overtaken by the Archeological Survey of India and are frequently visited by locals who worship here. Needless to say this is deadly for any terracotta temple which has less longevity compared to any sandstone temple. The State Government has never tried to develop this place as a supplementary attraction to Bishnupur nor has any serious academic work ever been undertaken to preserve it.

If the local administration does not wake up now, within a short span these temples will be reduced to dust, and with that we will kill a piece of our pristine glory. Will history ever forgive us for this unpardonable crime?
Travel Logistics :

-- Hadal-Narayanpur is just 38 km from Bishnupur town of West Bengal, which is well connected by rail and road from Kolkata. Bishnupur is 195 km from Kolkata.

-- It takes around two hours to reach this village from Bishnupur town.

-- Purulia Express and Rupashi Bangla Express are the best connecting trains from Howrah, and both have provision for AC chair car.

-- Hired cars are also available from Bishnupur.

-- All temples are under private ownership, so photography is subject to permission.

-- For an overnight stay at Bishnupur, the best option is WBTDC tourist guest lodge.

-- You can book online at www.wbtdc.gov.in. The lodge provides AC rooms with a restaurant and bar.
This article was published on 27th March 2016 in The Pioneer.

Click here to view the original article