| | |
| --- | --- |
| BAKED CLAY PANEL PULL YOU TO ITONDA | |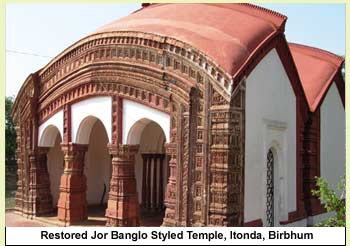 A journey of three hours from Kolkata took us to Itonda, a nondescript village in Birbhum district of Bengal. A two-hundred-year old temple captivated us with its brilliant terracotta panels.
Old timers said river Ajay used to flow next to this village at one time, which made it a commercial hub. As the river changed its direction, the busy hub turned into a small village and was further banished into oblivion after the Maratha attacked it.
Built in jod bangle type — a style exclusive to Bengal school of temple architecture, the temple has a tale behind it. It is said that this temple was the den of Hadkata, a notorious group of bandits in the last century. They used to hide inside of the temple and worship Goddess Kali in tantric cult. The group was vanquished by a brave pathan named Jalal Khan and the temple ownership shifted to a rich family based in Suri town.
Neglect had almost reduced this temple to rubble. Its roof was broken and a giant banyan tree along with other wild sapling overtook the structure. The plinth and platform on the front side were totally damaged.
Four years ago, the West Bengal Archaeology department started restoration of the temple and saved it from total destruction. The renovated temple has lost many terracotta panels from its front and sidewalls. Although unceremoniously painted in deep red in some parts, what stands now is nothing less than a treasure.
To begin with, the shape of the temple itself is very interesting. What appear to be two temples from a distance is actually only one, the gravagriha housing a Kali idol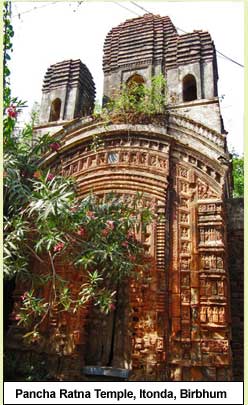 .
Durga in the form of Mahishashurmardini, Kali, Devi and Chandi in the battlefield killing demons like Shambhu and Nishambhu are some of the scenes from Hindu mythology depicted on the panels. Most interestingly, there are soldiers and gatekeepers in European dresses on the panels.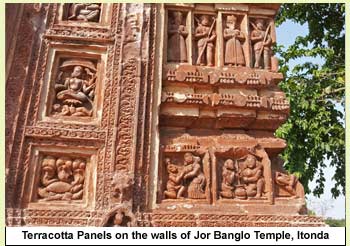 Itonda houses two more small yet beautiful temple in Bazarpara locality. One is a Pancharatna temple built in 1818, and the other built in 1815 by one Gadadhar Pal.
These two temples also have excellent ter-racotta panels.The one built by Palhas scenes of Radha-Krishna with devotees dancing and singing in front of them. The Pancharatna temple contains images of dragon-like animal, armed soldiers and European royally and Dashavatar. Its gates feature men and women in royal chambers of Ram and Sita. Records show these temples were last renovated in 1944, and are braving time even today.
Itonda is at a drive of 40 minutes from Bolpur station, the nearest railhead. Car hire and bus services are available from Bolpur to reach Itonda. The West Bengal tourism department has a well-maintained lodge here in case you want to stay the night.


This article was published on 28th April, 2013 in Hindustan Times

Click here to view the original article