| | |
| --- | --- |
| ANCIENT SITE OF KNOWLEDGE | |
The Nandadirghika Mahavihara of Jagjivanpur near Malda is but a flickering flame of Bengal's Buddhist legacy.
On a sunny summer morning of 13th March 1987, JagadishGayen, a middle-aged farmer of Jagjivanpur village in the Malda District of Bengal was digging in his courtyard when all of a sudden he unearthed a heavy metal plaque with some mysterious words carved in an unknown language. Such was the nature of his discovery that it immediately created pandemonium in the village along with a thousand speculations. However, Jagadish Gayen till that moment was not in any position to realise that with his accidental discovery of this metal plate, he was actually opening a new window of Bengal's history from where a king would be retrieved from oblivion. He was also completely unaware that with this plate, the discovery of Buddhist legacy of Bengal would be rewritten forever.

That was the moment from when his small village, situated so close to the Rangpur district of Bangladesh, would become an arena of one of the prime archaeological discoveries from where history would add an important chapter and Bengal get richer with its new heritage legacy. This, in short, is the primary story of Jagjivanpur village where an ancient Buddhist monastery, without a single reference of any historical document, finally came into the limelight. The ancient copper plate unravelled the existence of a new king of Pala dynasty for the first time and of his generosity being a supportive kingin spreading Buddhist thought.

The rich history of Bengal's Buddhist legacy is well known and well documented. From the time of Ashoka, 268 BC to 232 BC, Buddhism made a strong impact in Bengal and reached its zenith during the Pala dynasty between 750 AD and 1174 AD. It was a time when providing economic support to Buddhist academic sites by royal powers became the norm, and the Pala kings indeed financed and array of Buddhist learning centres across Bengal and Bihar. The majestic ruins of Somapura archaeological site in Bangladesh is proof of that fact.

Apart from Somapura, several new Buddhist learning centres mushroomed during the Pala reign; these were excavated in Mahasthanghar, BateshwarMainamati and Jagaddal. All these sites however, after the partition of 1947 went to East Pakistan, currently Bangladesh. In West Bengal, some considerably large sites were found in Tamralipta,Raktamrittika, Mogalmari and Chandraketugarh, but none of them come close to what was unearthed at Jagjivanpur in 1995.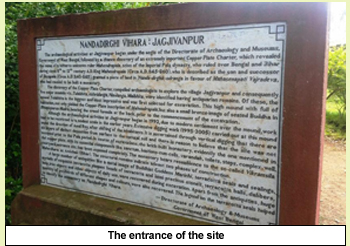 Fa-Hien, the Chinese traveller, came to Tamralipta,the sea port of Bengal between 411 AD and 429 AD. He found 24 Buddhist monasteries there. Then 200 years later, when Xuan-Zang, the eminent Chinese traveller reached the same place in Bengal, he found over 10 such centres surviving. When the rulers of Pala dynasty took the initiative, Buddhism bloomed in full fervour and their contribution reached Nalanda, Odantapuriand VikramshilaMahavihara of Bihar.

From Bengal, Buddhist exponents like AtishaDipankara visited Tibet and Malaysia while Acharya Shilavadra from Bengal become most regarded principal of Nalanda. By the end of 10th century, many of the people in Bengal were Buddhist. Such was the influence of Buddhism that the first written literature in Bengali also came from a group of Buddhists, the Sahajiya Community. In others words, Bengal celebrated the legacy of Buddha, but all of this changed when Islamic invaders conquered Bengal and Bihar by defeating the last king of Sena dynasty in 1204. The barbaric vandalism of Bakhtiyarkhilji converted the religion of the common people from Buddhism to Islam in the next few centuries. The biggest damage was to archaeology, mainly to Hindu temples and Buddhist monasteries. They burnt down places of learning like Nalanda and Vikramshila along with other such centres, such as the one near Somapura. After the partition in 1947, the small village Jagjivanpur came to the Indian region of Bengal. Till 1987, no one had any clue that under the earth of this obscure place, a great treasure lay buried for centuries.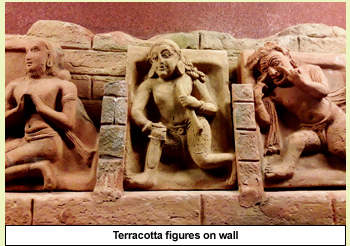 Then one fine morning Jagadish Gayen made his amazing discovery. The 11.85 kg copperplate that was discovered was in almost intact condition. Experts from the state archaeology department were called to examine the unusual find.

A careful study of the plate and its engraved script revealed jaw-dropping facts. It was found to be a charter of declaration issued by a King of Pala dynasty named MaharajadhirajMahendrapala, son and successor of Devapala. This name had never found mention in history before. The copper plaque measured 52.2 cm by 37.1 cm, with 0.5 cm thickness. There were inscriptions on both the sides and out of total 73 lines, 40 were in discernible in front and 31 on the reverse. Decorated with a royal emblem, it also depicted the figures of two deer that symbolised Buddha's early disciples Sariputra and Maudagalion, with a ' Dharmachakra' at the centre. It read that in his 7th year of rule, probably 754 AD, and on the second day of Vaishakha month, he granted an enormous area of land to his commander SenapatiVajradeva for a monastery called NandadirghikaUdrangaMahavihara. The language was in Siddhamatrika script, a subversion of Sanskrit, mainly used in 19th century. This discovery was enough to turn Jagjivanpur into a prominent place, especially for Buddhists.

The copper plate clearly stated that Mahendrapala was not a king of Gujjar-Pratihar, as was believed, but from Bengal. So after Devapala, his son Surapala was crowned as king; but soon another son, (the king mentioned here) took over the kingdom.Thus was born a new king Mahendrapala in the pages of history and along with him was also born a new name in the Buddhist seat of learning; NandadirghikaMahavihara, a place quite exceptional from other archaeological ruins, such as Somapura or Jagaddal.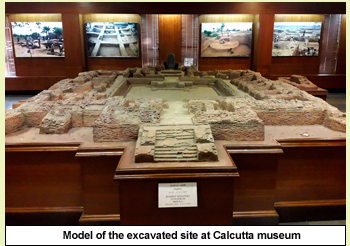 Once it was clear that there was the possibility of discovering ancient ruins under the earth of the village, the government began excavations from 1995 under the supervision of the Directorate of archaeology and Meseum after taking over the land from the owners. Dr Amal Roy led the team.

After selecting and examining several potential places, four mounds were shortlisted. From these Tulabhita, Akhirdanga, Nimdanga and Maibhita were found to have the most potential.Tulabhita was selected as the best site to explore.

A large team from the state archaeology began work. With vertical digging of an area around 9432 sqmts, six layers of natural soil deposits was found. Finally the remains of a brick monastery were unearthed. Various trenches were found under the earth, and as many as 78 trenches were excavated. Needless to say, this excavation culminated in the discovery of several antiquarian items, and included a small metal Buddha in 'Bhumi sparsha mudra' and Buddhist goddess mariachi which were the most significant.

The civil design of monastery was gradually exposed and it was found that the construction had been done in two phases with a sizeable gap in time. In its civil design, a sanctum, baston-cum-cells, steps, toilet well, courtyard, verandah, base of four corner pillars and an entrance were also discovered. There were large terracotta panels with clear images of animal and human figures in various postures. The panels were unusually big and boldly crafted. It is estimated that the 250 terracotta panels found were embellished on the outer wall of the monastery.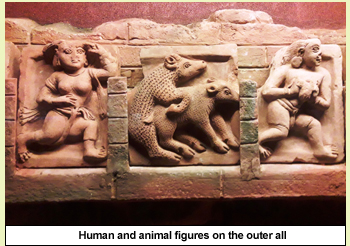 This provides a significant idea of the learning centre that was also tastefully decorated. Various terracotta seals found here contained different motifs and figures. One such seal contains the complete name of the centre and reads, "VajradevaKarita NandadirghiVihara Arya MahaBhikshu Sangha". This is enough proof of the existence of a Buddhist learning centre here. Like all excavated ruins academic research on the causes of its abandonment was also under taken.

Archaeologists were positive that this site had not seen any large scale vandalism or religious destruction. It had not been reduced to rubble like Nalanda and Vikramshila at the hands of Islamic invaders. Rather, it seemed to have been abandoned after much planning and its habitants were able to vacate with their belongings to a great extent. Very few artefacts found here are mostly potsherds in different sizes and colours, semi precious stones, terracotta balls, lamps, dabbers and iron objects. However all of these were found in bare minimum numbers compared to the size and estimated population who used to reside there.

This was explained by Dr Sumita Guha Sarkar of State Archaeological Museum of Calcutta. According to her, the few numbers of objects found here gives proof that this monastery was vacated plan wise and there was no sudden crisis. She strongly discounts possibility of attacks invaders as often seen in many other places. This site was vacated due to some other reason that could have been flood, epidemic or famine.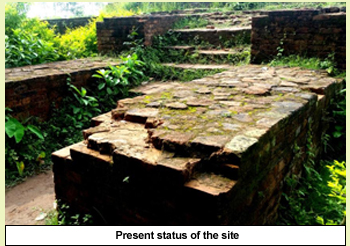 Again the deposition of solid soil does not support submerging in water as no water mark on the wall was found. So flood as a probable cause of destruction can also be overlooked as well.

Unfortunately, the site of excavation, though a protected monument, is in shambles. The fenced complex has an unmanned gate with a defaced and dented signboard telling people about this "excellent discovery" of modern India. The marble tablet with a brief history of the place is the only saving grace. Inside, the ground is full of weeds, rubble and wild bush. There is hardly any sign of care as cattle roam inside freely. Access to this place from Malda town takes time due to narrow roads. Tourist footfall is abnormally low. It does not attract tourists or academics, who normally throng Malda to see the ruins of Gour and Pandua. However, the picture is entirely different if one visits the West Bnegal State Archaeology Museum in Behala, Kolkata. It houses an excellent gallery on the Jagjivanpur Buddhist monastery, or Nandadirghika. The gallery houses all the original walls of the monastery with its terracotta panel. It has several small and big antiquarian artefactsand has a marvellous miniature replica of the original ruins of the excavated site giving one a clear idea about the massive aesthetic presence in vivid detail. The gallery gives one a chance to see the replica of the copper plate from where the entire story of Nandadirghika was started 31 years ago. The original plaque is now preserved in Malda museum.

The West Bengal tourism department has come up with a beautiful handbook on Buddhist circuit of Bengal and in that, along with Bharhut gallery of Indian Museum and Mahavihara of Jagjivanpur finds mention with enough importance. It is now evident that the descriptions by Xuan-Zang, where he wrote about Bengal and its Buddhist connection, were definitely true.

Acknowledgement – Dr Sumita Guha Sarkar and Sharmila Saha of West Bengal State Archaeology Museum.



This article was published in The Statesman Festival issue in October 2018.

Click here to view the original article