| | |
| --- | --- |
| WAKE UP AND SMELL THE TEA! | |
In one night at this exceptional place in Jorhat, I learnt history, understood tea leaves and regained myself. I realised that true relaxation is when you leave your soul in nature's hands, writes Somen Sengupta.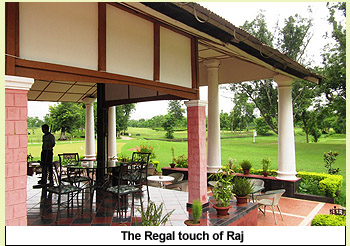 Green was perhaps the only colour left on God's palette when he was creating this place. Inside the vast tea estate in Jorhat, Assam, this thought is bound to cross your mind. One morning, a few kilometres before the city of Jorhat, we took a left turn to reach the tea estate where the charm of colonial touch was palpable. A vast green lawn stood before an eye-catching British bungalow that we often see in movies. A large veranda, a cozy study, elegant dining room and red tiled floor made me believe that from this moment, a piece of British Assam was my host.

This tea estate of Jorhat houses an 18-hole golf course of international standards. Golf, that too in Jorhat? No surprises here though, since tea plantation is a heritage left by our colonial rulers, so playing golf must be associated with it too! Imagine the supreme isolation of a huge tea garden where a world class golf course is maintained to ignite your passion for the sports.

Along with that there is a 112-year-old planter's bungalow decorated with various vintage artifacts, antique furniture and crockery. Inside the garden, a railway track runs like a steel reptile that mesmerises all.

I was enjoying my first experience of tea tourism, a new trend now booming in various places of West Bengal, Assam and Kerala. If you are in search of solitude and you want to know about the history of the world's most famous commercial crops, that is tea, then this trip is certainly your cup of tea! I was soon joined by the manager of the golf resort, who is based here. The man loves to talk about two things — golf and tea. Talking about tea also means talking about India's colonial past, something that excites me. It is a fact that when you are in Assam, and especially in Jorhat, you can't really escape the history of tea.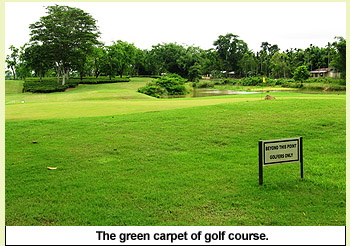 I was surprised to know that while China tasted its first tea in 2727 BC, it came to India only in the 18th century. British East India Company tried to grow Chinese tea in India through Colonel Robert Kyd in 1780 at Botanical Garden near Calcutta, but the experiment failed.

In 1823, a Scottish soldier named Robert Bruce first noticed tea plants growing in wild in Assam while he was a prisoner in the hands of the Burmese near Rongpur. He observed that local tribes drank the leaves after mixing them in hot water. It was he who handed over a few plants to his younger brother, Charles Alexander Bruce, in 1824 to send the samples to the Botanical Garden in Bengal, and with that the economic history of Assam was changed forever. The plant was researched and a new type of tea was found. The official name of this tea was Camellia Sinensis or in simple words, Assam tea.

If you think that was enough from the past to make you proud, then you are mistaken. Jorhat gave me many more moments that showed just how important the place is in India's commercial history. With the invention of Assam tea, East India Company chanced upon a gold mine. It was an opportunity for them to break the monopoly of China in tea production and export.

In 1834, Dr Wallich founded the Assam Tea Company in London, followed by Assam's second oldest tea company, Jorehaut Tea Company. It still has its head office in Jorhat town.

Jorhat, the last Capital of Ahom kingdom, has immense importance in the saga of Assam's emergence as a major tea-producing State of India. The world's oldest tea experimenting centre is still functioning here. The 140-year-old Jorhat Gymkhana Club is a heritage club in golfing and horse racing. During World War II, Americans used Jorhat airport to send supplies to their soldiers fighting in various battlefields. In fact, the first aircraft that landed in Assam in 1927 was at Jorhat and not Guwahati.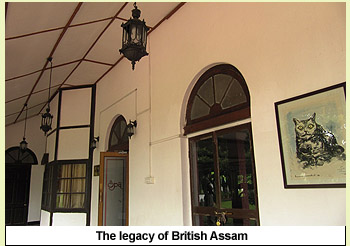 Returning to the romance of tea. Soon an Indian named Maniram Dutta Burma or Maniram Dewan became the first Indian player in tea business. Unfortunately in 1858, Maniram was hanged by the British for taking part in India's First War of Independence in 1857.

While in Darjeeling, the tea business was monopolised by the Europeans, in Assam, local people ruled the roost from the beginning, almost at the same pace as their colonial rulers.

Though Darjeeling was a little advanced in producing tea for the British (from 1834), Assam tea had its own journey of victory. It conquered its takers in its own style and taste from 1838. It landed at London in 1839 and from 1867 it became the first Indian commercial crop to be commercialised.

I was given a golf cart to go around the 150-acre land between Sangsua and Gatoonga tea estate. I was soon taken to the veranda of Burra Sahib's Bungalow. Its iron arches and wooden pillars stood testimony to a bygone era. The cool shadow of the portico, where chairs and tables were placed, delivered a regal atmosphere.

One could hear the sound of leaves falling off trees; as could one feel the cool wind in the arena. Soon cakes and tea were served at the bungalow. Sipping a cup of tea in Assam, that produces more than 55 per cent of the total tea in the country, is bound to be a unique experience. But only indulging in tea won't justify your presence in Jorhat; one needs to know what he/she is drinking and how that is different from other variants of tea.

For that a small lesson of 'flush' culture was rendered to me by another tea-loving tourist. If the leaf that you are drinking has been plucked between mid-May to mid-June, which is the second picking season, then you are drinking the second flush. If the leaves were picked during the first picking season, that is March to April, then it is the first flush, and these have less chemicals. The finest leaves and buds are plucked during the second flush and are known as golden tips, whereas delicate and immature buds plucked during the first flush are called silver tips.


"Why don't you try golf today," the manager exclaimed. "Me and golf ? You must be joking," I replied. "Do you think only the rich play this game? You are mistaken, come I will help you," he said. I held the stick nervously and hit the ball as hard as I could. It was not as bad as I had feared. I soon got tired and went to have one more cup of ambrosia or the divine drink; this is how the silver tip first flush is known as.

We had tea in the same style as Burra Sahib might have had nearly 100 years ago. While sipping tea, we were overlooking the green sea of tea plantation before us. It was twilight and birds were returning home. Some wild monkeys were taking shelter in tall trees. The last rays of the sun reflected gently over the green carpet, and it was magical. It was getting dark and the birds were returning home, leaving a melodious cacophony in my ears.

After a hardworking day, labourers from the tea gardens were returning with a basket tied on their backs. They all were tired yet cheerful as they sang a song with a melancholic touch. I struggled to understand the meaning but its tune crossed the language barrier and stuck with me.

Statistics say that more than six lakh labourers work in 850 tea gardens of Assam. When tea plantation started in Assam, it drew several migrant labourers mainly from north Bengal and Santhal Pargana of Bihar, which is now in Jharkhand. Even now many folk songs of north Bengal and Bihar describe the "chance of survival" by working at the tea gardens of Assam. It's amazing how a folk song tells the history of economic change in a region.

Darkness was falling over the garden and golf course. Soft electrical lamps were lit all around the bungalow and nature immediately participated in the milieu in the form of the sound of crickets. I went back to my cottage and sat on a cane chair. The stony silence was broken by the sound a train that passed through the dark. I could only see a huge moving object with its lights on, passing through the tea plants. Magical will be an understatement to describe that moment.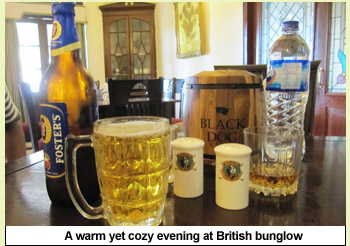 It was sultry but a cool breeze was blowing from all sides. At 8 pm, most of the lights were off as everyone sleeps early. I went to the dining hall and found the bar teeming with both young and old people. Many of them were corporate executives and holiday makers. The well-stocked bar was perfectly decorated with colonial showpieces and furniture.

Soon dinner was served. It was simple but sumptuous — hot rice, daal, fried okra, and chicken curry cooked in typical colonial style was lapped up in no time. Alu Pitika, an Assamese dish made of boiled potato, onion, and green chillies, was a surprise item that went well with daal and rice.

We kept chatting at our cottage till midnight and soon slipped into peaceful sleep.

In morning, I saw that the window-panes were wet; it was chilly outside, thanks to the overnight rain. As soon as I opened my window and looked over the golf course, I saw a new shade of green; not very bright but deep. Soon, a perfect English breakfast was served.

I hopped onto the cart once again to go around the 6-km golf course. I walked barefoot on its grass and inhaled as deeply as I could. A beautiful smell of wet soil mixed with the delicious aroma of tea intoxicated me. I checked out soon and made my way to the car. It was hard to leave the place but I was not sad. In just one night at this exceptional place, I had it all. I learnt about history, I understood tea leaves, and the best part was that I found myself again. I realised that true relaxation was to leave your soul in the hands of nature. Needless to say the experience in Jorhat will make you believe that green is indeed the most dominant colour of this planet.


Travel Logistics :

. Jorhat is one of the biggest cities of upper Assam; it is 312 km from Guwahati city.
. There is direct air and rail connectivity between Guwahati and Jorhat, and the flying time is one hour .
. If you wish to stay at the golf resort. you need to make reservations in advance.
. Playing golf is subject to membership and special permission.
. This is not a luxury hotel, so do not expect that level of service.
. Photography is allowed.
. The tea estate is 35 km before Jorhat main city .



This article was published in The Pioneer on 24th April 2016.

Click here to view the original article