An hour-and-a-half from Kolkata by train is Joynagar, where Bengal's ancient glory can be experienced first-hand. Once a rich settlement on the banks of the Ganga, Joynagar lost its glory when the river changed its course. However, this town has remained an important site of the Vaishnav cult because Chaitanyadev had stopped there on his way to Puri 500 years ago.
The first points of at traction in Joynagar are the Dwadash Shiva temples of Mitrabari. This set of 12 temples was built one at a time over generations; one of them is built in the navaratna style and the others are aatchala temples. They used to be covered with terracotta decorations but most of these have been washed away; only a few figures remain.Next is the 110-year-old Radhaballav temple. Legend has it that in 1600 AD, Maharaja Pratapaditya of Jessore was attacked by Mughal soldiers. In order to save one of his radha-Krishna statues from their plundering, the king had it shifted to Joynagar in what was named the Radhaballav Temple. That temple was destroyed and a new one was built in its stead, complete with the ancient statue¬ – this is the temple we can visit now.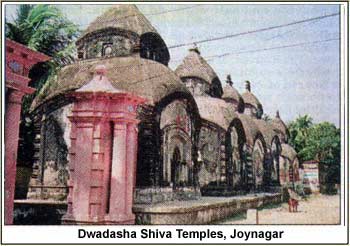 On Poila Baishak, a one-day fair is held outside this temple, where families from the 24-Parganas bring their Radha-Krishna idols. Pratapaditya's idol is brought out of the temple and all the assembled figurines are placed around it, symbolically paying tribute to the oldest idol in the district.
The Chanchore festival is another unique event, observed on the fifth day after Holi. This is the official holiday for people in Joynagar and they play holi with the gods.
The Joynagar Basudev temple is another century-old piece of architecture. The idol inside was made in the Pali age and was salvaged from the womb of Adi Ganga.
The latest attraction of Joynagar is the modern temple of the Saatsanga organisation. This recently built temple has all the modern amenities, and grabs the tourist's attention with its twin milky white towers. However, special permission needs to be obtained to enter this temple.
Tourist Information
Any local train from Sealdah will reach Joynagar in an hour. Cycle rickshaws are available for moving within the town. Special permission needed to go inside the Saatsanga temple. It is advisable to carry bottled water and packed lunch.