If Darjeeling is considered the queen of hills then Kalimpong is no less than a princess in her prime. The small town, at 1,250 m, developed by Scottish missionaries, nestles between two hills named Deolo and Durpindara in a valley of flowers.
The sleepy hill station, once a favourite resting place of European planters, is home to many relics of the Raj. The best part is that this getaway, hardly 51 km from Darjeeling town, is an overnight journey from Calcutta.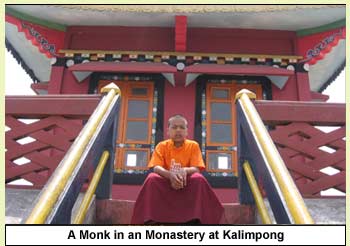 The history of Kalimpong is action-packed. The town was originally known as Dalingkot. In 1706, the king of Bhutan wrested the territory from the Sikkimese monarch and rechristened it Kalimpong. In Bhutanese, "a kallem" means 'king's minister' and "pong" means 'fort'. In Lepcha language, Kalimpong means "playground".
In 1780, the Gorkhas invaded and conquered Kalimpong. Finally, in 1870, the hill station became a part of Bengal, after the British snatched it from the Gorkhas. The town found its place in the sun as a transit point to Tibet and China.
Historical monuments add to the attraction of Kalimpong, which offers a breathtaking panorama of the Himalayas and the Teesta. Zong Dog Palri Fo-Brang monastery is a must-visit. Buddhists from all over the world throng to this shrine, built in 1937. The structure in red and gold, 2 km from the town, shows pronounced influence of Chinese architecture, but the Buddha idol seems to be modelled on Hindu gods. In 1976, the Dalai Lama had gifted religious books and an image of Guru Rinpoche to the monastery.
Those interested in Rabindranath Tagore's life would love to visit Gouri Bhavan, the cottage where he spent many memorable holidays. Now known as Chitrabhanu, the glass structure is a fine piece of colonial architecture. Here, in 1940, Tagore had recited a poem that was broadcast live on All India Radio.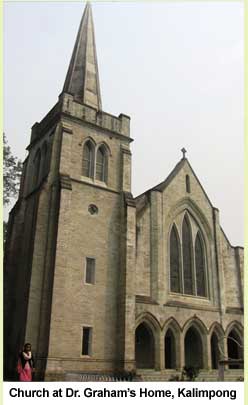 Opposite Gouri Bhavan is the largest personal collection of orchids and cacti in India. The garden, known as Pyne View, is open to public. The rarest of orchids and flowers are found here. Some cost a fortune. This zone contributes nearly 80 per cent of India's gladioli. Most of the orchids are kept indoors. There is a sales counter, too. Prices range from Rs 800 to Rs 5 lakh.
A holiday in Kalimpong will not be complete without a visit to the Graham's School. In 1900, Scottish missionary John Anderson Graham started the school for orphans with only a handful of students. Today, the institution is a landmark. Besides pursuing academic goals, students produce bakery, poultry and dairy products, which are sold to the public.
John Anderson Graham died in 1942. His grave and a small bust is on the school compound. The main building and a majestic stone church with stained glass windows (built in 1925) lends a distinctively European feel to the premises.
Examples of European architecture abound in Kalimpong. Morgan House, Tashi Ding and Hill Top are a few of them. Silver Oak Hotel, built in 1930, once the house of jute trader John Mason, is arresting.
If you can find time, visit Mangaldham temple, built in 1993. Nearby is Tharpa Chilong, a Tibetan monastery also known as Yellow Hat. The oldest monastery of this town is called Tangsa. It was built in 1692. The golf course and the art and crafts market are the other tourist stops.
Going
Kalimpong is 51 km from Darjeeling and 75 km from Gangtok. The nearest airport is Bagdogra. Take an overnight train to Siliguri and a bus or a taxi to Kalimpong from there.
Staying
There are several luxury and budget hotels. Special permission is needed to enter Chitrabhanu
.