| | |
| --- | --- |
| KAUSANI: AN OPERA IN THE HIMALAYAS | |
Nature, history, and literature came together to make Kausani the treat that it is for travellers. The cherry on the cake is that pollution is yet to find this town, writes Somen Sengupta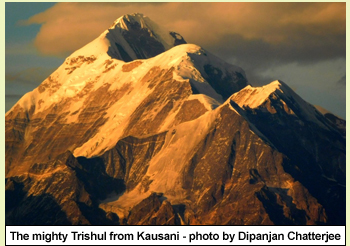 There are several reasons for which this Himalayan hamlet situated on the banks of a river can become a darling to your heart. If you are someone who is curious about the rich legacy of Raj and the magic of a tea plantation in India, Kausani is the place for you. It can give you enough information about a glorious saga that did not last long. At this place, memories of Gandhi are still alive.

For the lovers of Hindi literature, Kausani is like a pilgrimage — Sumitranandan Pant, a legendary Hindi poet, was born here.

One can come here for any reason under the Sun. But someone who has tastes of various kinds will enjoy his visit the most in Kausani. A mere 53 km from Almora, a town crowded enough to give a tough competition to small towns in the plains, this hill retreat of Kausani looks like a town from a different era. Fortunately, Kausani is still not as populated and polluted as other towns. Memories of Gandhi and legacy of the British very peacefully co-habit here. The place developed between river Kosi and Gomti is as simple as a picture postcard

Here, the hills are covered with deep dark jungles. Here, rock beds are filled with wild flowers and green grass but one is not advised to go there without any local guide. The roads are covered with dry leaves that fall off tall trees. This makes the place very mystical and romantic. The cold breeze from north Kausani only adds to the pleasure. You can park yourself at KMVN Guest House and occupy a chair in your balcony to enjoy the view.

The old name of this place was Valna. It later adopted a new name from the mythological character Kaunish, a holy man who is believed to have performed his penance here. From there, Kausani got its name. And today, it is one of the best places to visit in Kumaon, Himalayas.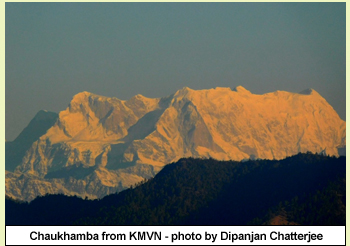 The tragic story of Kumaon tea once grown in Kausani goes like this — in the beginning of 1830, when the East India Company had gained political power, the plan of developing this part of the Himalayan region as a tea-producing zone was made. Old record shows that the first tea estate of Kumaon was established in 1850, near Kausani and Chaukari. In 1864, when power had already been transferred to the crown from East India Company, Norman Troupe, a man with a dream, expanded the tea plantation in Kausani.

In its aroma and taste, Kausani tea was in no way less than the tea of Darjeeling and Assam. However, the isolation and poor infrastructure of the place and the fact that it was located quite far from any port, finally made all commercial interest dull. The supply chain from factory to fort was poor. So, the tea estate was soon deserted and the tea plantation dream of Kumaon was badly impacted. In 1930, six families from Sri Lanka came to Kausani to restart their tea plantation. But, the place again proved to be a logistical nightmare. The locational advantage of Darjeeling and Assam, thanks to the proximity of the Calcutta port and strong lobby of tea auction houses based in Calcutta, there was a final and total defeat of Kumaon tea which was mainly a product of Kausani hills.

By 1916 or so, the tea plantation by the British in Kausani was about to die. Even the hill top which used to house planters was almost deserted. It got a new life on June 19, 1929, when Mahatma Gandhi came to stay there. It was for the betterment of his health. Gandhi stayed in the bungalow of Norman Troupe. Here, he got his cup full of joy to enjoy the splendid beauty of Himalayas. He was so impressed that he stayed here for 12 days while his actual plan was only to stay for few days. Gandhiji described Kausani as the Switzerland of India and he mentioned in his writing that Kausani offered him more beauty than even Shimla and Darjeeling — two of the top-most hill stations of colonial era — ever could. The place is now called Anashakti Ashram. From here, the 365-km-long Himalayan panorama can be enjoyed on a clear day. Today, there is a small museum displaying rare photos of Gandhiji and some of his used article. At this place, he wrote the Anashakti part of The Gita. Today, the tea workshop has been converted into Boy's Own Higher Secondary School.

All major peaks of Kumaon, such as Chakhamba, Pancha Chulli, Nanda Devi and Trishul are clearly visible from here.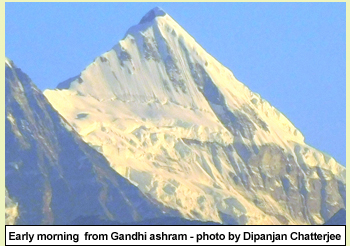 There are two places in Kausani from where the opera of Kumaon Himalayas can be seen best. One is the Anashakti Ashram, which is popularly known as Gandhi Ashram. And the other one is KMVN Guest House. From any of these places, mindblowing glory of nature comes alive in the form of snow peaks which are not only vibrant in shape and size but also rich in history and legend. On a clear day, Trishul, Nanda Devi, Panchachulli, Chaukhambha, Miraghunti, Nandaghunti, Nand kot and many more are visible.

In the entire Uttarakhand, both in Garhwal and Kumaon, Nanda Devi is worshipped in many forms. The 7,816-m-high peak was once India's highest peak. That was until 1975, before India's accession of Sikkim which included Mt Kangchenjunga in India's political geography. Nanda Devi, as seen from Kausani, is very different from what it looks like when viewed from the Garhwal region. The two peaks motif is supplemented by another peak named Namdakot that scales 6,861 m.

Another splendid peak seen from Kausani is Chaukhambha the peak of four pillars. A part of the Gangotri range of Himalayas, this 7,138-ft peak was first scaled in 1952 by a French man named E Frendo.

The best of the lot is perhaps Mount Trishul which is also a very sacred one to Hindus. A massif of three peaks this is often imagined as a trident and local people have created a legend that connects this peak with Shiva's trident. Whatever be the faith of God-fearing people, the beauty of the 7,120 m-high peak can grab your attention at it's first glance. Trishul-1 was climbed in 1907 while the two other peaks were won in 1960. However, global warming is slowly impacting Himalayas and in this year, snow fall was too less and the average bite of cold was weak.

Kausani is the place where the legendary Hindi poet and Jnanpith Award winner Sumitranandan Pant was born and lived. Today, his home has been converted into a small museum that comes alive every May 20, his birthday. It becomes a chamber of poets in Hindi language who, from many parts of the country, travel to Kausani. Around 12 km from here, a temple full of metal bells attracts many people. Known as Someshwar Temple, this premise is full of sweet-sounding metal bells and every evening, some of those are played to create a fantastic chilled evening with a unique melodious tune.


This article was published in The Pioneer on 11th February 2018

Click here to view the original article