| | |
| --- | --- |
| KENDUBILLO - THE TEMPLE OF HARMONY | |
Scholars from Bengal & Orissa will keep on fighting for another hundred years whether the place Jaidev is believed to be born was really in Bengal or not. Thank God that does not come as an obstacle of a master piece which stands in a form of a majestic temple in a dusty nondescript village of Birbhum.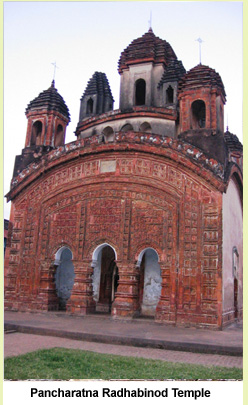 A temple can attracts millions of god fearing pilgrims in a country like us. Can a temple attracts millions of music lovers who in their songs & life style carry the message of harmony for centuries ? The answer is the Radha vinodh temple Kendubillo – a terracotta ornamented navaratna temple of Bengal school which apart from attracting millions of music & terracotta lovers very deservingly magnets none other than William Dalrymple for his s latest international best seller " Nine Lives ".
Although the fact is historically disputed but people in Bengal love to believe that the great poet of Jayadev Goswami who authored the lyrical composition of one of the finest erotic song based novel named Geeta Govinda was born here. The impact of Geeta Govinda written in 12th century AD was so profound that a new school of Vaishnava cult describing the immortal love RadhaKrishna was formed & the impact of that was tremendous in the life of common people in Orissa, Bengal & many parts of north India. The verses of Geeta Govinda is still chanted regularly at the temple of Jagannath Puri.It's literary value takes it to a place next to Vatsayan Kamasutra in it's erotic appeal.

It is the place where the confluence of architecture & music take place. Welcome to Kendubillo or popularly known as Kendua or Jaidev Kenduli.. History is mostly silent about the man called Jaidev & specially about his early life.Only knwon fact is that he was one of the court member of Lakshman Sena the last Hindu ruler of Bengal. His parent were known as Bhojdev & Bamadevi & he was married to Padmavati. Padmavati was an excellent dancer. Legend has it that she used to perform dance at the temple complex when her husband recites slokas from Geeta Govinda.

However the popular belief of Bengali is ruthlessly challenged by scholars from Orissa who made it established with facts that Jayadeva was born in a place called Kenduvila a plank of river Prachi in Puri of Orissa. This fact was later on supported by many other scholar from other part of the country. It was even supported by Calcutta based English daily Amrita Bazar Patrika in one of it's report published on 18th July 1910 .
The fir started as soon as this temple was established by Burdawan royal family. Some scholars are of the opinion that this fair was originally a celebration of local fishermen.They used to perform the worshipping of trees. Later on baul group of singers also started participating .Now this 800 years old fair is known as Jayadeva baul mela. This is perhaps oner of the oldest religious fair with a recorded past. It enjoys Govt patronage.

Your journey of flabbergasting experience starts & ends at one temple known as Radha Vinod temple. Built in typical navaratna style of Bengal school the temple stands majestically in a walled arena of a crowded market place .Established by none other than Maharani Bajrakishori the mother of Maharaja Kirtichandra of royal family of Burdawan in the year 1683.Serious pupil & admirer of Bengal terracotta need no reference that Burdawan royal family has huge contribution in building of various terracotta temples in Ambika Kalna, Bishnupur & Burdawan.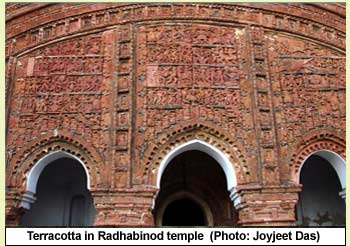 Radha Vinod temple was once fully embellished with innumerable terracotta motifs but now only the front side houses panels. Panels on the other sides are either destroyed or plundered by local residents.Some of those were destroyed long back.
The surviving terracotta panels are excellent & different in it's shape & style with that of Bankura's temple wall. The influence of epic like Ramyana is visible & it is not an exception. Ever since Krittibash Ojha translated Ramayana in Bengali from Sankrit the impact of the same on temple architecture was huge. Terracotta temple with Ramayana stories mushroomed all across Bengal specially at Hoogly's Guptipara, Nadia's Palpara, Midnapore's Malancha & Murshidabad's Baronagar.Thi temple of Birbhum is just one of that series although it was set up by different patrons.
The front side of the temple has 3 gates with 3 arches all are decorated with small images of monkey's blowing war trumpets. This is exceptional as most of the terracotta templegates found other places are decorated with a series of chariots or small shiva temple like figures.
A vivid curving of Ram Ravana war comes on the central part of the front wall where we can see Ravana with ten heads & hands fighting bravely with Ram.Each layers have different sized panels describing various chapters of the epic. Just below of that the war comes more alive with figures of monkeys attacking asuras & wrestling of them. Figures of money with stone & uprooted trees are also done in ultimate perfection.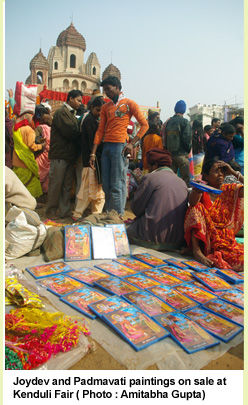 The deadly fight between banar sena & demons cover other panels where one can see detailed curving of the sequences like carrying of dead bodies & demons eating human flesh. Such an outstanding master piece in burnt clay is not frequently found in other temples. Amazingly we do not find any reference of Mahabharata on it's wall but various sequences of hindu mythology are found & it's left side is full of Krishna avatar.
Then comes Krisnaleela with a details on the left side of the wall. Various Krishna avatars one after another come. Starting from Baraha avatar it goes on showing other form of Vishnu in Nrishngha, Baman, Vishnu, Kalki ,Matsho & finally the Krishna.Other than that elephants & horse riders are also visible.
The entire front side is tastefully ecorated with dancing figures & various hindu motifs like kalash, lotus & floral designs.Towers of the temples are all bare & no motifs are found. Presently preserved by Archeological Survey of India the temple is in good condition but often suffers blow from visitors who do not mind to write their on it's back wall or local resident who do not mind to set their cattle free inside of the temple compound.Although there is an iron gate & a small board of ASI describing the history of thetemple & announce it as a protected monument of national interest there is no employee of ASI to guide one about the temple.The image of Radha-Madhav Jiu set inside of the temple is believed to be brought by Jayadeva from Brindavaan. The asana on which Jayadeva sat is also preserved.
The place come alive at the time of Poush Sankranti when the gala congress of bauls takes place.The temple becomes a cynosure of all activities for a week.The message of universal brother-wood mingles with history.It is indeed a rare site in this country. During the fair time the entire temple complex along with the bank of Ajay river is visited by numerous baul singers with their traditional instrument..
The chant of Geetagovinda with modern application of words & tunes make the ambiance magical yet very traditional. bauls gather here from everywhere & as soon as the fair is over they vanish from the place. Govt of West Bengal organizes special Baul mela on the day of maker sankranti.Holy dip in the river Ajay by pilgrims are also seen.
The message of universal brother-wood mingles with history. is indeed a rare site in this country. As Birbhum has many more century old terracotta temples & some of them are near by Ilambazar area a terracotta travel zone can be formed with Kenduli & Ilambazar.
Please note :
Kenubillo is just 30 km from Durgapur & very well connected by roads.It is located on Durgapur-Ilambazar highway.From Calcutta the distance is nearly 190 km. By car it takes little more than an hour from Bolpur.The tour can be clubbed with Shantiniketan & Ilambazar. There is no good place for accommodation – infact accommodation is not needed .
There is no standard food joint in Kenduli – packed drinking water is available. Photography is allowed.

This article was published in Aishee Magazine , February 2010



NEXT WEEKEND YOU CAN BE AT .........KENDUBILLO


In our country, any place with a temple easily attracts a million pilgrims. But it feels good to find a small village in Bengal drawing visitors to pay homage to a legendary scholar who created one of the finest Vaishnava texts in Sanskrit more than 800 years ago.
Welcome to Kendubillo, popularly known as Kendua or Jayadev Kenduli, a village on the bank of river Ajay on the Burdwan-Birbhum border. Theories abound about Jayadev's birthplace and scholars in Odisha claim he was born in Kenduvila, Puri, but the people of Bengal love to believe that the poet of Gita Govinda was born here.

Kendubillo is also known for its terracotta temples. A majestic Radha Vinod temple, a masterpiece in the Navaratna style that is a trademark of the Bengal school of architecture, is a must-see. It was established by Maharani Brajakishori, mother of Maharaja Kirtichandra of the royal family of Burdwan, in 1683. This nine-tower temple has terracotta panels only on the front. Panels and designs on the other sides were destroyed a long time ago. But the surviving terracotta panels are in excellent condition and very different from what we find on the walls of temples in Bankura.
The walls of the Radha Vinod temple are filled with figures from Hindu mythology. While the centre and right side of the front walls are embellished with sequences from the Ramayana, the left side depicts the stories of Krishnaleela with details of Krishna's various avatars.
The front facade is magnificently decorated with dancing figures and various Hindu motifs like kalash, lotus and floral designs. It has three gates with as many arches — all decorated with small images of monkeys blowing war trumpets. There are four layers of images on each segment of the wall vividly describing the war of Ram and Ravan.
Kenduli is also popular for its congregation of baul singers from all corners of Bengal. The assembly takes the shape of a big fair at the time of Poush Sankranti. Legend has it that this fair started as soon as the temple was established by the Burdwan royal family. Some scholars are of the opinion that this fair was originally a celebration of local fishermen who used to worship the trees. Later baul singers started participating in it and now the 800-year-old fair is known as Jayadev baul mela.
If you start in the morning and reach Kendubillo before noon, you will have ample time to roam around the place and go to Ilambazar or Santiniketan for the night.
Going
Kendubillo is located on the Durgapur-Ilambazar highway and is well-connected by road. It's just 30km from Durgapur and around 190km from Calcutta. By car, it takes little more than an hour from Bolpur.
Staying
Basic accommodation available. You can also spend the night at Ilambazar or Santiniketan.

This article was published on 6th April 2014 in The Telegraph

Click here to view the original article