Somen Sengupta recounts a marvellous sojourn to a place of hidden magic - Khirsu in Pauri Garhwal
I had picked up a travel catalogue on Khirsu from the Garhwal Mandal Vikas Nigam office in Kolkata that had a punchline describing the place as "beauty unexplored". I ignored it unmindfully but was hit by a sharp reminder as soon as our car crossed the Kotwal Singh gate on our way to Khirsu from Pauri Garhwal, the biggest town in the region.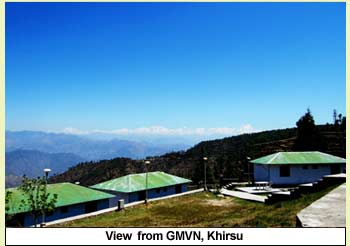 It was mid-May and yet quite chilly and as we journeyed up the deep forest on the brink of the zigzag road I was beginning to get the feeling of discovering an unknown beauty. Our car had to frequently negotiate sharp hairpin bends and the place was enveloped in pine, oak, rhododendron and khirsu, a plant that lends it name to the place. Sunlight dappled the ground in a hundred running darts and then suddenly our car stopped at a crossing. A look out the window and a seemless panorama cause my jaw to drop. Mute for considerable moments, I quickly recalled the power of that simple punchline on the catalogue. Here at Khirsu, it was a reality.

Past a crowded market named Chaupatta bazaar, we climbed 700 metres on the way to the tourist lodge and the breathtaking Himalayan peaks began appearing like scintillating stars. Then came the snowy peak of Chaukhambha, also known as the gem of Garhwal, and I had little time to thank my luck because my eyes were greedily drinking in the wonder of nature even as my mind was running through what little I knew about Chaukhambha, whose presence can best be described as the coexistence between beauty and the beast.

The word Chaukhambha means four pillars and the it does indeed look like a set of four pillars very nicely arranged. Out of these four peaks, Chaukhamba 1, is the highest at 7,138 metres, while Chaukhamba 4, the lowest, is 6,854 metres. Chaukhamba 2 and 3 are 7,070 metres and 6,995 metres respectively. Our former colonial rulers tried to ascend this set-up several times and after two unsuccessful attempts conducted in 1938 and 1939, two Swiss mountaineers named Lucien George and Victor Russenberger finally made it to the top on 13 June 1952.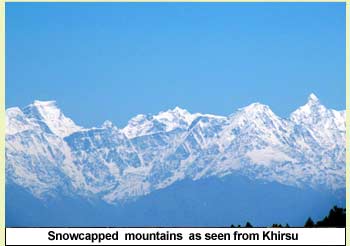 Like many other isolated points of Uttaranchal, the GMVN tourist lodge is the best-located nest in Khirsu. The small and well-equipped cottages are built on the steps of a rocky slope and a pathway runs from every cottage to a flat yard, which is perhaps the topmost point of the village from where one can get a picturesque sight of the Himalayas. On closer view, one observes that the step cultivation of this region is done on a green bed of rock, clearly hinting at the hard life of the local people.

No sooner had I exclaimed with joy, when the most sacred Mount Nanda Devi appeared in front of me. This is India's second highest peak after Kanchenjungha and nearby are other giant peaks named Nandaghunti, Trishul, Neelkantha, Bhagirathi, Dunagiri and Sumeru Parvat. At their foothills a dark forest was in bloom with vivid red rhododendrons. As the sky cleared, an array of peaks lined up one after another made their appearance. It is said that more than 200 peaks can be seen from Khirsu, though I could only recognise one.

With this marvellous picture on the horizon, distance seemed to shrink and Himalayan birds flew around and landed almost everywhere, their sweet chirpings filling the air with amazing symphony. In Khirsu, it seems like time travels faster than light. Later, I realised this thought was just an excuse for me to stay a couple of days more.
The setting sun lent a golden hue to the peaks, giving the landscape a magical touch. Familiar and unknown Himalayan birds had kept us company with their soft and melodious tunes since the morning and it was now time for them to return to their nests. In that serene and divine milieu, we chose to walk, treading on dry leaves that crackled under our feet, while behind us an army of gigantic mountains slowly slipped into invisibility. Our stay there was memorable and I am sure others like me will come to savour the irresistible temptation of a place of hidden magic named Khirsu.

This article was published on 21st September 2015 in The Statesman

Click here to view the original article