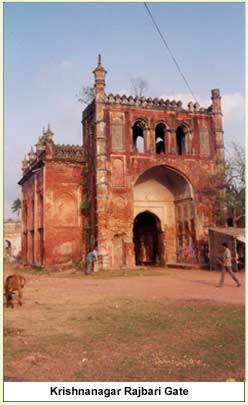 In the world of handicrafts, clay modelling occupies a special place. Nowhere else is it more in evidence than in the heritage town of Krishnagar. It is an ideal weekend destination for those with a penchant for the past and a feel for fine arts. The town was a political hub in Bengal till the early part of 17th century. The old name of this place, on the banks of the river Churni, was Rewe. Nearly 400 years ago, when Bhabananda Majumdar founded the royal family of Nadia, the village became an important place overnight. Later, Maharaja Rudra changed the name to Krishnagar.
In 1757, Raja Krishnachandra of Nadia helped the British East India Company against Siraj-ud-Daulah in the battle of Plassey, booking a dubious place for the town on Bengal?s history map. Start your day at the Krishnagar Rajbari. One part is in a sorry state, but the other side is well-maintained. The star attraction is a set of old canons used in Plassey. Legend has it they were gifted by Lord Clive to Krishnachandra, the same man who introduced Kali puja on Diwali night in Bengal.
The front gate is a fine, yet neglected, piece of architecture. The charminar is a good example of Indo-Muslim architecture. Inside the palace is the Durga dalan, enriched with fantastic frescos. Every April, a fair, Barodole, is held in front of the palace. The church of Krishnagar is a big draw. This 130-year-old Roman Catholic edifice stands amidst lush green fields. The splendid Roman architecture has made it one of the best in eastern India. Built in 1886-88, it was almost destroyed by an earthquake in 1897, but then restored in 1899.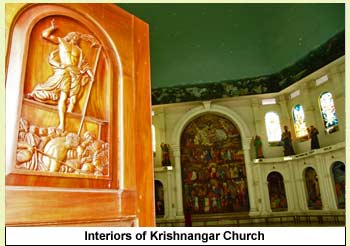 There is a tower and a silver dome side by side. Inside are 22 rare oil paintings of Jesus. The Italian interior and soft natural lighting are lovely. There is an older church near this one. The Protestant church of Krishnagar was built between 1840 and 1843. The church with one tower should not be bypassed. Krishnagar College, dating back to 1846, is also worth a visit, as is the public library, built a decade later. Both are now heritage buildings, wonderful examples of Indo-European architecture.
A trip to Krishnagar is not complete without a pause at the shops-cum-studios of famous clay sculptors. The area where most of these masters stay is Ghurni Putulpatty. Though many of them have studied in art colleges in France and Italy, theirs is a talent passed down through generations. Kartik Chandra Pal's statues of Mahatma Gandhi and Rabindranath Tagore have found pride of place in Washington DC and Moscow, inaugurated by Bill Clinton and Mikhail Gorbachev, respectively.
Brahma Mandir, established in 1847 by Debendranath Tagore, is another attraction. Krishnagar is also famous for mouth-watering sweets like sarbhaja and sarpuria. If you haven't seen enough yet and have time to spare, then visit Shiv Niwas, which was the new capital of the Nadia royal family. Three massive temples built between 1754 and 1762 are magnificent throwback to those times.
A visit to Krishnagar will mean turning back the pages of history books for some and the opening up of a whole new world for others.
How to get there
Sealdah-Krishnagar local or Lalgola Express. If you drive down, take the Barasat route, and then follow National Highway 34 past Kalyani and Shantipur
Where to stay
At Golden Lodge, a single-occupancy room costs Rs 150, double Rs 200, triple Rs 300. For bookings, call 953472-252139.
Basasree is another hotel, with Rs 250 for a double-bed room and Rs 400 for triple. It also has AC rooms. For bookings, call 953472-252408