| | |
| --- | --- |
| THE LAND OF WHITE ORCHIDS | |
Kurseong is famous not only for its majestic mountain ranges, but also colonial schools, tea estates and, of course, its date with revolutionaries like Subhas Chandra Bose. SOMEN SENGUPTA comes back rejuvenated after a short visit to this place.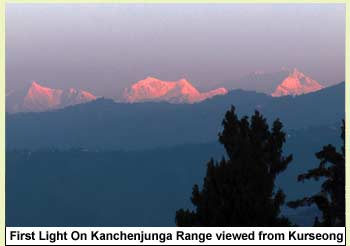 If you are out to encounter Kanchenjunga from the plains of Bengal, on your way to Darjeeling, a small hilly hamlet will offer you the first view of the majestic mountain. This little known heaven on the foothills of the Himalayas is Kurseong, also known as the land of orchids.

If Darjeeling is the queen of hills, then Kurseong is a charming princess. It dons many caps on its head. It is the town that houses some of the finest tea gardens of the world and is the place where several old missionary schools were established by our former rulers from the West. The original name of the place was 'Khasang', which in the Nepalese language means the morning star. Later it was distorted by the British, who called it Kurseong. Another theory says that it was originally named 'Karsan Rup', meaning the land of white orchids.

History tells us that this place was once owned by the king of Sikkim but later captured by invaders from Nepal. In 1817, the Nepalese were vanquished by the British and through a treaty the place was returned to the king of Sikkim. In 1835, Kurseong was handed over to the British as a mark of submission and from then onwards this small strip of mountain turned into a small hill station for the British. From 1880, as soon as rail connectivity was established between Siliguri and Darjeeling, Kurseong became a hotspot among those seeking peace of mind. It all started with a church and numerous tea gardens, but in later times colonial rulers established some of the best missionary schools, tea production centres and sanatorium. The most famous church of Kurseong is St Paul Church, founded in 1905. It is located opposite to the government tourist lodge. Even today Kurseong houses some of the country's best schools and a few top quality tea gardens that produce the world's finest and costliest tea. To add to the interest of historians, icons like Mark Twain, Sister Nivedita and Netaji Subhas Chandra Bose adopted this place as their home for some time.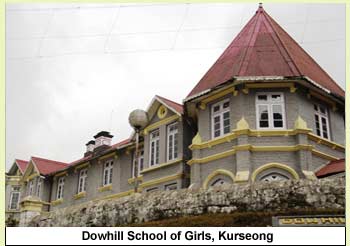 While staying at Kurseong, if you are blessed by a clear morning sky without mist and cloud, feel yourself lucky. This is the passport to see Kanchenjunga. The third highest peak of the world is an amazing amalgamation of five snow peaks under one group and all but one are more than 8,450 m tall. Till Radhanath Sikdar calculated the height in 1852, it was regarded as the world's highest mountain. Kanchenjunga is partially visible from Kurseong. For a better viewing, one can go to Batasia Loop from where the entire range covering China and Tibet are easily visible.

In the era of the Raj, Kurseong was known for some of the best schools managed by European missionaries. Schools like St Helena, Dow Hill, Victoria and Goethals Memorial are just a few to mention from a long list. These old schools with their nostalgic colonial looks are still there to captivate your imagination. So, in Kurseong, you will miss a lot if you do not take a school tour.

You can start with Dow Hill School, established in 1879 especially for kids of government employees who were not rich enough to go to costly English schools in Darjeeling. The school was the brainchild of Sir Eshley Eden. Edward Peglar was the first principal who ran this school with his wife for many years. It started with 15 students, who arrived from Siliguri in a horse-driven cart. Situated over a hilltop, the school is a classic example of European architecture.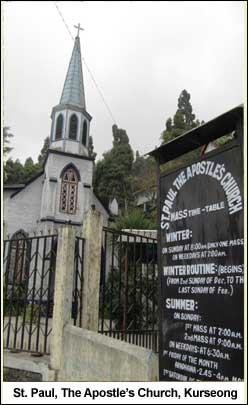 Till 1926 Indian students were not allowed to study here. Just few minutes of drive from Dow Hill is Victoria School. Dow Hill was initially a co-educational school, but in 1887 the boy's section was separated "in the best interest of the school" and the new school was renamed after Queen Victoria — to celebrate 50 years of her coronation. That was the beginning of Victoria School, whose pink and grey colour with colonial arches and verandahs give a perfect look of the bygone era. An abandoned church inside the school compound provides a unique experience.

In 1890, another colonial school came up in Kurseong — St Helena. It started with 12 students. Sister Winifred was the first principal of this school. The old building was devastated in an earthquake in 1897 but a new one was rebuilt by 1900, thanks to the hard work of Sister Marie Aimee. Your school tour in Kurseong will remain incomplete, if you give Goethals Memorial a miss. Established in 1907 with 100 students on the land gifted by the Maharaja of Burdwan, this school has a rich historical background. Named after a man from Belgium, Paul Goethals, the archbishop of Calcutta, this school once taught engineering under the certification of the Bengal Engineering College, Shibpur. The school, set in a forest five km from the main town with a splendid panorama of Mt Kanchenjunga on its backyard, was inaugurated by Sir Andrew Fraser. The school building is another unforgettable piece of colonial architecture in Kurseong.

There's another feature that makes the place special — tea. It is the land where the world's oldest tea factory was established way back in 1859 — the Makaibari Tea Estate. Interestingly, the garden is still running strong. Kurseong also houses the world's costliest tea — Castleton Tea — which was first planted in 1885 by Charles Graham. The garden got its name from a colonial building which looked like a castle. The flame of patriotism dormant in your heart will give a spark if you visit the house where Subhas Chandra Bose was confined for three months. Now converted into a museum, this building also houses the Netaji Institute for Asian Studies. It has many rare photographs of Netaji Bose both as the national leader as well as the supreme commander of the Indian National Army. It was from this house that he drafted his historic speech of the Haripura Congress, which he presided in 1938. The museum also contains various letters written to Emilie Schenkl, Netaji's Austrian wife, whom he married secretly in Europe in 1937.
Then there's the famous Himalayan Mountain Railways, popularly known as the Darjeeling toy train. It is in Kurseong that this train passes through a jungle on its way to Ghum, the world's highest railway station. The joyride on the narrow gauge railway built more than 130 years ago is a life-time experience. So, this summer, pack your bags and go to this small hilly hamlet. I am sure you will come back rejuvenated.

TRAVEL LOGISTICS
1. Kurseong is about 37 km from Siliguri and is well- connected from the Bagdogra Airport, There are several Luxury hotels.
2. Tourist accommodation provided by the Government of Bengal is good and offers view of Mt. Kanchenjunga on a clear day. Do not miss its steaming Momos. Book your
accommodation through www.westbengaltourism.gov.in
3. Visit and Photography at Schools are subject to permission. No photography is allowed inside of the Netaji Museum; you have to take your shoes off before entering the
museum.

4. For a better view of Kanchenjunga, you can hire a car to go Batasia Loop, from here the entire range is visible.


This article was published on 5th May, 2013 in The Pioneer

Click here to view the original article