| | |
| --- | --- |
| NEXT WEEKEND YOU CAN BE AT ... LAVA | |
The hills of North Bengal provide some of the best weekend destinations for Calcuttans exhausted and strained by the summer sun and concrete chaos. Lava, with a handful of houses, an old monastery, serpentine roads and rows of pine, rhododendron and oak, is one of them. The queen of the hills, the majestic Kanchenjungha, is visible too from the hill town. The name Lava means "heavenly abode of God" in the local language. The woods are green and dark. The mist-wrapped trees stand tall on both sides of the road that leads to the marketplace. The Kanchenjungha looms over the landscape of Lava like a silent sentinel.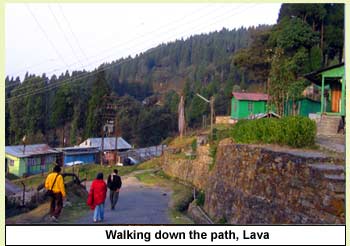 The hamlet houses a Buddhist monastery, a small nursery maintained by the state forest department, a nature interpretation centre and a glass house.
A trip to Lava would be incomplete if you did not visit the Neora Valley National Park. Just 10km from the Lava market on top of Rachela hill, this reserve forest was created in 1992. The 88sq km park is not only a tourist attraction but an important destination for students of forestry and nature. Every year the rich treasure of flora and fauna in the national park draws a good number of students.
The jungle is home to the Himalayan red panda. Permission for entry to the park is available from the forest range offices at Lava and Samsing.
The Kagyu Thekchen Ling Monastery, a place of learning for followers of Vajrayana Budhhism, is a big red building on the outskirts of Lava. It is also known as the Ratnarishi Bihar Buddhist Gumpa.Karma Lodro Chokyi Senge, the third Kongtrul Rimpoche, set up the monastery, which is decked out with Tibetan artefacts. The walls, painted in bright natural colours, depict scenes from the Jataka tales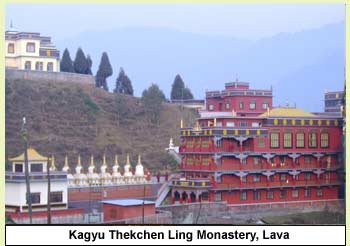 The prayer hall is huge. One should not miss the excellent carving on the prayer wheels inside the monastery. For the best view of Kanchenjungha, go to a place called Tiffindera, 3km from Lava. The place is 7,700 metre above the sea level. A 2-hour drive from Lava will take you to the Changgery falls.

Going
Lava is 100km from Siliguri. Cars are available for hire from NJP station. The drive takes about four hours. Entry permit to the Neora Valley National Park is available from the range offices in Lava and Samsing.
Staying
There are several hotels with in-house dining facilities in Lava. The state forest development corporation (WBFDC) runs a resort. Booking can be done through their website (www.wbfdc.com) or from the city office at 6A Raja Subodh Mullick Square. Neora Valley Jungle Camp is another option. Visit www.helptourism.com for booking information.
This article was published on 6th May, 2012 in TheTelegraph
Click here to view the original article