Kanchenjunga, the queen of the Himalayas, has one of her best views from Lepchajagat, an isolated hamlet in Darjeeling. Situated in a dense forest of rhododendron, oak and pine, it used to be a nondescript village of the Lepchas before the British marked their footprint here in the early 19th century.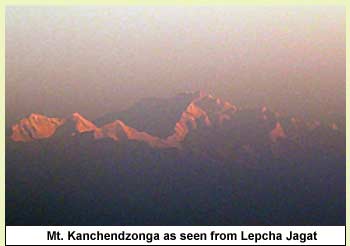 Now, it has become a hotspot for nature-lovers and honeymooners. The West Bengal Forest Development Corporation has rebuilt a British bungalow as a guest house that ensures a breathtaking view of the Himalayas from every room. Your tryst with the queen will start before dawn breaks. Set your alarm clock and get ready by 4.30am. The morning mist might play spoilsport but do not get demotivated — the day is long enough for a royal appointment.
The name Kanchenjunga means "five treasures of snow". Lucky are those who get to view all five peaks together. Before the sun starts rising over the Tiger Hill, which is on the other side of Lepchajagat, the sky gradually becomes milky and then blue. The orange and pink sunrays fall on the peaks and the giant figure comes alive.
The combination of the silence and the majestic mountain range in front has an almost meditative effect. In the afternoon, treat yourself to a plate of steaming rice with pulses and chicken. Take a leisurely stroll in the woods around the guest house.
Set the fireplace ablaze and sip a cup of aromatic tea with tasty pakodas in the evening. The view from the terrace after sundown may catch your fancy. Darjeeling town looks like a hill dressed up in Diwali lights.
To get a clearer view of Kanchenjunga, you can move to the Balsan Valley, which is 2.5km away from the guest house. A kilometre-long trek route will take you to a place called Hawa Ghar that commands a even clearer view of the queen. You could also visit Jorepokhri, another spot to watch the Himalayas in all its grandeur.
Going
Take a train to Siliguri and hire a car from there to Lepchajagat, a three-hour drive from Siliguri.
Staying
The West Bengal Forest Development Corporation runs its guest house. You can book rooms from the WBFDC office at 6A Raja Subodh Mallick Square, 7th floor, Calcutta. Phone: 22370060. For online booking visit www.wbfdv.com. It is advisable to place your order for breakfast, lunch and dinner in advance.