| | |
| --- | --- |
| MUSEUM OF DRAVIDIAN SCULPTURE | |
Nestled at the edge of a beautiful silver sand shore of the Bay of Bengal, Mahabalipuram is the place from where a distinctive stream of Dravidian school of archaeology took its baby steps, writes Somen Sengupta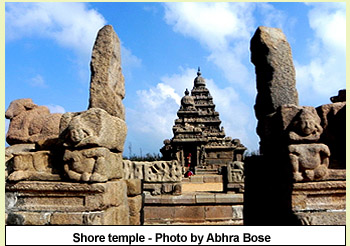 As soon as the Gupta era came to an end in the middle of the 3rd century, the Pallava dynasty rose to its zenith in South India. Its rise in the politics of the South gave the world of art and culture a silent yet giant leap. Thanks to every Pallava king's taste and inclination towards artistic expression, a new school of Dravidian archaeology boomed at a sea port on the shore of the Bay of Bengal which they had selected as their second capital after abandoning Kanchipuram.
From 450 AD to 900 AD, this tiny town of Coromondal coast gradually became an open air museum of India's best rock cut and boulder temples. No wonder when European archaeologists and excavators rediscovered it after many years of oblivion in the middle of the 18th century, their astonishment was unexplainable, and so was their joy.
Mythology and local folklore have it that this place was named after the demon Mahabali, the grandson of Prahlada, who was killed by the Bamana incarnation of Vishnu. In South India, a place named after the glory of a demon is not uncommon, and Mysore named after Mahishashura is probably the best example of it.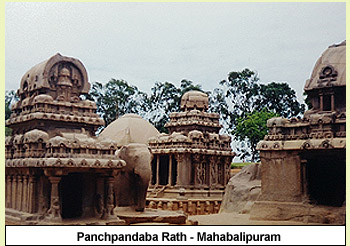 Mythology also refers to Mahabalipuram as a place where Shiva and Krishna fought against each other. Anirudha, the son of Krishna, was in love with the daughter of Banasura, the ruler of this place, but she did not have her father's consent and a war became inevitable. Anirudha then attacked Banasura. Lord Shiva joined Banasura while on the other side, Krishna fought to save his son. Such mythological legends create thrill among common people though history prefers to be serious and more convincing.
The earliest reference of it in history dates back to the 7th century when this place was established as the new capital of Pallavas by Narasimavarman I who ruled from 630 to 668 AD. The king was a great wrestler known as Mahamalla and his kingdom was named Mahamallapuram and later Mamallapuram, after him. However, the name Mahabalipuram became popular in the modern era.
Nestled at the edge of a beautiful silver sand shore of the Bay of Bengal and developed under the shadow of Casuarina trees, Mahabalipuram is the place from where a new and distinctive stream of Dravidian school of archaeology took its baby steps.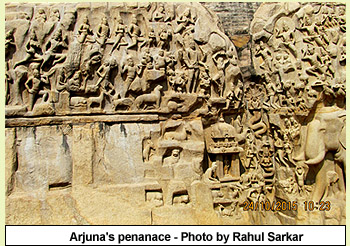 Known as the open air workshop of Pallavas, the place was actually ruled by two other dynasties: Cholas in 10th-11th century and finally by Vijayanagars till the 15th century. After that, like many other great ancient cities, this too vanished into oblivion for many years until rediscovered by European seamen who often called it a place of seven pagodas, probably referring to seven temples that once dotted the shore all faced towards the Bay of Bengal.

The first official mention of the place is found in the documents of East India Company's Madras office in 1708 and again in 1721. Later on from 1774-1781, a Frenchman named Sonnerat visited the place and was amazed by the ruins of several monuments.

In 1778, Mahabalipuram got an international exposure when William Chamber wrote an excellent article in the Asiatic Societies journal of Calcutta, and yet another published in London in 1798 by James Goldingham was an icing on the cake for the place.
The four types of archaeology found in Mahabalipuram are rock cut temples, open-air bas-relief, monolithic standing rathas, and structural temples. There is no second place in India where such a grand variety of structures co-exist so elegantly. These structures were mostly set up by Narasimaverman I, Parameswaraverman, and Narasimaverman II, all from the Pallava dynasty.

The most iconic monument of Mahabalipuram is the temple situated on the sea shore. Now, a UNESCO World Heritage Site, the temple built in 7th century is a classic example of early era Dravidian school of temple architecture. It is believed that once seven such temples used to stand on the shore of Mahabalipuram, but now only two are left.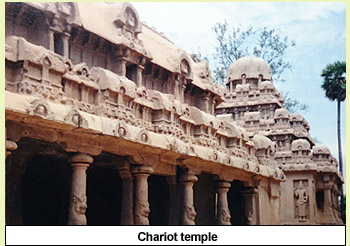 Built in a Buddhist pagoda style and almost a replica of one of the ratha temples of Mahabalipuram, two of these sea-faced temples are dedicated to Shiva and both were built by Narasima Varman II. The pagoda styled Hindu temple has pyramidal stone setting from bottom to top and finally ends with an octagonal shikhara. A majestic lion statue with a hole on its torso before the temple is known as Mahishashura Mardini lion. At the back is a miniature Mahishashura image. ASI has done a wonderful job in conserving this temple, which was once submerged under eight feet of sand.
The mindblowing rock bas-relief sculpture that has made Mahabalipuram a gem in Indian archaeology is no doubt Arjuna's penance. The 29m-long and 7m-high solid rock is shaped like a huge whale and sculptors of the Pallava era have shown their fascinating craftmanship on this rock. This is one of the finest ancient pieces of archaeology found in South India.

Though no written history is available so far about its details, it is known as Arjuna's penance to purify himself from the sin of killing his kith and kin in the great battle of Mahabharata. A celestial figure standing in the gesture of penance has given birth to this imagination.

To make the matter more complex, it is also assumed to be a figure of Bhagiratha, an ancestor of Rama who invited Ganga on earth. The rock bed on which figures are curved is divided into two parts. Both parts are full of celestial figures like gods, yaksha, kinnar, asura, gandharva, tribals etc. On the left, two huge elephants draw attention. Birds, snakes, animals etc are also sculpted with perfection. Nearby is a similar bas-relief which is incomplete.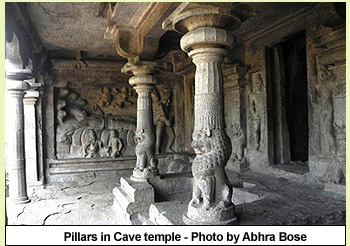 The grandest piece of archaeology that makes many jaws drop is perhaps the Pancha Pamdav Ratha complex that houses monolithic rock cut temples from solid boulders. Standing as one of the oldest forms of Dravidian school of architecture, one temple depicts striking similarity to the Bengal school.

Most historians are of the opinion that these ratha temples were built by Narasima Varmana I. Some may have been completed during later generation of rulers. The rathas have no direct connection with Mahabharata, but the belief is that they are dedicated to the Pandava brothers and Draupadi.

The smallest one is faced west and dedicated to Draupadi; it has a stunning similarity with Do-chala or the double arch thatched hut shaped like the temple of Bengal school. This temple, erected on a high plinth, houses Durga's idol and also displays women gate keepers at its door. Arjuna Ratha, a double storied temple, stands on the same platform and has curved pillars with animal figures and is dedicated to Shiva, whereas the biggest ratha meant for Bhima is incomplete.

Named after Bhima only for its huge size, this incomplete ratha has rampant pillars that support the floor above it. Looking at the similarity of its construction, many are of the opinion that it was a Buddhist stupa. However, no solid evidence was ever placed to support the claim. Other rathas in the complex are dedicated to Yudhishthira, Sahadeva and one to Ganesha and other minor gods. Of all these, Sahadeva ratha stands out of the group opposite to Arjuna ratha. It also bears similarity with a Buddhist chaitya and a full-sized elephant figure near it opens doors of doubt about its originality as the elephant is a sacred symbol of Buddhism. All put together this complex is a jewel in the crown of this city of archaeology.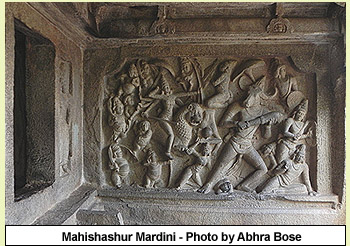 Rock cut temples of Mahabalipuram are the oldest form of sculpture. Among the many mindblowing cave temples is the Mahishashuramardini temple. This east faced three-celled cave has a central chamber and two side chambers. It is famous for two splendid rock cut panels, one of them showing the battle of Durga with Mahishasura, the buffalo demon. The unique thing is that sculptors have shaped the demon bigger in size whereas the Goddess riding over the lion is smaller. The Mahishasura is decorated with excellent details with his royal crown and arms whereas Durga with her bow and arrows and her army stands regal.

The other panel is of Lord Vishnu relaxing over the five-headed serpent with arms stretched. The serpent is blowing fire to prevent the Lord from the attacks of two demons. No doubt that with its superb expression of rock curving, these two panels itself can make this place a UNESCO World Heritage Site.

Another cave temple known as Yali Mandapan or tiger cave is also worth visiting. Finished in much better perfection than many other cave temples, this one is decorated with large tiger heads and supported with two lion pillars.

The story of Mahabalipuram does not end easily or soon. Due to the ruthless tides of time it has lost many structures to the sea, but the devastation of tsunami in December 2004 exposed many remains of ruins under the sand. ASI with the National Institute of Oceanography have started undersea exploration of the vanished city. Unfortunately, till now, no big finding has been reported.
Travel Logistics :

Mahabalipuram is 58 Km from Chennai.

Regular travel and accommodation services and conveniently available from Chennai.

A crocodile park on the way can also be visited from a unique exeperience.

TTDC owned hotels are best value for money and online booking is possible ( starting from Rs.3,000 plus taxes )

English-Speaking guides are available, while Hind-Speaking guides have to arranged in advance.

This article was published on 10th January 2016 in The Pioneer

Click here to view the original article

*** Note : Header Photograph by Abhra Bose