The Gargas were part of the royal family of one of the regions of Orissa, many years back. The exact reason why they had migrated to Mahishadal is not known, although it was sometimes during the righteenth century, as can be gathered from the almost illegible stone slab, below the statue of the first Garga, who had set up the line of the family here. But the opulence of their lifestyle is still evinced in the grand palace that they had built at Mahishadal, a place you can visit from Geokhali.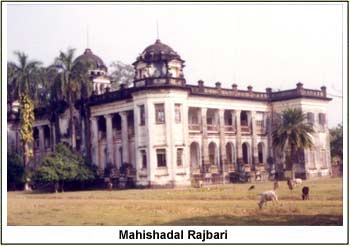 It's just seven kilometers from Geokhali, and cycle vans are easily available. Alternatively, you can trek upto the Rajbadi, while enjoying the green expanse of the countryside around you. The choice of the Rajbadi as a picnic spot is ideal, though one has to keep in mind the fact that the descendants of the Gargas still inhabit the palace. Thus it's safer to pack dry foods for your picnic, because that would surely help avoid any chance of a mess.
The attraction of the Rajbadi lies in its structure, which is a curious mix of Hindu and European styles. The concerte structure, the garden which lies largely barren and ill-maintained, the artificial showers, all go on to establish the lifestyle of a family who lived and loved every bit of the way they lived. It also every bit of the way they lived. It also goes on to show how an age grew, synthesizing inherited arts with those that have come with the new wave of Eueopean awakening. The cast iron railings, solid structures curved intricately, make up as entrance façade that reflects the power and the aestheticism of an age long past.
While at Geokhali, visit this relic of the past. Take a chance to stand face to face with a history that ius typical to your existence.