From monuments to mangoes, flavours of the past are preserved everywhere in Malda.
For many, Malda in just another unattractive suburban town, which happens to be a source of summer's most mouthwatering fare – mangoes. But Malda can actually present two fantastic tourist destinations, where history speaks from every edifice.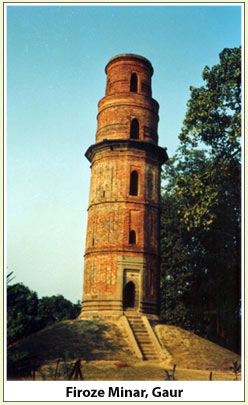 Gour and Pandua were the largest medieval cities in the Indian subcontinent so their's is a rich legacy of historical artifacts and architecture, Just a few kilometers from Kolkata, to the North and South of Malda town, are these ruins of the ancient capitals of Bengal. Gaur & Pandua were for long easy targets of vandals and thieves. A large section of Gaur and Pandua even went to East Pakistan after partition. Yet they never fail to cast a spell on tourists.
Gaur came into prominence furing the reign of the Pala Dynasty when Gopaldev made Gaur his capital. His son Dharmapala and grandson Devpala created many architectural wonders. After the Pala era, Karnataki Hindu kings or Senas changed the name Gour Laxmanavati which was changed to Lakhnauti when Laxman Sena was vanquished by Bakhtiyar Khilji. Lakhnauti remained capital of Bengal till 1565 and was further deserted after an outbreak of plague. If Muslim rule in Bengal started with massive destruction of Hindu temples and other structures, it also made for the enrichment of local architecture with Muslim and Arabic styles.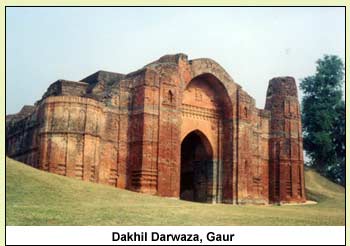 A tour of Gour can start from Ramkeli where one can see Chaitanya's footprints in a temple established by his disciples. Nearby is the amazing Baroduwari mosque. Baroduwari (12-doored) has only 11 doors. Popularly known as Baro Shona masjid dating from 1526. The 40 ft high structure extends some 168 ft. But of its 44 domes only 11 remain and no signs can be seen of the gold (shona) that once covered its domes.The majestic Dakhil Darwaza is also close by. This is a huge gate 70 ft high and 113 ft wide with spectacular terracotta reliefs on its walls. Probably built in 1425.
Firoz Minar just a kilometer away is Bengal's answer to the Qutub Minar of Delhi, built by Saifuddin Firoz Shah between 1485-89. The tower rises in segments in the Tughlaki style. There are wall decorations of terracotta & coloured tiles and a stone gate probably taken from a Hindu temple. Entry and climbing to the top of the monument is not allowed. Just half a km away is Kadam Rasul Mosque. Legend has it the Hussain Shah brought the foot pring of Hazarat Momammad from Madina and in 1530 his son Nasiruddin Nusarat Shah built this mosque. Its wall are covered with terracotta tiles & four domes decorate the four small towers made of black stone.
Directly opposite is an amazing small mosque built in the dochala style of Bengal architecture. Chika mosque built in 1475 by Yusuf Shah is also worth a visit. The mosque gets its name from the bats (Chika) which frequent this site. One can see a Ganesh statue among all the other items used from destroyed temples.Lokochuri gate is another sample of Indo-Islamic architecture built by Shah Suja in 1655 or by Hussain Shah in 1522. It is believed that King used to play with his wives around this gate.
A plethora of delicate terracotta artwork can bee seen at Tantipara mosque built by one Mirshad Khan in 1480. The structure has 10 domes, a stone throne and separate chambers for women. Lottan mosque is unique because it was built by court dancer Lottan bai or Natu bai in 1475 much to the disapproval of fundamentalists. The one domed mosque is decorated with superb mina work on enameled bricks giving in the name of 'Painted mosque' of Gour.
Other attractions of Gaur include a black stone mosque named Gnmanta, Biesh Gazi Prachi the boundary wall of the old capital city and Gamti Darwaza. From Gaur to Malda town for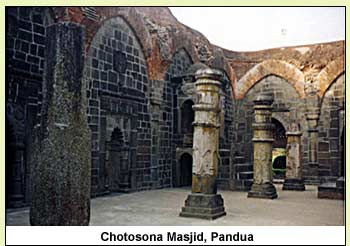 lunch and then setting out for Pandua or Pandrabardhan, capital of Bengal for over 100 years. The Ek lakhi mosque (so named because it cost Rs 1 lakh) is said to have been built by Jadu son of King Ganesh who became Jalaluddin Mohammad Shah after conversion and known as a destroyer of temples and stupas and a builder of mosques. Ek lakhi was built from 14141 to 1428 on the ruins of Hindu king Kagsha's palace. Many items looted from temples and stupas can be seen here.

In the same compound is Qutub Shahi Minar (or Choto Shona Masjid) built by Mukhdum Ubedkaji in memory of the sage Nur Qutub Alam. A mammoth stone gate is its chief attraction. Nimasarai Stambha, a 60 ft partially ruined tower, is situated on the bank of Mahananda during Akbar's reign.Pandua's most breathtaking destination is the Adina mosque. It was founded by Sultan Sikandar Shah in 1347 after destroying a massive Shiva temple, the Adinath Temple built by Raja Ganesh. The name Adina (day of namaaz) is thought to have been given to link it to Madina. But most scholars agree that the name was a deliberate distortion of the name Adinath to remind people of the temple on which it was built.

Adina's magic is its fantastic architecture. It is perhaps the only mosque in the world with an image of Saraswati, a Shiva lingam, a Gouripith and many other Hindu motifs on it's wall. Even the throne of black stone bears signs of Hindu temple art. Situated beside the NH 34, this massive structure houses the tomb of Sultan Sikandar Shah. With an area of 507 x 285 square feet it could accommodate congregations of 12,000 people. But only a part of Adina has survived the years of neglect and vandalism. Local people used to help themselves to its stone & bricks even before the Bangladeshi refugees occupied it..

Malda's legands extend even to its mangoes: Fajli, Golapbhog and Heemsagar. It is said Sultan Yusuf Khan once gifted a mango orchard to his beautiful court dancer Fajli bibi. Later when Fajli bibi grew enormously fat and her garden also began to produce exceptionally large mangoes, people began to draw comparisions and so the Fajli mango got its name.