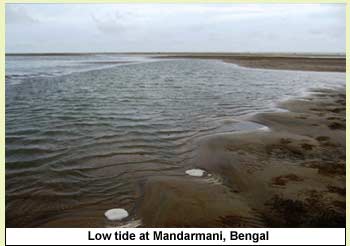 Sometime in late 1990s a new place was developed in Midnapore, West Bengal, with a majestic view of Bay of Bengal. The long virgin beach bordered with lines of trees and covered with silver sand turned to be an ideal getaway destination. The place, Mandarmani, is a gem in the crown of Bengal's coastal line.

None other than Warren Hastings, the governor general of Bengal in 1760, first explored the beauty of this long coastal line of Midnapore. So much was he struck by it that he wrote a letter to his wife in London, describing it to be at par with any European sea beach and called it Brighton of East.

Situated 22 km from Contai railway station, the beach here is serene and pristine. The long and wide seashore is as hard as a metal road on which vehicle can smoothly run. The magic of driving multiplies when muddy water pushed by the broken waves touch wheels of the car and water spills like a fountain. But those without a car certainly need to take their shoes off and let the feet get wet while walking on the beach in morning. The beach is 13 km long and is the longest motorable beach in India. The water is a mix of blue and light green colour.

If seafood is what your taste buds die for, there is no better place than the beach side of Mandarmani. There are stalls lined up to offer the best of crabs, tiger prawn, pomphret, bhetki and other coastal delicacies. With the help of tourism department, private resorts offer water sports activities like water biking, jet skiing, banana boat, parashooting and water skiing.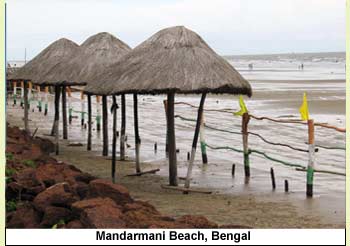 Mandarmani was developed in a planned way. Although the threat of shore erosion overcast it's future and nature enthusiasts are crying about destruction of green for the sake of hotel constructions, till now, the ecological balance of the place has been maintained. At high tide, water engulfs the shore and the beach on which you might have walked or travelled in car a few minutes ago, completely goes under water. Such is the pace of the tide that water hits the wall of many hotels and throbbing sound of broken wave plays like a beaten drum.

If you manage to reach the end of the beach, there is a beautiful delta. Situated nearly 6 km from main beach, backwaters can be seen here. The sea takes a new colour here. Watching fishermen with their rocking boats over the turbulent waves here is an experience.

Thousands of red crabs play hide and seek with you on the beach. Rest your eyes on their movement or over the horizon where seagulls glide with their wet wings.
This article was published on 12th January 2014 in The Hindustan Times

Click here to view the original article