I had a horrific shock on the lazy Sunday morning of 14th September as soon as I turned over The Statesman's travel page.
My article on Mongpong & Mahananda wildlife sanctuary sent along with 7 photographs of mine & 2 of Biswajit Roy Chowdhury on 30th July 2014 was printed there in the name of someone else !!!!!!
The article was almost 95% unedited & all snaps sent by me are printed along with that !
A dejected & upset me wrote back to Statesman immediately for a re-print of the same article under correct credit was turned down.Showing enough logic that " mistake happens" & "there is nothing to get upset in this " kind of wisdom finally they were kind to publish a small corrigendum on 28th Sept only mentioning my name but not Biswajit Roy Chowdhury the acclaimed wild life enthusiast who contributed 2 photographs in this article.
What a statesmanship !
---------------------------------------------------------------------------------------------------------------------------------------------------------------------------------------------------------------------------------------------------

A visit to Mongpong, a tranquil forest resort near Siliguri, is a guaranteed breath of fresh air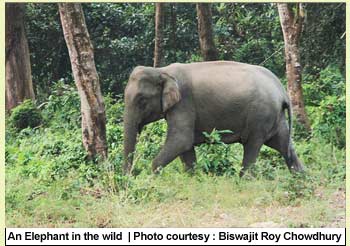 I had heard someone say, "You can come face to face with a Royal Bengal tiger in its den just within a 40-minute drive from an overcrowded town like Siliguri!" That's when the Mahananda Wildlife Sanctuary flashed in my mind, where, if luck permitted, a leopard or even a Royal Bengal Tiger could be spotted! It also has an isolated hilltop resthouse that offers breathtaking views of a stony riverbed with a dark and silent forest in the background.

Mongpong, the little known hilltop point in the Mahananda Wildlife Sanctuary, is that special place where a soul exhausted by the din and bustle of city life can breathe easy. One weekend I packed my bags and arrived at NJP station the next morning. It was a pleasure to find that all taxi drivers were aware of the place and after a tough bargain I secured a cab that took me on an uphill drive of 30 km to Mongpong.

En route, one has to cross Coronation Bridge and the moment you do so you feel a part of history. This engineering marvel is a fine piece of architecture and a proud testimony of human victory over the challenges of nature. Also known as Lohapul by the locals, this bridge was given a rather tacky coat of paint recently. However, thanks to its historical and architectural value, no one can give it a miss.

As soon as we crossed the bridge and drove for another 20 minutes, the landscape on both sides of the road changed dramatically. On the left, beyond the fence, is the green wall that serves as the boundary of the Mahananda Sanctuary. The park has an entry gate off the road and a Jeep safari takes tourists inside the jungle from there.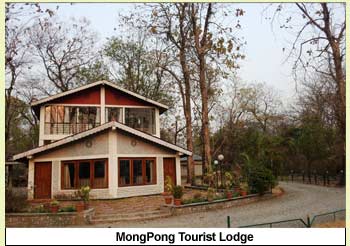 Spread over 158 sq km and situated at 1,219 metres above sea level, the Mahananda Wildlife Sanctuary was established in 1955 as a game park and crowned a sanctuary in 1959. Latpancher on Kalimpong hill is the highest point of the forest, which is a habitat of various mammals and reptiles.

This forest is just 32 km from Siliguri and is home to a few leopards and Royal Bengal tigers along with Indian bison, elephants, black bear, hornbills, mountain goats and more. The Gulma river flows through the forest and there's an abandoned railway station of the same name that serves a watchtower. Popularly known as the first stop-over to the Dooars, Mongpong is like a canvas that God painted. As soon as I climbed the hilltop to enter the forest guesthouse, I realised that silence is the real beauty here.

Soon the tranquil air was broken by the sharp whistle of a train that passed through the green walls of the Mahananda Wildlife Sanctuary, like a metal snake. It left a thrilling wake that moved everyone for the next few minutes. The Siliguri Alipurduar Intercity Express now represents the last testimony of vintage history. There was a time during the Raj when many private railways would operate on this narrow gauge line that crosses the deep forest. Even now, it travels to all colonial stations like Damdim, Ranichera, Kumlai, Good Hope and Rangamutee. Over the horizon, the silver sand banks of the Teesta river showcased countless stones.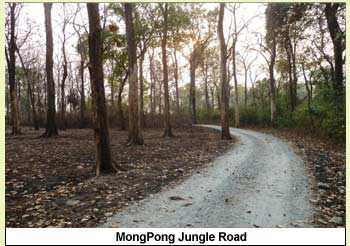 Mongpong Nature Interpretation Centre is a splendid picnic spot on the Teeta bank. Maintained by the West Bengal Forest Development Corporation, this place is just over the river that flows into various streams. It is also known as Teesta Picnic Spot. The sun was slowly moving to the west and the sky over the vast riverbed was melting like a burning candle. At dusk, thousands of birds were returning to their nests, leaving pensive melancholia in the air. When darkness fell, it came with the song of crickets. The deep woods were whispering a secret saga. This is the moment one is lost in deep thought. Those travelling in groups quickly assembled on the lawns and a bonfire was lit. Couples were geared for long chat over steaming cups of coffee.

I was gradually sinking in a sea of extreme relaxation and comfort. A blanket of soft air was covering my being while an unknown yet enchanting peace was engulfing my heart.
Travel tips

Mongpong is 29 km from Bagdogra airport. A small village in Darjeeling, the place is often referred to as the Gateway to the Dooars. From Sukna Point near Siliguri town it is just 13 km away. Siliguri is well connected by train and air from every corner of India.

You can hire a car from NJP station. Entry to the sanctuary is subject to permission — separate vehicles need to be hired for entering the sanctuary.

The only place to stay at Mongpong is the WBFDC tourist resthouse. Website: www.wbfdc.com or contact: 033223700 60/61. The resthouse offers various kinds of accommodation – and it has a conference facility also. Advance booking is advisable.

Photography is allowed. Every forest has some rules and restrictions that must be followed. Do not leave the resthouse after sunset.

This article was published on 14th September 2014 in The Statesman

Click here to view the original article