Astonishment waits on the western bank of Kangsabati river in Tamluk where this unique gem-like place lies rusting in dust, waiting to vanish into oblivion. Somen Sengupta explores the historical Moynagargh

It may sound more fiction than fact when we talk about the actual geographical existence of Moynagargh or Garh Moyna as local residents describe it outsiders. Imagine, a living island circled by three water creeks one after another, where communication to the mainland is only via boats. All of this is in the heart of Tamluk, East Midnapore. Astonishment waits on the western bank of Kangsabati river in Tamluk where this unique gem-like place lies rusting in dust, waiting to vanish into oblivion.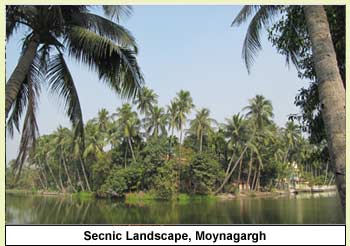 In the early '70s, while scouting for location for his classic movie Ashani Sanket, Satyajit Ray had almost finalized this spot as the backdrop of famine ridden village of Bengal of 1943. Unfortunately, the plan could not be converted into reality due to logistics issues and lack of electricity. However, the place cast a magic spell on him and as per a present member of royal family, the axiom "only living fort " was coined by Ray.

In history, the legend of Moynagargh and facts exist side by side.

History very clearly points out the existence of one Gobardhananda Samanta (1562-1606) who refused to accept the dominance of then Orissa ruler Mukunda Harichandan. He was imprisoned but somehow managed to impress the king with his musical talent. The emperor not only returned his land but also honoured him with three titles ~ Raja, Ananda and Bahubalindra. Of these three, the present generation carries the surname Bahubalindra.

Later, another member of this royal family, Jagananda Bahubalindra (1770-1783) became a powerful man in the royal court of Murshidabad and he prevented marauding Maratha warriors Bhaskar Rao popularly known as Bhaskar Pandit and his deputy Raghuji Bhonsle from plundering this part of Bengal. The legend of Moynagargh is also connected with Lausen and Echai Ghosh. Although the historical existence of Echai Ghosh is now an established fact by scholars, there is little support found in the favor of Lausen a character mentioned in famous Bengali book Dharmamangal.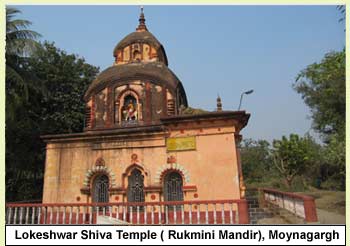 Unlike other forts, Moynagargh had no walled compound. It is surrounded by three big circular waterbodies, out of which two still exist and are regularly. The main island is a land surface of 562500 sq ft and is surrounded by a water body which is 150 ft wide and nearly 12 ft deep. The island is much lower from the riverbed and the entire land surface is supported by earthen wall, as is seen in the Netherlands. This part is called Bhitar gargh or the interior fort.The external surface is called bahirgargh. This part is encircled by another canal, nearly 150 ft wide and 8 ft deep.

It is disheartening to note there is no fort-type structure left at Maynagargh.

On the main island, present generation of the royal family resides in modern houses which have no historical significance. Maynagargh attracts people for two things. One is the excellent natural panorama. The water creek with deep green bush and coconut trees lining the shore remind one of the Kerala's backwaters. The lush green of vegetation on the clear water and the throbbing silence is unforgettable.

Two temples that still survive on the main island are known as Rukmini mandir and Shyamsundar Jew mandir.The first one, also known as Lokeshwar shiva temple, has some terracotta panels. One panel shows the celebration of rathyatra festival with musicians playing their instruments. It shows the influence of Vaishnava cult present in the royal family.
We also noticed various floral motifs and rows of animals like deer and cows. The quality of the terracotta is nowhere near to that of other parts of Midnapore.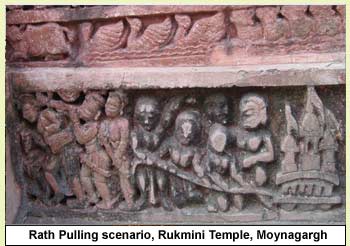 The other temple is a typical pancharatna temple of Bengal school where the family deity Radha Krishna are worshipped. The temple with five pinnacles are simple yet majestic. There is no terracotta panel remaining on this temple. All are either removed or got destroyed with time. There is another temple called Kameshwar Shiva's established in 1901 by Rani Saramoyee of this family. In 2006 at the time of renovation, the temple's dedicatory stone was unearthed from a layer of cement. It was found one Shekh Rahamat Mistry, a Muslim had been the architect of this Shiva temple. This signifies the secular characteristics of Moynagargh.

After the fall of Pala dynasty in Bengal, the place vanished into oblivion for several centuries. In all official and unofficial documents, the place was mentioned as Killa Moyna chura – the word Killa is derived from Arabic, meaning a castle, while chura in Oriya means an island. It was J D Beglar the Archeological Surveyor of Bengal who first used the word Moyna gargh in the year 1886. He wrote, "The fort is built on an island within an island" in the book " Revised list of ancient monuments in Bengal".

The story of Moynagargh will remain incomplete if the 450-year-old 'ras mela' is not mentioned. Known as a showpiece event of communal harmony of two communities in Midnapore, this mela is a living heritage of this place. It is organised in the month of November. The festival is celebrated with fireworks, paper balloons, decorated boats, illuminations and musical concerts.

Access
Going by road is the best option. Go to Nimtoudi, a small junction before Tamluk and from there take the left-bound road to Moynagargh. The name of the village is Garsafat or Garsafang. Locate Rajbari. Sidhartha Bahubalendra a present member of the royal family is a teacher in a local high school. He keeps records of the place and encourages people to explore the place.

From Esplanade catch any Tamluk-bound bus; from Nimtoudi catch another bus to Moyna. Nearest rail stations are Tamluk (10 km) and Mecheda (46 km ). Night stay is not needed. Packed food and bottled water is available.

Photography is subject to the permission of the royal family. Sidhartha Bahubalendra can be contacted for more details.

This article was published on 3rd April, 2011 in The Statesman
Click here to view the original article